Some people walk to office, some take a bus or train, others take an auto or taxi, while some drive their own cars.
Shobha Warrier/Rediff.com spoke to the Maths teacher who swims to school.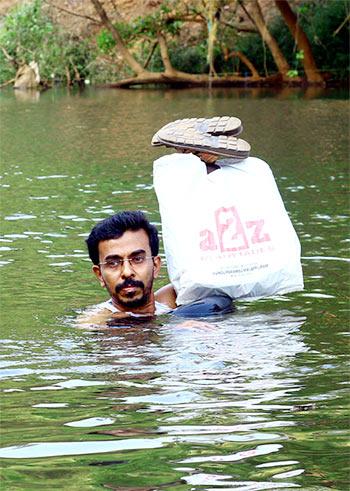 Abdul Malik, a Maths teacher at the Muslim Lower Primary School in Malappuram, Kerala, hit the headlines when photographs of him swimming to school every day appeared in the newspapers, even the BBC.

Malik finds it easier to swim across the river in half an hour than travel for almost three hours in two buses every morning and evening.
Though he was born, brought up and studied in the Koodalangadi panchayat in Malappuram, he didn't have to cross the Kadalundi river till he got a job to teach Maths in Padinajattumuri in the same panchayat.
Malik has always been interested in Maths. "I am from a poor family. My father passed away when I was quite young. We are eight siblings. We were helped by our uncle, who was an Imam. I had to start working early. My uncle advised me to train as a teacher after my 10th standard. He felt it would improve my chances of getting a job."
By the time Malik finished his teacher's training course, his elder brother had started working in the Middle East. Malik's heart was in teaching, not working in the 'Gulf.'
In Kerala, he says, one has to pay a huge amount of money to get a job in a school. Malik paid Rs 50,000 for his job as a primary school teacher. Putting such a large amount together would have been impossible without his elder brother and well-wishers who lent him the money.
In 1993, Malik secured a job as a teacher at a salary of Rs 1,350 per month.
Then, he was faced with a new problem. To reach the school that is surrounded on three sides by the Kadalundi river, he had to travel almost three hours by bus to cover a distance of just 12 kilometres.
The school started at 10.30 am, but Malik had to begin his day with a kilometre-long walk to the bus stop at 8 am. To reach the school, he needed to change buses. Both buses, he says, are always crowded.
After the school closed at 4.30 pm, Malik had to repeat the same tiresome journey to reach home.
This ordeal continued for a year. "By the time I reached home, I was exhausted. This route had very few buses. If you miss one, you have to wait 30, 45 minutes for the next one."
One evening, as he was walking towards the bus stop, he was stopped by a teacher who taught Arabic at the same school.
"Why do you waste so much time travelling by bus? I have a farm on the other side of the river next to your house. Whenever I come to collect things from my farm, I swim across."

The distance between the river's banks, says Malik, is only one kilometre.
The Arabic teacher was carrying a huge bunch of bananas as he swam. He used a tube around his torso which let him float so that he needed to use only one hand to swim; with the other, he kept the bananas above water.
One evening, Malik decided to return home with the Arabic teacher by swimming across the river. Like the Arabic teacher, he too used a tube.
It was the perfect solution. Since then, Malik has been swimming to school.
At the river bank, he changes into a towel that he carries in a plastic bag. He then gets into the water with the tube around his chest.
His lunch box, sandals, plastic bag and an umbrella are all clutched in one hand that he keeps raised above the water.
"Initially, I was a bit hesitant as the river is generally very rough. Swimming across is a bit tough as you are going against the tide. During the monsoon, there are snakes in the river. But it takes just 15, 20 minutes to reach the other bank. I am home in half an hour after school closes."

On the other bank, he has identified a rock behind which he dresses to go to school. He keeps the tube tied to a small rock.

In the evening, the same process is repeated. On this side of the river, he keeps the tube at a house nearby and walks back home.
Since he has started swimming to work, he leaves home at 9.30 am and reaches the other side of the river at 10 am. He is so punctual that people look at the clock and say, 'Master has reached the bank. That means it is 10 am now.'
Students began to call him 'Tube Master!'

"In the beginning, many people, including my students, would stand on the bank and watch me swim. They were more excited than I was," he laughs. "People would stop me on the way and ask, 'Master, is it time to change the tube? Please buy it from my shop.'"
Slowly, the curiosity waned. Today, it does not seem unusual that the Maths teacher swims across the river to come to school.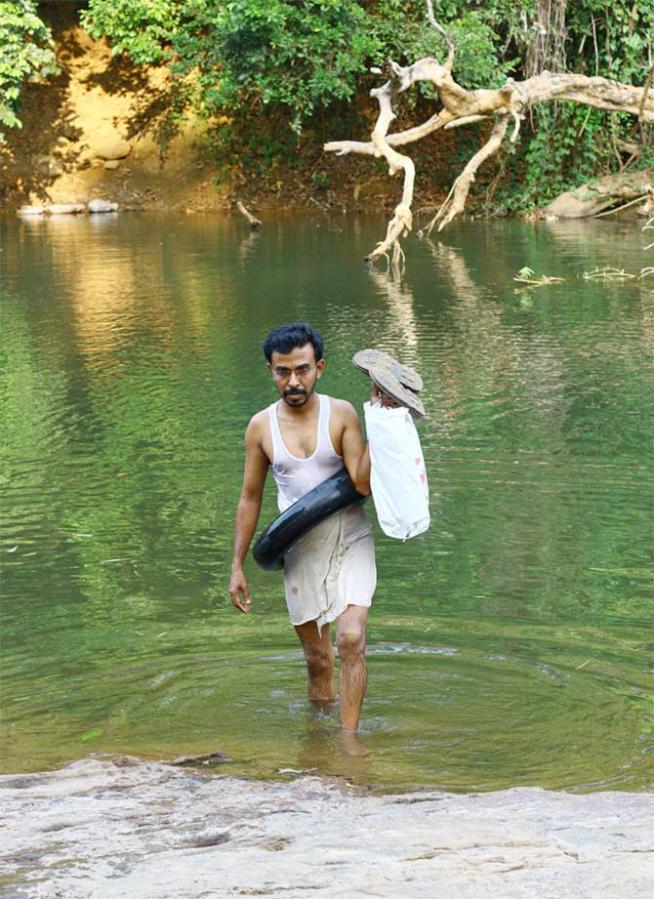 Other than teaching Maths, Malik tries to do away with the fear some children have of the water by teaching them swimming in the summer, when the river is less turbulent.
"Some masters also join me in teaching the children to swim. I want children to love nature. I tell them not to destroy or pollute our natural resources. Ever since I started swimming, my love for nature increased several fold."
In 2001, during a routine inspection by the state education department, the inspector learnt about this unusual teacher. He was so amused that he called a friend at the Malayala Manorama newspaper.
A photograph in the Malayala Manorama of Malik, swimming with his lunch box, umbrella and sandals raised above the water made him a celebrity of sorts across the state. Soon, he was being filmed by television channels and came to be known as the 'swimming Maths master' from Kerala.
After reading about him in a newspaper, an Indian doctor from the United Kingdom telephoned him. "When he started talking to me in English, I couldn't reply. He didn't know Malayalam so I had to give the phone to the English master," chuckles Malik.
The doctor visited Malik and gifted him a plastic boat that he is yet to use. "It is not that using a boat was not an option. But I can't leave the boat on the shore unattended and go to school, someone could misuse it."
"Moreover, the current is so strong during the monsoon that it's too dangerous to use a boat, that's why boats don't ply here. Those who want to cross the river always take the bus."
These days, many dissuade the 43 year old from swimming, saying, 'You are not young any more. Why do you want to swim everyday even now?'
Malik has only one answer, "I feel fresh, young, energetic and happy swimming everyday. I plan to continue till I retire."
Photographs: Courtesy Sajeesh Chembratte