"Although we come from a well-to-do family, I was advised to use rags during my periods"
"Parents and teachers tell kids that 'women bleed' and that they are impure during the seven days of the month."
"In Ahmedabad, there are signboards outside temples which ban women from entering if they are menstruating."
A group of youngsters, who call themselves Team Menstrupedia is inspiring young girls and women from across the country to break taboos and speak about issues that was once discussed within the four walls of the house.
This is their journey.
It may sound dramatic, but a girl's life changes forever the day she attains puberty.

Unfortunately for Aditi Gupta, pictured above, and millions of girls like her in India, puberty remains associated with 'being unclean' and an 'embarrassment that must be suffered through every month' even today.

Aditi, who grew up in the town of Garwah in Jharkhand, remembers living through the 'stigma' that a woman's menstrual cycle was a 'dirty' secret that needed to be hidden.

"I was in Class VII when I attained puberty. Although we come from a well-to-do family (her father is a lawyer and mother, a homemaker), I was advised to use rags during my periods," confesses the 29-year-old engineer-turned-designer who completed her post-graduation in new design from the National Institute of Design, Gandhinagar, Gujarat.

"I have two brothers and I am the eldest child. My mom would say, 'Who will go to the medical store and ask for napkins? It is so embarrassing!'"

Needless to say, the rags made her increasingly uncomfortable and she stopped taking part in sport-related activities -- something that she enjoyed -- when she had her periods.

"I would have menstrual cramps and I could not talk about it in the house.
"Every month, I had to wash the rags clean and dry them in a dark place where no one could see them.
"Gradually, I developed rashes but I wasn't encouraged to use sanitary napkins," says Aditi, who founded Menstrupedia in 2012 with the aim of helping young girls understand and deal with puberty and sex education in a positive manner.

Her journey towards making the taboo topic an important and necessary subject of discussion in India is both inspiring and moving.

The inspiration

The last thing Aditi expected was to find herself discussing her menstruation problems with a male friend.
A bubbly girl, who had become increasingly reserved after her period began, Aditi decided to pursue her post-graduation at the National School Design in 2007. It was, though she did not know it then, a decision that would prove life-changing.
NID was where Tuhin Paul walked into her life. The two soon became best friends and menstruation and its related taboos were just one of the many topics they discussed.
"When I told Tuhin I suffer from menstrual cramps, he wanted to help. I had never been encouraged to discuss these issues at home. It helped to know that I now had someone I could share my problems with. Together, we began researching about puberty and how it changes a woman's body."
Aditi would then share their findings with her friends who would share their own sets of problems.
Towards the end of their post-graduation in 2009, Tuhin and Aditi -- who were now a couple -- realised the information they had collected could benefit others. Aditi wrote a book in Hindi, explaining everything they had learnt about puberty and the changes in the body.
When she asked her mother for feedback, Aditi says, "I could see the topic made her very uncomfortable. She had apprehensions about how the book would be perceived. A few days later, she admitted that the book was indeed informative and could help answer a lot of questions."

Aditi's mother shared the book with her friends in the colony and, apparently, they all had good things to say about it.

The next step was to share the idea with her father, a process that was neither easy nor comfortable.

"Like my mother, my father was taken aback. He looked at the book but did not say much about the content. When I told him I planned to sell the book commercially, his immediate question was, 'How are you going to sustain? Who will buy your book?'"
The reaction at Tuhin's home was similar.

Disappointed, the duo postponed their plan.
They took up jobs in Ahmedabad and, during the weekends, worked on making the book a reality.
They found illustrators, a doctor -- Dr Mahadeo Bhide -- and like-minded individuals like Rajat Mittal, an engineer and photographer who would help them on this journey.

Founding Menstrupedia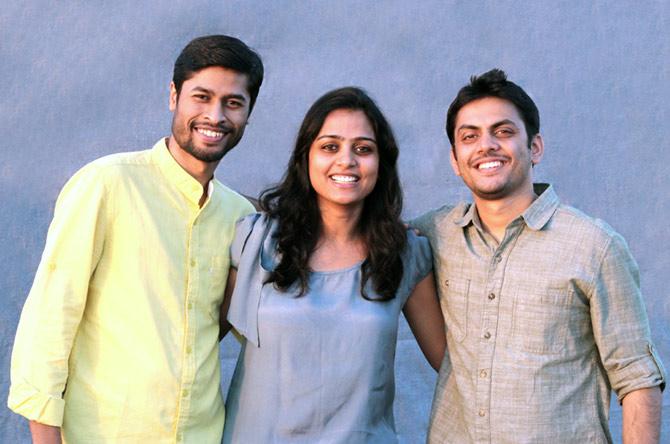 The Menstrupedia Team -- Tuhin Paul, Aditi Gupta and Rajat Mittal
In 2012, Tuhin and Aditi got married with the consent of their parents.
Within a few months, they took one of the greatest risks of their lives -– they quit their respective jobs and started working on Menstrupedia out of their apartment in Ahmedabad.

"We started by investing all our savings -- about Rs 2 lakhs. Our parents weren't convinced but it helped that we were now married and could make our own decisions. We had confidence in our idea."
They launched Menstrupedia.com.

In May 2013, the duo collected Rs 4-5 lakhs in their first round of crowdfunding.
They also tied up with Tadpole Store, an online marketplace for consumer goods, who took care of the logistics.
They used social media -- Facebook and Twitter in particular -- to create awareness about their project.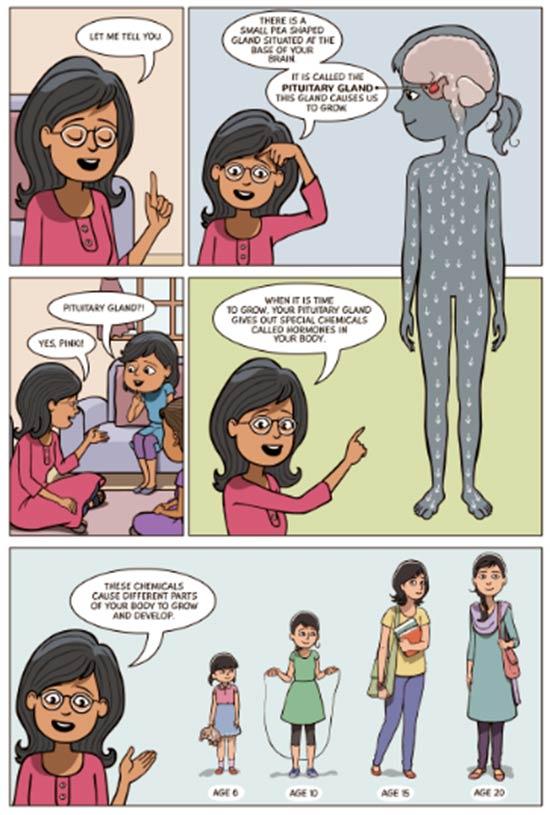 The Menstrupedia comic aims to answer all questions related to menstruation in a simple manner.
Menstrupedia, the illustrated book, was finally launched in Hindi in September 2014 and they started receiving orders from well wishers and strangers from different parts of the country.
By the end of the year, Aditi's father, who was impressed that his daughter's work was getting noticed in the media, started helping them with suggestions on how to scale.
"As of date, the Menstrupedia website gets 2 lakh plus visitors every month," says Aditi proudly.

They have sold 4,000 copies of the book across Hindi and English and managed to break even in April 2015.
"We can now afford to pay salaries, rent an office and perhaps hire a bigger team (in fact, they are now advertising for staff on their site). We are currently a team of four people, including Tuhin and I, but we have an amazing network of people in different cities who are always willing to help," she says excitedly.

The big challenge

However, the struggle doesn't end there, says Aditi, who also organises workshops in schools and remote villages in Rajasthan, Gujarat and Bengaluru, educating young girls about menstruation and proper sanitation.

"Through our workshops (which are occasionally sponsored by the schools or by NGOs), we have been able to dispel myths, answer questions and guide thousands of young girls from across the country who, until some months ago, were afraid to talk about these issues in public."
Convincing their audience, says Aditi, continues to be tremendously challenging.

"We still find women who, at the end of the discussion, say, 'Everything you say is good but I will not enter the temple during my periods nor allow my daughter or daughter-in-law to do so. We do not want to hurt our religion.'"

In Ahmedabad, says Aditi, there are signboards outside temples which ban women from entering if they are menstruating.
"This is the kind of social stigma," says Aditi, "that makes women look inferior; we want to bring positive change."
TIPS FOR YOUNG GIRLS
Stop feeling ashamed of your body during your periods.
You're not impure because you bleed.
Do not compromise on your health or starve yourself when you're menstruating.
Keep your private parts clean. It is advisable to bathe twice a day during your periods.

Empowering through information

Aditi points out an oft-ignored fact, that it is the collective responsibility of parents and teachers to empower youngsters by educating them about puberty, menstruation and sex.

"Parents and teachers tell kids that 'women bleed' and that they are impure during the seven days of the month. They do not tell them why they bleed, how the body transforms during this period or how they can survive those seven days without having to feel low and ashamed about their bodies.

"Even teachers," says Aditi, "are embarrassed to talk about these issues in a classroom so they skip the chapter entirely. Since there is no healthy conversation, young girls grow up with ignorance."
A good majority of them, says Aditi as she once again recalls her past, are discouraged from talking about their problems at home or outside.
Some of most bizarre experiences, she recounts, come from educated professionals.
"For example," she says, "a science teacher in Uttar Pradesh had told her female students that if you take a bath during periods, you'll get joint pain."

Another student from an international school in Rajasthan confessed that her teacher told her if you used the swimming pool during your periods, you'd get pregnant.

"If you check our website and blog, you'll find several messages and comments from people talking about such random advice and restrictions they face during their periods. Even if someone touches them inappropriately, they do not have the confidence to speak up or take action. We want to inspire positive change," asserts Gupta.

How to order the book

Menstrupedia is currently available in English and Hindi with Amazon, Flipkart and Tadpole for Rs 475 per book.

However, if you order more than 500 copies, you can get it for Rs 100 per copy.

Future plans

The team is currently working on the Gujarati edition of the book; they hope to make it available in at least 15 more Indian languages.
They have shipped copies to South America and the Philippines and, in the future, intend to launch in Nepal, Bangladesh and Pakistan.

"We have almost completed work on an audio visual clip as well," she says, "which we aim to use in our workshops for better impact."
Photographs Courtesy: Menstrupedia