'Menstruation is not a disease. Every woman goes through it once a month.'
'Think about your mother, sister, daughter and wife. If they don't have access to napkins during menstruation, it could lead to urinary tract infections.'
'In villages, women die due to poor hygiene and no one talks about it. It's high time we came together and did something about this in our own little way.'
Rediff.com's Divya Nair finds out why Mangesh Jha is called the PadMan of Jharkhand.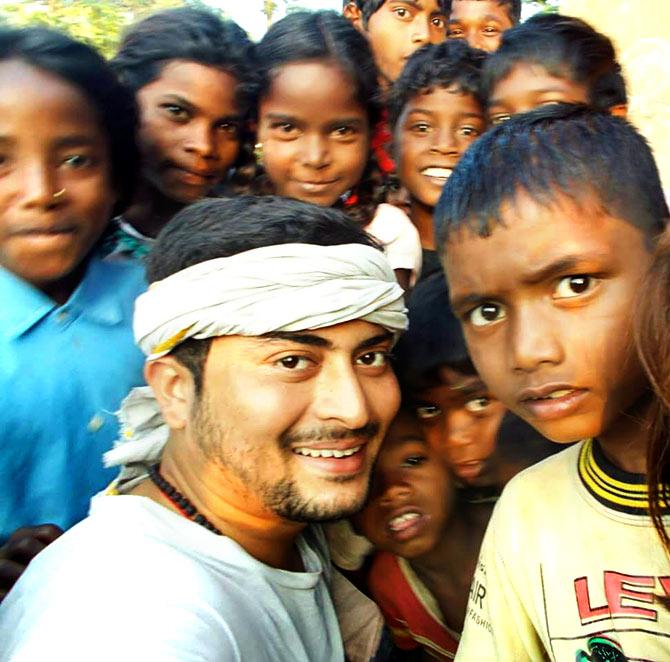 IMAGE: Mangesh Jha loves interacting with villagers and, in particular, teaching kids to read and write.
All photographs: Kind courtesy Mangesh Jha
We often hear stories of young Indians who come from small towns and make it big in the city.
We also read stories of those who leave the city and their high paying jobs to settle in villages and make a living out of social entrepreneurship.
Jharkhand's Mangesh Jha does not belong to the above categories.
He is neither an entrepreneur who has made it big or has plans to.
He is not a victim of circumstance who was pushed to experience hardships.
Yet, in 2014, he left a cushy job as front desk officer at the Radisson Blu, Ranchi, to help improve life in India's villages.
Mangesh's aim of "educating and solving problems" is among a host of ideas he has towards making India a better place.
Six months ago, he became a youth fellow at IIM-Ranchi. He continues to spend his weekends travelling to new villages in and around Ranchi with a hope of turning things around there.
What did he learn from working in these villages? Why is he called the PadMan of Jharkand?
Divya Nair/Rediff.com spoke to Mangesh Jha, 29, to find out.
Background
Mangesh's family belongs to a small village in Madhya Pradesh.
After completing his degree in hotel management from the Institute of Hotel Management, Bhubaneshwar, he secured a job at the front office in the Oberoi Trident in Mumbai.
Having spent most of his growing up years in the village, Mangesh found that city life did not appeal to him. "I saw how people wasted food in five star restaurants while millions of people in India's villages went to sleep hungry. Poverty is the cause of problems in India's villages."
Over the next few years, between 2008 and 2014, Mangesh would live in Pune and Ranchi as he switched jobs. But one thing remained constant -- his desire to travel and help people.
"During weekends, I'd take my bike and travel to new places, discover new people. As a result, I have realised there is so much one can do to make our country better. Whenever I had the time and opportunity, I would either teach something, help someone with documentation… anything that was helpful."
Mangesh eventually quit his job in 2014 and signed up for the Ramkrishna Mission programme.
A year later, he also signed up for the Unnat Bharat Abhiyaan, as part of which he'd travel to small villages in and around Ranchi. His job was to talk to villagers, understand their problems and file a detailed report offering solutions.
Identifying the problem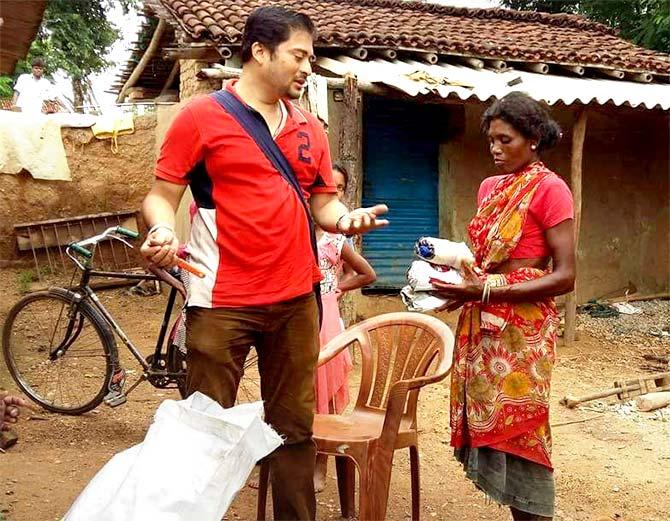 IMAGE: During the last four years, Mangesh has distributed cloth pads to tribal women in about 50 villages in and around Ranchi.
While inspecting a farm in a village in Ranchi, Mangesh encountered a bizarre situation.
"I realised that women weren't allowed to enter the farm or work there during their periods. Since these women were daily wage labourers and had families dependent on them, I knew they had financial problems.
"When I spoke to a few of them, I realised the real problem was much bigger. These women did not follow basic sanitation during menstruation. They were ignorant and were using ash and forest grass during their periods. They weren't aware of sanitary napkins or cloth."
Mangesh, who was working in Rasabera village, then stumbled upon data which shocked him further.
"Poor hygiene during menstruation affects women in these villages in so many ways.
"They were exposing themselves to illnesses, weren't allowed to work... all of which affected their confidence and desire to dream and achieve big.
"In several villages, girls would drop out of school once they attained puberty. Instead of educating them, they were being victimised for no fault of their own."
According to Mangesh, 60 per cent of the women in India do not use sanitary napkins. Of these, 80 per cent belong to Bihar and Jharkhand. India's north eastern states have the largest number of women using sanitary napkins during menstruation.
When he returned home, Mangesh shared his findings with his mother.
"She asked me, 'Have you seen a sanitary pad?' I said, 'No.' The truth is I never had to. When she showed it to me, I realised how helpful it was. My immediate thought was -- I should make this available to the women in the villages. But when I went to the market, I realised how costly it was.
"Each village has hundreds of women. How long could I sustain if I distributed these napkins free of cost? It wasn't going to solve the problem in the long run.
"I went back to my mother and asked her for suggestions. She told me that when she was young, she had used cloth napkins. I further researched for low cost sanitary napkins and sustainable material."
With the help of his mother and some like-minded women, Mangesh collected fine pieces of muslin-like cloth. "My mother and some women helped me stitch them to make absorbent pads."
The challenges
Distributing the pads weren't easy.
"I convinced the gram sabha leader about the importance of educating these women. They allowed me to speak to a group of them. Language was a problem. So I took help from the locals. I showed them some videos and illustrations so they could understand it visually."
The first time, they distributed about 100 napkins.
But Mangesh faced another problem.
"Most of these villagers are tribals. And tribals are very respectful towards you. When you tell them something, they will immediately nod their heads. The next day, they will go back to doing what they were doing originally."
Mangesh realised he needed someone who could motivate them to change their habits.
"I believe in Swami Vivekananda's teachings. There is only one thing you can do to solve someone's problems; you teach them the skill to solve it.
"Slowly, I started finding one person who was either moderately educated or willing to devote a few extra hours towards this cause. I'd train this person to stitch napkins, so she can teach or help others in her village.
"Menstruation is not a disease. Every woman goes through it once a month.
"Think about your mother, sister, daughter and wife. If they don't have access to napkins during menstruation, it could lead to urinary tract infections.
"In villages, women die due to poor hygiene and no one talks about it. It's high time we come together and do something about this in our own little way. The government in each state needs to take stock of the issue and work out solutions."
Four years later, Mangesh has managed to persuade nearly 600 families to use cloth-based sanitary napkins during menstruation.
Learnings aplenty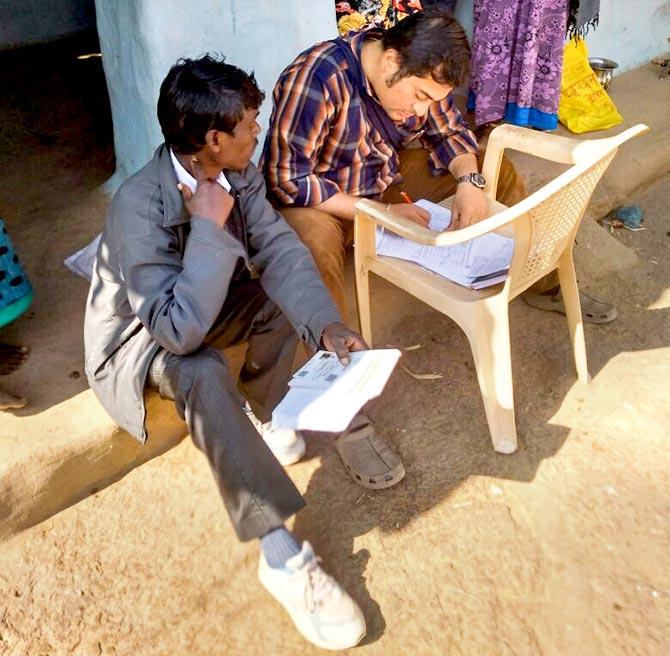 IMAGE: Mangesh helps a villager with documentation.
Sanitation during menstruation is just one of the many causes Mangesh is involved with.
He has a message for Modi and the current government:
"There are so many schemes announced for the benefit of farmers, women and less privileged sections of our society. But how many of these are being availed of?
"Take the Swachh Bharat Abhiyaan. Hundreds of toilets are being built in remote villagers in Jharkhand and Bihar. When I visited some of these villages, I realised the toilets are there but, if people want to use it, they have to face hardships.
"These common toilets are not accessible during the night, especially for women. They find it unsafe to walk the distance to use it, so they prefer open defecation.
"In states like Jharkhand where water scarcity is a problem and rain water harvesting is not a solution, maintaining the toilets is a challenge.
"What is the point of building toilets if people are not able to use it?"
The Digital India campaign faces a similar problem, says Mangesh.
"If you visit any of the block offices in the villages, you'll see that the staff there hardly use a computer. They are happy using pen and paper to file documents. No wonder the files are not updated and digitised.
"There is an urgent need to make government staff aware of the benefits of going digital and it should start with the villages. If we are not going to think rural, these initiatives will only look and feel good on paper."
Another problem, says Mangesh, is the lack of education.
"Most villagers don't know that a certain scheme that can benefit them is available until someone tells them. And these are daily wage labourers. Even if they find out, they are reluctant to take a day off, travel to the city and register to avail the benefits. They don't want to lose their daily wage.
"I talk to these villagers and try my best to convince them. I help them fill up the forms, complete the documentation."
Mangesh also makes a point against divisive politics.
"When I was living in Ranchi, a young kid went to play in the ground in the afternoon. His mother saw him and immediately called him back home. I thought she was upset because there was an impending exam that he had to study for. But I was wrong. The lady told her son not to play with those boys because they belonged to a certain section of society. She was worried that he'd turn up 'irresponsible' like them."
According to him, this is how seeds of hatred are sown in society.
"If children are taught to differentiate between people based on caste and colour, they'll grow up with anger and hatred without questioning anything. And that's what happened recently in Maharashtra (leading the Mumbai bandh last month) and has been happening in several other states since centuries. One day, it will lead to riots. Young politicians will take advantage of the situation for their own benefit. The right education and awareness should start at home."
No, Mangesh doesn't intend to join politics.
"A lot of people ask me if my aim is to join politics. My answer is no. I don't take any financial help from anyone. If someone wants to help me, I ask them to share sanitary napkins.
"When I visit the villages, I give it to the women. I work with the locals. I earn Rs 30,000 from my fellowship programme and I am content with it. I send Rs 15,000 home and keep some money for rent and fuel. I spend the rest on the villagers."
Support from family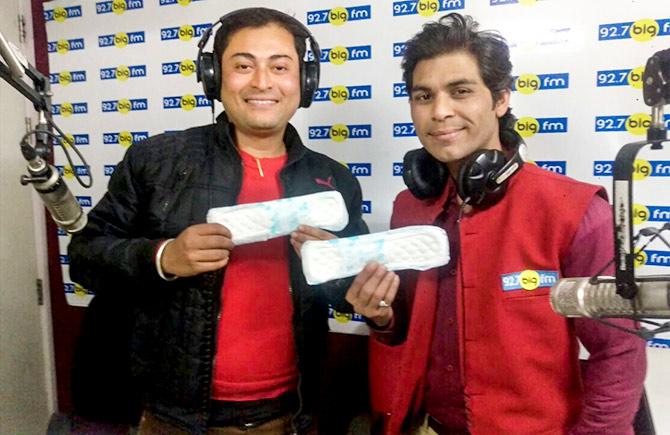 IMAGE: Mangesh spoke about the need for hygiene during menstruation during a radio show with Big FM.
Mangesh is grateful to his parents for supporting his quest.
"My dad suffered a stroke and is bedridden. But they have never once asked me to quit what I am doing and look for another job. Nor do they ask me to send more money. They are proud of what I am doing.
"Whenever someone laughs at or ridicules me, my mother tells them: You should be happy that my son is doing what some of you are not capable of doing."
Appeal to readers
"I am not asking you to quit your job or spend your savings on doing good. All I am suggesting is devoting at least one day a week towards a social cause. It could be as simple as educating someone less privileged, teaching them a new skill or helping someone solve a problem."
"If you can't spend a day, at least share your food with someone who is hungry. Be kind and try to find out why someone was driven to beg or is a poor condition. And if there is anything at all you can do to make his/her life better, do it."
"It is amazing what one person can do. So imagine if everyone took up a cause and contributed in some way to solve problems…"