They bent rules. Shut down haters. And inspired many with their successes.
What do Beyonce, Michelle Obama and Sheryl Sandberg have in common?
All three remarkable high achievers are favourites of magazine editors the world over who constantly feature them on covers.
If media reports are true, Theresa May may become the first British prime minister to appear on the cover of Vogue.
Margaret Thatcher, the only other British woman prime minister, was never accorded that privilege. Imagine Mrs T, the famed Iron Lady, on a Vogue cover!
IMAGE: Here's what we *wish* the April cover of Vogue would look like.
The vicar's daughter, who is now Britain's prime minister, in a sari.
Vogue's boss, the British-born Anna Wintour, would no doubt like Theresa May in one of her trendy dresses and her famous boots.
By the way, this not the actual cover. The creative visualisation and imagery are, well, imaginary.
No offence meant to any individual or organisation.
Meet some of the other influential women who have made it to the covers of leading magazines.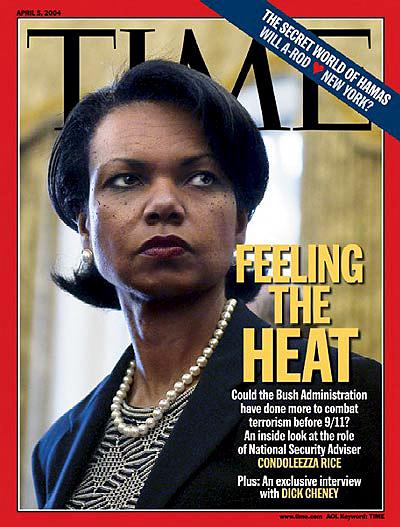 IMAGE: When Condoleezza Rice gained three words before her name -- secretary of state -- it changed a lot in America.
Dr Rice, also the first black woman to serve as America's national security advisor, transformed the way the world looked at her country.
Between 2001 and 2009, Dr Rice -- who is also a talented pianist; she could have become a concert pianist if she wanted, she was so talented -- fought racism, gender stereotypes and political pressure and held her own.
In April 2004, Time magazine saluted this power woman -- who speaks Russian fluently and conversed with Vladmir Putin in his native tongue -- with this cover.
Photograph: Kind courtesy Time magazine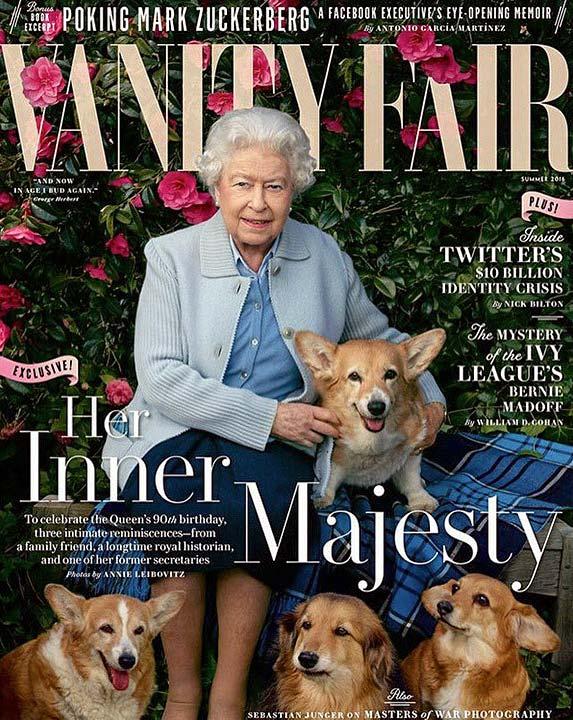 IMAGE: Queen Elizabeth II at 90 has seen Britain come through war and peace and much more in her 63-year reign.
Her Majesty is still very much in charge and as relevant in our turbulent times.
Her secret? She's smart enough to blend tradition with modernism.
Magazines like Time, Vanity Fair and Life constantly cover the British monarch, truly a formidable woman of substance.
Photograph: Kind courtesy Vanity Fair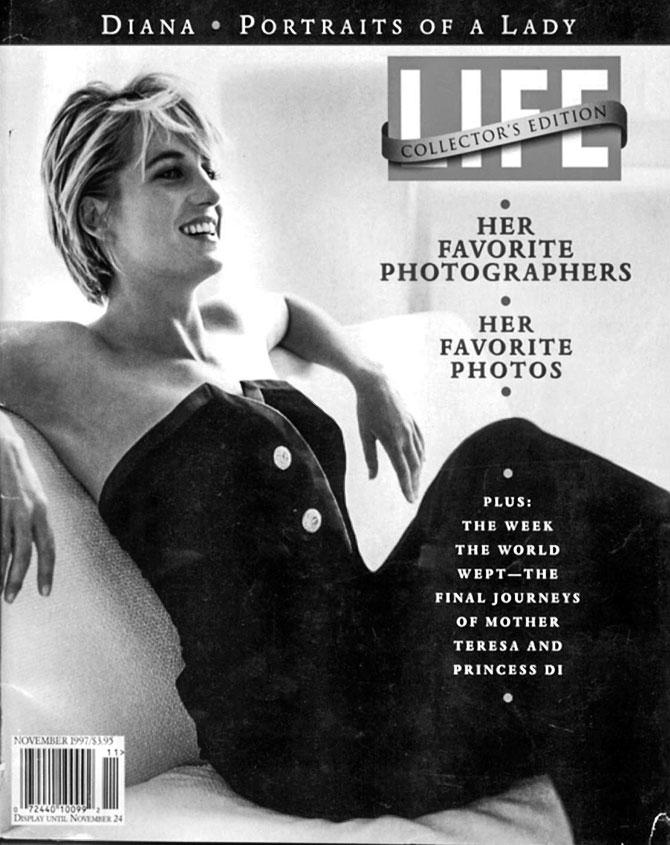 IMAGE: She never let the world dictate her its terms.
The former nursery school teacher taught kindness and humility, without doubt the People's Princess.
Just featuring her on the cover meant bumper sales on the newsstand, which is why she frequently turned up on magazine covers around the world in all her too brief life.
Every time we see her handsome sons and Prince William's adorable children, we remember what we lost in that horrific accident in Paris 20 years ago this August.
Photograph: Kind courtesy Life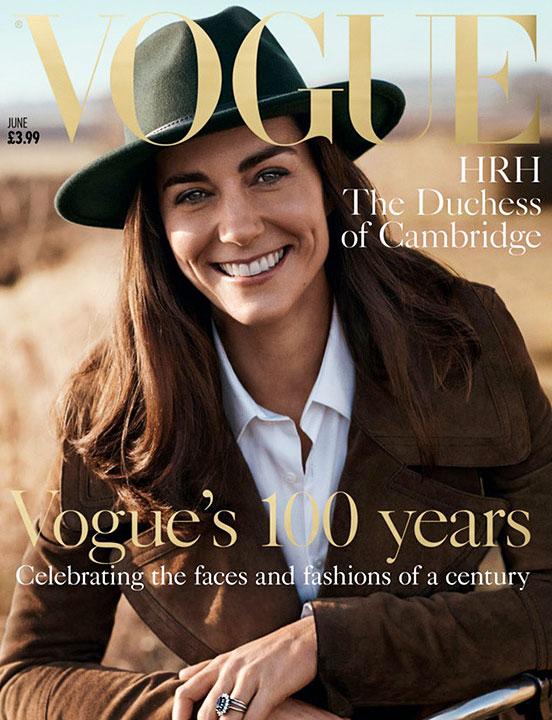 IMAGE: Kate -- Middleton, now the Duchess of Cambridge, George and Charlotte's mum -- is an inspiring figure.
Like her late mum-in-law, Kate is not just about fashion or elegance, but radiates more charisma than many others in the family she's married into.
Grace is Kate's game and she brings that quality to whatever she does -- carrying on her royal duties, as an ambassador for her country with her husband, or winning people over in unlikely places like Mumbai.
Here she is, on the cover of Vogue on its 100th anniversary.
Photograph: Kind courtesy Vogue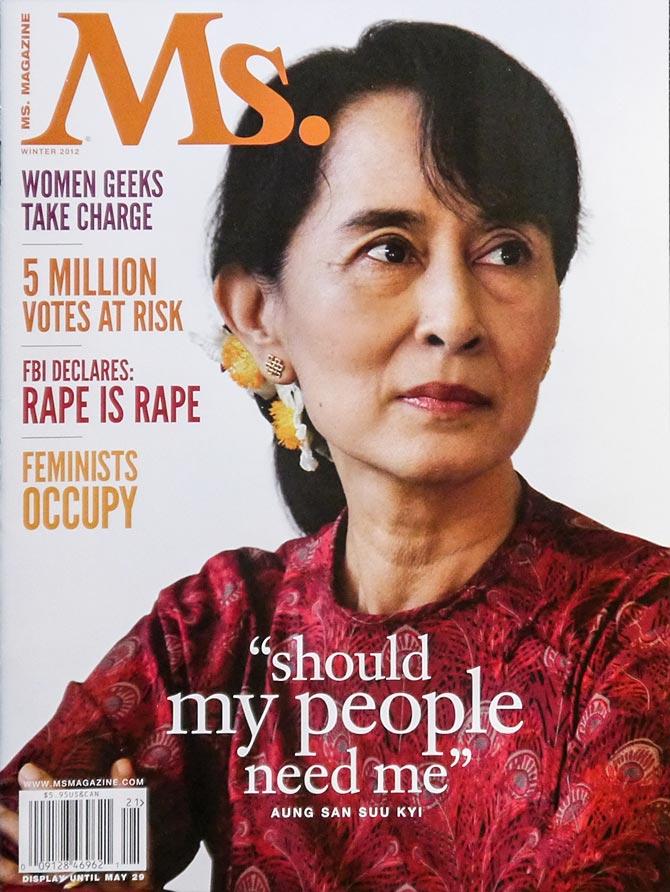 IMAGE: Though her image as a Nobel Peace Laureate has been recently sullied by her silence over her country's treatment of its minority Rohingya community, Aung San Suu Kyi still has countless fans for her slightly Mandelaesque manner under house arrest and her clever route to political relevance.
Daw Suu Kyi is Myanamar's ruler in all but title, which is why her refusal to intervene in the humanitarian crisis provoked by her country's government is truly mystifying.
Photograph: Kind courtesy Ms Magazine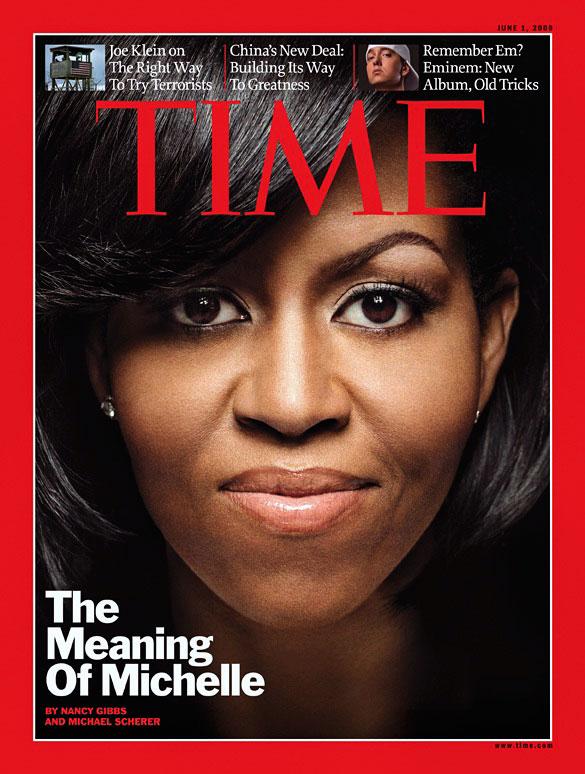 IMAGE: A reluctant First Lady at first, Michelle Obama will go down as the most admired FLOTUS in American history.
Always dignified, yet game to go along with the capers on talk shows like Ellen..., Mrs O championed the cause of healthy living, helped war veterans and the education of girls in her eight years at 1600 Pennysylvania Avenue.
People forget that she was educated at Princeton and Harvard, two of America's finest universities, and that she was a fine lawyer before her husband's political ascendance bestowed on her a very different role..
Photograph: Kind courtesy Time magazine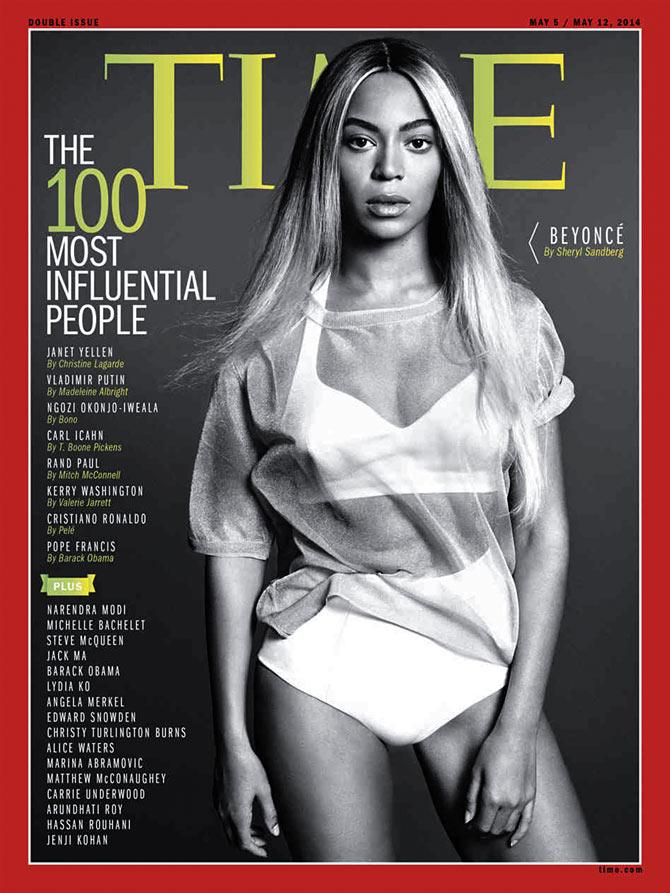 IMAGE: When Beyonce was picked to be among Time's 100 most influential women, her detractors went berserk.
The singer was sharing the title with folks like Barack Obama, Sheryl Sandberg and the like.
Sandberg, Facebook's COO, saluted Beyonce: 'She's the boss. Beyonce doesn't just sit at the table. She builds a better one.'
Wow!
Photograph: Kind courtesy Time magazine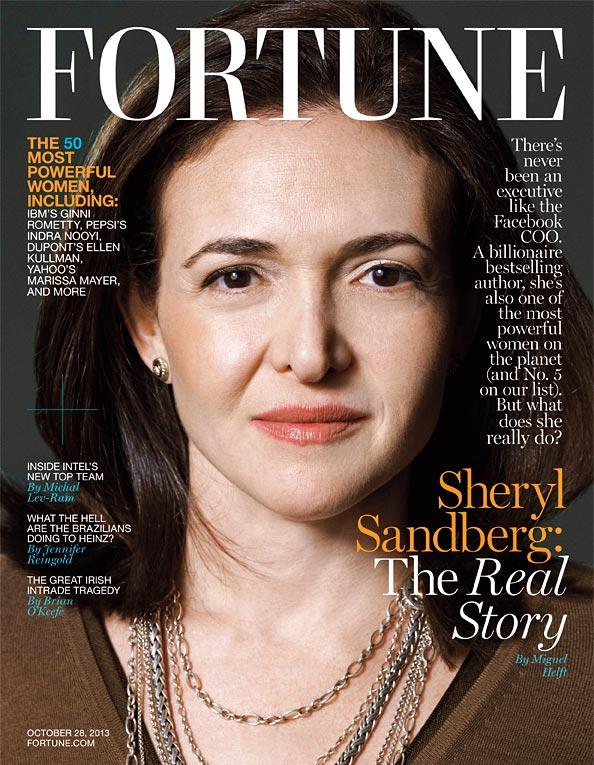 IMAGE: Sheryl Sandberg could have been anything she wanted.
Remember, the brainiac was Lawrence Summers' chief of staff when the economist was treasury secretary in the second Clinton administration.
Her presence by Mark Zuckerberg's side propelled Facebook from one of Silicon Valley's many brilliant ideas into planet domination.
Facebook's chief operating officer has led from the front, encouraging women to actively participate in technology and leadership roles.
Sheryl is truly an inspiration not only to young women for whom she is a beloved icon, but to many young men as well.
Photograph: Kind courtesy Fortune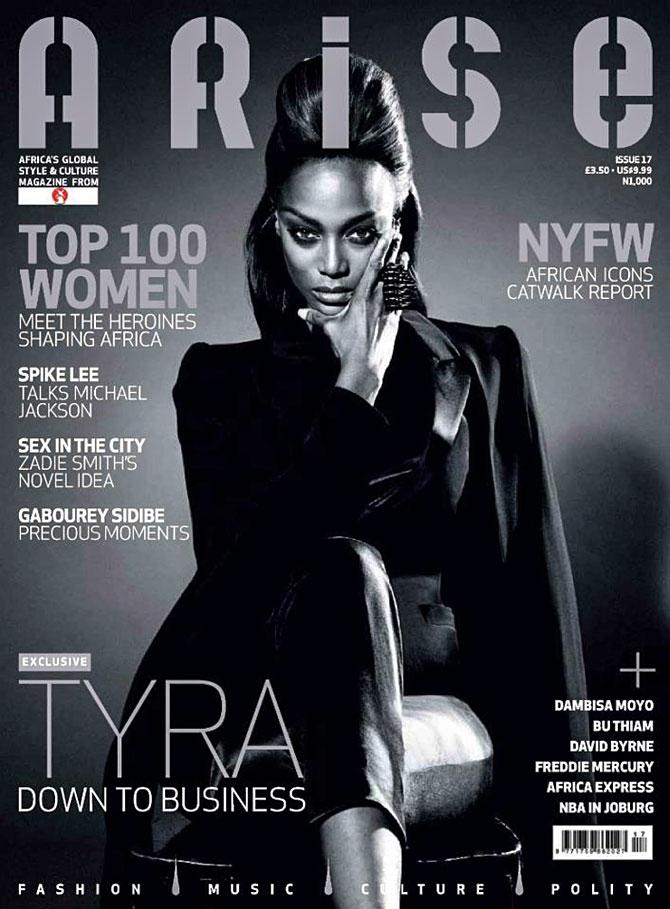 IMAGE: Tyra Banks was the first African American -- forget the political correctness! black -- woman to make it to the covers of GQ and Swimsuit Illustrated.
The Victoria's Secret Angel and bestselling author is one of the world's top earning models, one of the world's most influential people (Time magazine) and one of the world's most beautiful people (People).
She is also a successful businesswoman. Truly a model-entrepreneur.
Photograph: Kind courtesy Arise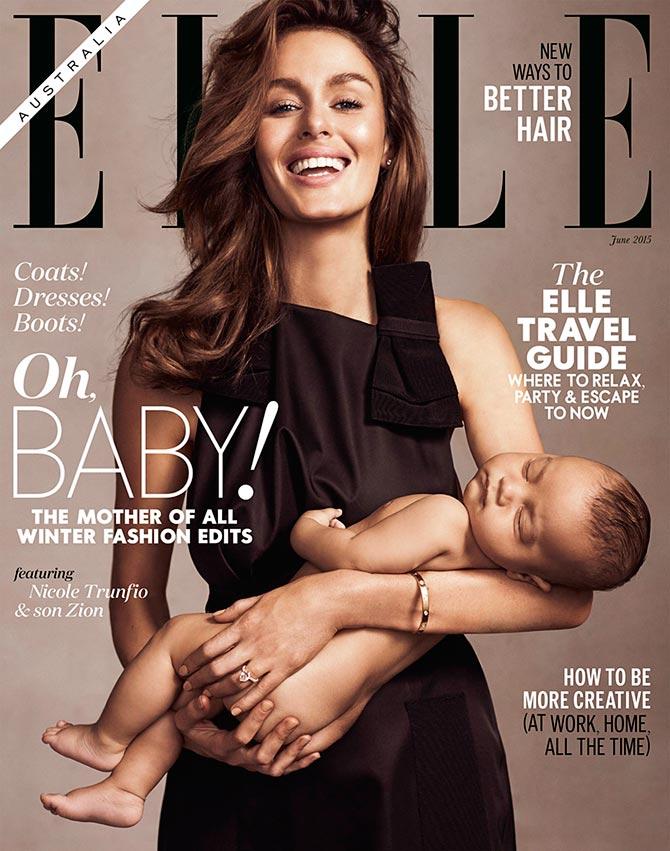 IMAGE: What's so powerful about an American supermodel posing with her baby on the cover of a magazine? Scroll down for the answer.
Photograph: Kind courtesy Elle Australia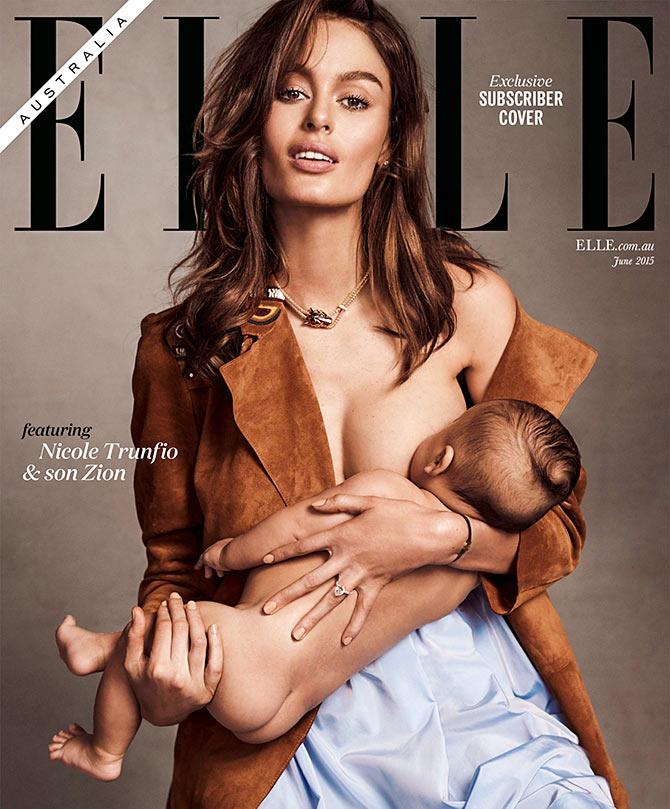 IMAGE: Elle Australia was criticised by readers and others who didn't like a breastfeeding model on its cover.
Its editor came out strongly in model Nicole Trunfio's defence, calling it a powerful image of a multi-tasking woman and a positive campaign to #normalizebreastfeeding and shed taboos.
Nicole's known to breastfeed her son during makeup sessions and between shoots.
On her Instagram account, she stated, 'There is nothing worse than a mother that is judged for feeding her hungry child in public.'
'This (image) stands for all women out there, whether you breastfeed or not, we gave birth, we are women, we are mothers.'
Photograph: Kind courtesy Elle Australia