'We want to connect unique skills that students have with the unique jobs being created.'
Illustration: Dominic Xavier/Rediff.com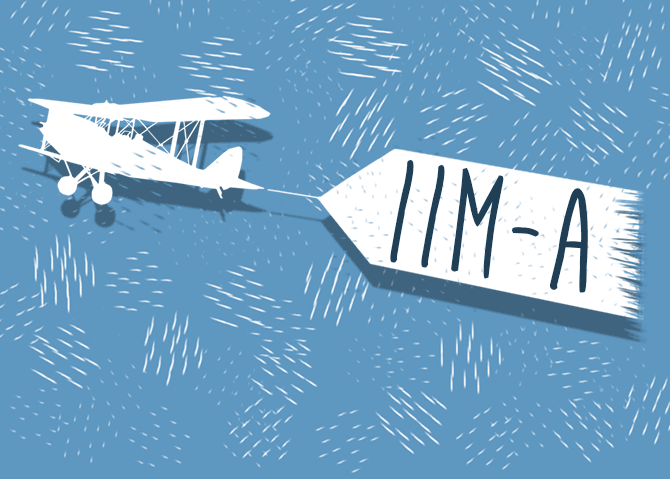 Errol D'Souza -- the new director of the Indian Institute of Management-Ahmedabad -- faces challenges such as hiring quality faculty and boosting research to meeting the board's expectations.
Professor D'Souza shares the road map for the B-school, especially under the new IIM Act, with Vinay Umarji.
As the new director, what is the road map you have laid out for IIM-A?
We are going to spend a lot of time globalising our footprint. We are recognised worldwide. But we don't engage as much global practices as we do in research.
We have too much demand from Indian corporates and so we have not got the space to think about how we can work elsewhere.
It is an important part of the institute's growth.
Second, we wish to grow faculty. Unlike earlier, where we invited people from outside, we are now going out and spending time with people abroad, working on projects and research ideas.
Finally, we are looking at holding more specialised conferences at the institute.
We are going out more into the external world, exploring how we can contribute.
As a consequence, higher quality of work is getting done and higher quality of researchers are visiting us.
How are you building this global footprint?
We are doing more programmes outside the country. We are looking at newer markets as well.
We are trying to look at Africa, which is an unexplored market. We have many more student and faculty exchanges.
You recently opened an extension centre in Dubai for executive education. Are more such centres expected?
The plan is to have a footprint in the growing part of the world. Dubai was a neutral region for West Asia and North Africa.
We are also looking at engagement centres in Mumbai and Delhi. But someone has to give us space.
We also intend to do incubation activities from these centres, and set aside some space for alumni gathering.
What changes are required with respect to the new IIM Act?
The Act has put a lot more responsibility on the institute, which is a good thing.
The board has to review the institute and its faculty.
The director is up for scrutiny, which is good.
The board has certain expectations, but we will set a certain pace that will keep them pleasantly surprised.
The board is now accountable to the government. The board will now have to work more closely to align itself with the interests of the institute.
I only wish they had removed the constraint that faculty salaries are tied to government salaries. Otherwise, the Act has given us a lot of freedom.
How does the Act now change the functions of a director?
The challenge will be to remain a faculty-governed institute and yet be responsive to the scrutiny of a board.
It would mean a highly symbiotic relationship with the board and at the same time the board must play its role of setting standards and making sure goals are met.
Earlier, a director would be better informed about what is going on at the institute than the board.
Now, the board will have to be better informed. The board was involved earlier, too, but now the Act says it will be held accountable.
If faculty salaries continue to be a constraint, how are you going to attract international talent?
Our challenge is to say that this is a wonderful place to work and the faculty will enjoy the culture so much that money won't matter.
In the world of academia, there are people who may buy this argument.
We offer a fantastic living experience on campus. In good universities, you are paid well so that you are not distracted.
If a faculty has to look to supplement his income, he or she is getting distracted from knowledge generation. This is also a challenge we face.
What are the three basic yet urgent needs of IIM-A that you would like to fulfill?
One urgent need is regulation around the Act. We are working overtime for that, to operate under the Act.
The second thing is infrastructure, which is taking a lot of effort and time.
Lots of buildings are going to come up in 2 or 3 years and that is a big challenge.
The third is hiring faculty.
With that, we also bring new courses, more areas of work to attract corporates.
It is a fight to stay relevant and to grow the types of programmes we do.
What would be your ideal faculty strength?
We have 96 faculty on campus. We would like to add at least 20.
Compared with global institutes, we are understaffed. I think all IIMs are understaffed.
What steps would you like to take for student placements?
We need to market more aggressively rather than wait for firms to come to us.
The nature of jobs is changing.
We want to connect unique skills that students have with the unique jobs being created.
We don't want recruiters to say that just because you have good people, we will come and pick a certain number of students.
How are you addressing quality research output at IIM-A?
Research output has gone up significantly in three years. We have more international conferences and visiting scholars.
We also support faculty more now for research through grants. We support faculty trips to international conferences. We don't want anyone to say 'I could not work because I did not have money for research'.
Have alumni and corporate funding grown for IIM-A?
It is a source of a lot of flexibility for us. Otherwise, we have to rely a lot on faculty money generated through consultancy and executive education.
We are not asking government for funding. Corporate funding has started increasing slowly. Corporates often give funds for a purpose.
We have started telling them to contribute unincumbent funds and to trust us to use it judicially.
We may want to use it for research or marketing. We are seeking flexibility and corporates have been very supportive.