You can get a lumpsum sanctioned, but you may draw only part of it and pay interest on the amount used, reports Bindisha Sarang.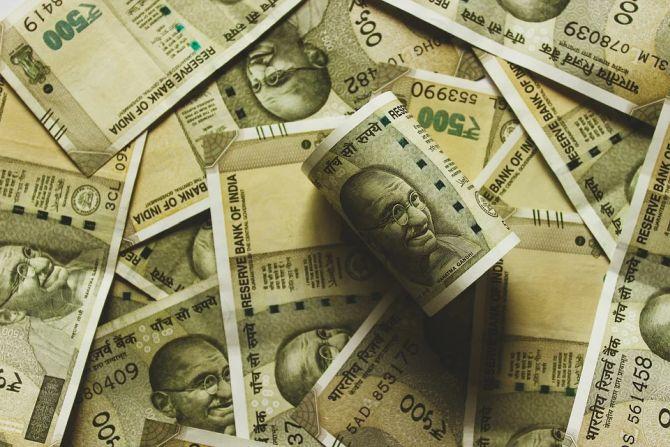 It seems today there's a loan for virtually everything under the sun -- to buy a house, travel the world, get married, and even to improve your smile.
And the tribe of takers is only increasing.
"There is a huge demand for lifestyle loans," says Gaurav Chopra, CEO of the loan aggregator Indialends. "They are taken for indulgence. People are becoming comfortable with the idea of paying instalments."
"They know they have a secure job, a monthly income, and a capacity to repay. They think, why delay instant gratification?" Chopra adds.
Take, for instance, Raju Prasad, a 20-something from Delhi, who wanted to buy a trousseau for his sister's wedding in Bihar.
"I took a loan online of Rs 20 lakh, bought gold jewellery worth Rs 4 lakh to Rs 5 lakh, designer Chandni lehenga, and a whole range of high-end gadgets and white goods," says Prasad. "I even paid off a few older loans."
A recent survey by Home Credit India, a consumer finance provider, showed nearly half of those surveyed were open to taking a loan to improve their lifestyle.
What are these:
A lifestyle loan is taken for just about anything that enhances your life.
It can be a loan for dental treatment, liposuction, vacation, wedding, or a cosmetic procedure like a hair weave.
After all, if your hair is vanishing, getting a hair weave appears necessary for some.
Take, for instance, Jay Choudhary, a Mumbai-based freelancer.
"I noticed that I was losing my hair in my mid-twenties. I didn't want to end up like my father or uncles. So, I decided to go for hair restoration on loan," he says.
These loans are personal loans, but modified to suit your needs.
They give flexi repayment options whereas in a personal loan you need to pay EMI from the very next month.
In such loans, you can get a lumpsum sanctioned, but you may draw only part of it and pay interest on the amount used.
Broadly, three models are currently offered by various lenders.
Regular loans:
Many use a regular personal loan for lifestyle needs.
After all, once the loan is disbursed, no one checks the end-use.
The next is a regular personal loan marketed as a lifestyle loan by banks and non-banking financial companies.
You get a lump sum amount.
You start paying the EMI from the next month.
You have to give in writing the purpose of taking the loan.
For all practical purposes, it has the same terms as a personal loan.
Some lenders give a wedding loan, a renamed personal loan, to book the venue, buy wedding outfits, gourmet caterers, and the like.
It comes with an interest rate of around 12.99% per annum and a processing fee of 4.13% of the total loan amount.
Specific lifestyle loans:
A few NBFCs now offer personal loans, designed for particular lifestyle goals, which come with an EMI option.
One example is Aditya Birla Finance's EMI facility for dental treatments in partnership with the Indian Dental Association.
"Dental treatments can be expensive," says Rakesh Singh, MD and CEO, Aditya Birla Finance. "Our offering provides customers with value in the form of hassle-free credit with easy instalments for their dental treatments."
Another player that offers a range of lifestyle loans via the EMI network card is Bajaj Finserv.
Its offerings include lifestyle loans for hair restoration and cosmetic surgery, slimming, beauty treatments, dental care, eye care, designer clothes, fashion, jewellery accessories, modular kitchens, home paintings, you name it.
However, remember that it may seem like a 'no-cost EMI, or easy EMI', and that you don't pay any interest on the loan, but that's not entirely true.
Your lender will take the discount which the retail offers (your discount) in the form of interest.
After all, there are three stakeholders in a no-cost EMI: The retailer, the NBFC, and you.
Bajaj Finserv has an EMI card joining fee of Rs 412 to Rs 449, and an instant activation fee of Rs 118, and an annual fee of Rs 117.
No-cost EMIs lifestyle loans are available only on select products or with select partners.

Remember, not all types of lifestyle loans come with an easy EMI option.
Usually, lifestyle loans are pre-approved and come with an easy EMI option, and can be used only across the lender's partner stores across the country.
They have flexible tenures and no foreclosure charges.
Customised products:
Several fintech loan apps have now brought in innovation in the personal loan space catering to lifestyle needs.
NBFCs like LoanTap have segmented loans according to customers's needs.
"Unlike a generic personal loan, we can customise a lifestyle loan at times," says Amit Tewary, CEO, LoanTap. "For instance, in a marriage loan, it could be difficult to pay the EMIs for the first few months of the marriage, so you can pay only the interest part."
LoanTap offers a variety of lifestyle loans -- rental advance loan, a loan to buy a designer bike Being Human's e-bicycle, one to buy designer clothes, and so on.
You even have a flexi-EMI option that allows multiple withdrawals and free part payments.
Other players like MoneyTap offer a personal line of credit for lifestyle needs.
It gives you access to money as and when you need it, and interest is charged only on the amount you utilise and not on the total credit line allocated.
The personal loan line of credit does not require a specific purpose for approval.
You can use the funds for whatever purpose you wish, and whatever your financial need is -- medical emergencies, student fees, vacations, or a big purchase.
Whether you should you go for such lifestyle loans is entirely your call.
They can be useful if taken wisely and used smartly.