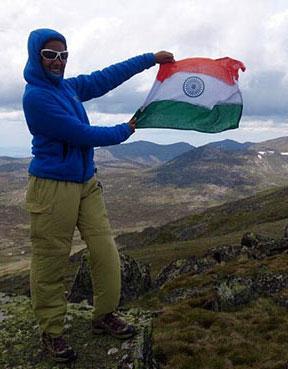 At 13, this Hyderabad teen's dream is to scale the seven summits of the world.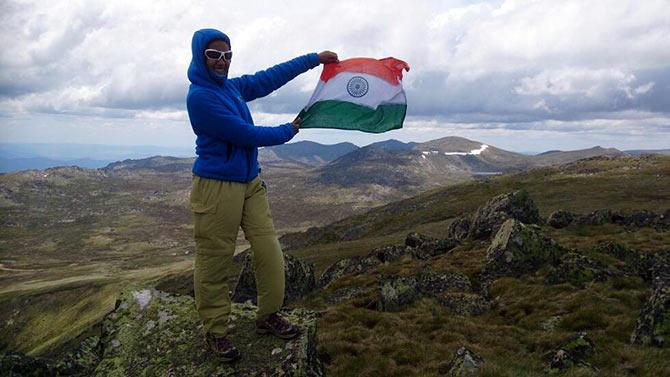 IMAGE: Jaahnavi's dream is to conquer the Seven Summits before she turns 16. Photograph: kind courtesy Kanchana Bose/Creative Commons
Jaahnavi Sriperambuduru was 10 months old when her father Sriperambuduru Krishna Rao, an administrative doctor, took her on a trek to the mountains.
Obviously, she has no memory of her first trek, but she feels she has a strong connect with Mother Nature, mostly the mountains.
When girls her age were playing with dolls, Jaahnavi was backpacking and assisting her father on short treks. "I have been trekking since I was three," she says proudly.
Jaahnavi recalls the first time she went on a week-long trek to Roopkund in Uttarakhand; she was the youngest member of the group. "It was a refreshing experience," says the 15 year old, "away from the busy city life. I loved the vegetation and the culture of people. I felt I belonged there. Being the youngest in the group, everyone took an interest in me; I was pampered."
She was 12 when she scaled Mount Kilimanjaro in Africa. A year later, she was standing on the top of Mount Elbrus in Europe -- the youngest person in the world to do so.
In December 2015, she climbed Mount Kosciuszko and the Aussie 10 Challenge Peaks (both in Australia), creating yet another world record.
If you follow television regularly, you must have spotted her in the Dabur 'Am Pretty Tough' ad of which she is very proud as it sends as strong message that girls are not just beautiful but tough as well.
Her dream is to complete the Seven Summits -- the highest mountains in the seven continents (Mount Everest in Asia, Mount Aconcagua in South America, Mount Denali in North America, Mount Kilimanjaro in Africa, Mount Elbrus in Europe, Mount Vinson in Antartica and the Carstensz Pyramid and Mount Kosciuzko in Australia) -- before she turns 16.
Since she already ticked off three mountains from that list, it does look that this avid mountaineer might become the youngest, and the first Indian girl to do so.
Jaahnavi lives in Hyderabad with her parents, Krishna Rao and Saraswathi, and her younger brother.
Divya Nair/Rediff.com caught up with this young achiever, who is also trained in Bharata Natyam and martial arts, to find out what inspires her.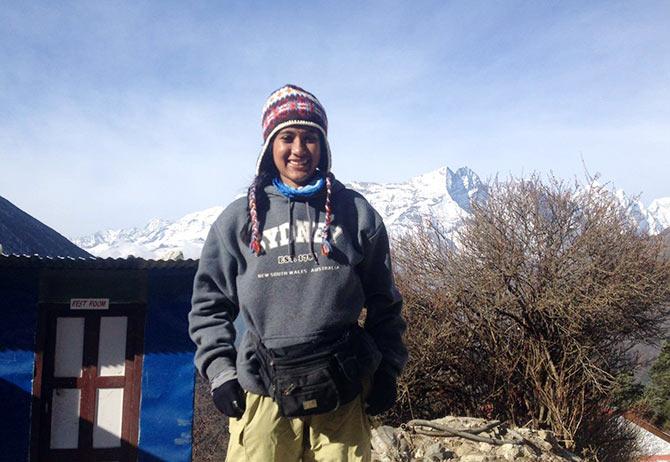 IMAGE: Jaahnavi Sriperambuduru. Kind courtesy: jaahnavi.com
Why mountaineering?
When I was eight years old, my father asked me what I wanted to do. I told him I liked the thrill and adventure of mountain climbing.
I was about 10 years old when I googled the Seven Summits and realised no Indian teenager had scaled them. That's how I discovered my mission in life.
I discussed the idea with my father and he promised to help train me.
What does your day look like? How do you train?
My day starts around 5 am.
Three days a week, I travel to the stadium which is about 50 kilometres from my place. My dad and I travel by bike or car. At the stadium, my fitness coach Nagapuri Ramesh helps me practise for an hour. If we don't get stuck in traffic, we reach home just in time for lunch.
Around 1 pm, I rush to school to catch up on classes. I return home by 4 pm and rest. Between 7 and 9 pm, I study. Before 10 pm, I am in bed.
I have taken special permission from the school to help me manage my practice and academics.
You are travelling most part of the year. Doesn't it affect your grades?
I try not to let my academics suffer. When I am studying, I focus well. I score between 80 to 85 per cent in my examination.
What has been your toughest expedition so far?
I was 12 during my trip to Stok Kangri (21,182 ft) in Ladakh and I had a real testing moment. Towards the final leg of the journey, I suffered from altitude sickness. The conditions there were such that it would take about six hours to scale 300 metres.
The climb ahead was steep and not too far, but I developed a mild headache and white out. I could not see anything. I was forced to return to base camp. It was the most disappointing moment.
By the time I started to recover, everyone else had returned and it was time to go.
Everyone, including my father, tried cheering me up, saying I had come this far, but something inside me kept telling me I should not give up.
So many people back home in India had cheered me for this trip and I had taken so much effort and sacrifice to reach here.
I had taken up this challenge and felt it would be unfair to go home without finishing it. So, I stayed for a week at base camp.
I remember it was August 13 when I started the trek again and it lasted about 12 hours. When I reached the peak and unfurled the flag, it felt great.
When I reached Hyderabad on August 21, everyone welcomed us. I felt glad I could complete the trip.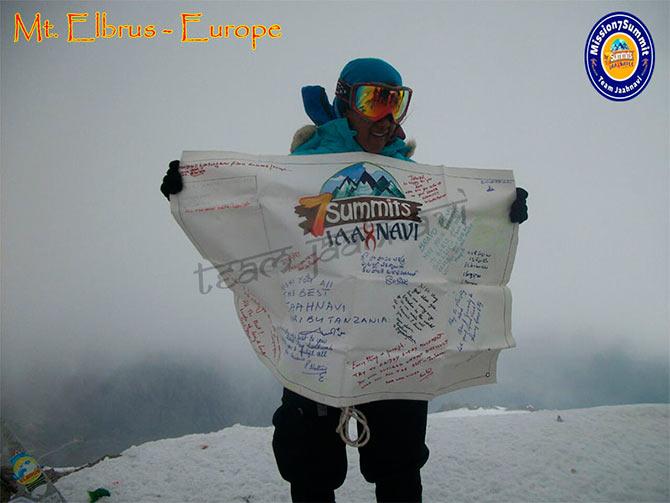 IMAGE: On July 31, Jaahnavi was 12 when she conquered Mount Elbrus, becoming the youngest in the world to achieve the feat. Photograph: Kind courtesy jaahnavi.com
What problems do mountaineers face?
The greatest problem, besides fitness training, is the funds. Whenever someone (a sponsor) approaches me about my expedition, they ask, 'What will I get?'
It is difficult to answer that question. My father has sold off one of our houses to fund my trips. We have already spent close to Rs 60 lakhs (Rs 6 million) on them (the expeditions). The Antarctica trip costs Rs 40 lakhs (Rs 4 million).
For me, it's a passion, an opportunity to make my country proud. My father does all the sourcing for me, he lets me focus on the mission.
What do you survive on? What does your backpack carry?
We usually carry packed food -- the MTR ready-to-eat kinds. I don't eat spicy or salty food. I carry bread, boiled potatoes and butane gas. We heat the snow to get boiling water, use a tablet to purify it and then use it to cook food.
What other challenges have you faced?
When there are no porters, I have to carry 40 kilos of luggage all by myself. I have learned to pitch my own tent.
The wind is never constant; sometimes you don't see the sun. I have learned to deal with these challenges.
Who inspires you?
I have learned more lessons from Nature than in classrooms and from textbooks.
Every continent is different.
Nature teaches me to move forward. When I get tired or low, I look around me. It makes me feel confident even when nobody is around to guide or counsel me.
It has a power I cannot explain in words, but I experience it every time.
It tells me that I cannot bend or bow down to pressure, that I have to make quick decisions.
I have never wanted to go back.
How does having your father on the trek help you?
My father is my greatest strength and support. He was recently diagnosed with cancer and is undergoing chemotherapy.
He had undergone a chemo session just a few days prior to my recent trek to Nepal. But that did not stop him from joining me. He stayed at base camp while I finished my practice and returned.
I cannot describe how much his enthusiasm and energy inspires me every day.
Your greatest life lessons?
Dream with your eyes open.
Be with like-minded people who can inspire you.
Believe that you will succeed and you eventually will.
Your message for our readers?
Don't force your child to do what you think is best for him/her. You can guide them about the different options available, but let them pick. Give them that freedom of choice.
Besides the Seven Summits, what are your future plans?
I want to make a career in the civil services and make a positive contribution to society.