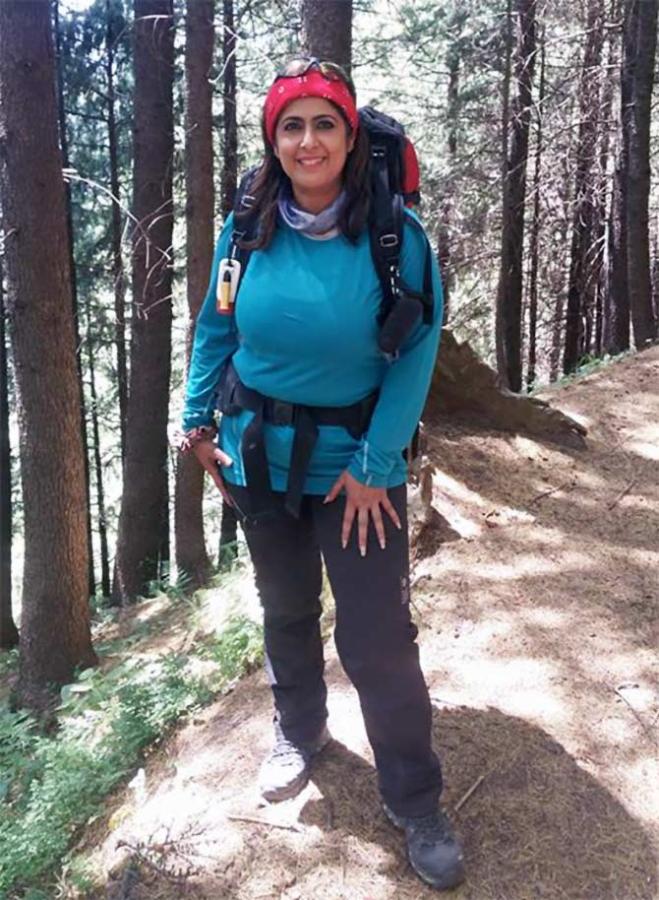 At the age of 46, on December 31, 2011, Sangeeta Sindhi Bahl did something extraordinary.
She scaled her first peak, Mount Kilimanjaro (19,341 feet), the highest mountain in Africa.
Then she climbed Mount Ebrus (18,500 feet), the highest peak in Europe, in July 2013 and the 16,000-foot high Mount Vinson in Antarctica in January 2014.
When climbing Mount McKinley (20,310 feet) in North America, Sangeeta suffered a bad knee injury and had to be evacuated immediately. That failure only cemented her resolve.
At 51, she is training to climb Mount McKinley (now known as Mount Denali) again. She talks to Anita Aikara/Rediff.com about scaling new heights and her dream to climb the Seven Summits, which will make her the oldest Indian woman to do so.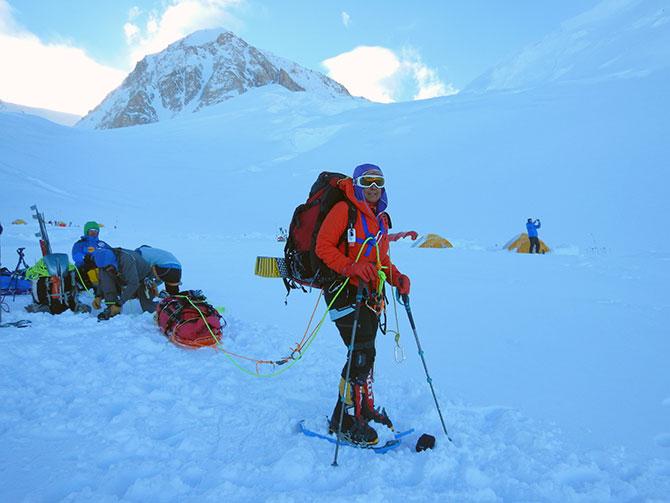 Away from the mountains, Sangeeta Sindhi Bahl runs an image consulting business, a hands-on mother to a teenager and a doting wife.
She is also a mountaineer who nurtures a dream: To climb the Seven Summits and become the oldest Indian woman to do so.
(The Seven Summits -- Mount Everest in Asia, Mount Aconcagua in South America, Mount Kilimanjaro, Mount Elbrus, Mount Vinson in the Antarctic and Mount Carstensz in Australia -- are the highest peaks on the seven continents.)
Sangeeta's life is a testament to her motto: 'Nothing is impossible'.
She has already scaled four of the seven peaks and hopes to conquer Mount Everest next year.
Quiz her about the journey and she confesses it all started at the breakfast table. "My husband Ankur, is a climber," she says, "It was his dream to climb Mount Kilimanjaro by the time he turned 50. He is four years older than me, so, at that time, I was 46. His younger brother was supposed to go with him, but that didn't happen."
"One day, at breakfast, he asked me, 'Do you want to come with me because I really want to go? It is not going to be difficult. We just need to get our cardio-fitness in order.' I said yes."
Every climb needs a certain amount of preparation, so the couple hit the gym and trained for four months; they lost weight and became fitter.
Soon, they were headed on an eight-day trip to scale Mount Kilimanjaro, leaving their eight-year-old son with her in-laws. Sangeeta was worried. "It's not easy when you have a child," she recalls.
Add to that a fear that most mountaineers have, "On a mountain you never know what happens!"
"Mount Kilimanjaro is an imposing climb. The minute you see it, you wonder how one gets to the top. There is a river flowing at the bottom and there are constant challenges. Since we were enthusiastic and fit, we survived. We kept going on, kept saying, 'Hum kar lehge.' At the end of it, there we were, standing at 19,341 feet, feeling on top of the world!"
Sangeeta returned home with plenty of memories and lessons learnt the hard way. "The last day is the toughest. It'll take you a minimum of 12 hours from the time you start till you return to the high camp."
Sangeeta's other climbs -- Mount Vinson and Mount Ebrus -- were also done with Ankur. Their passion is expensive, but they can afford it, she says.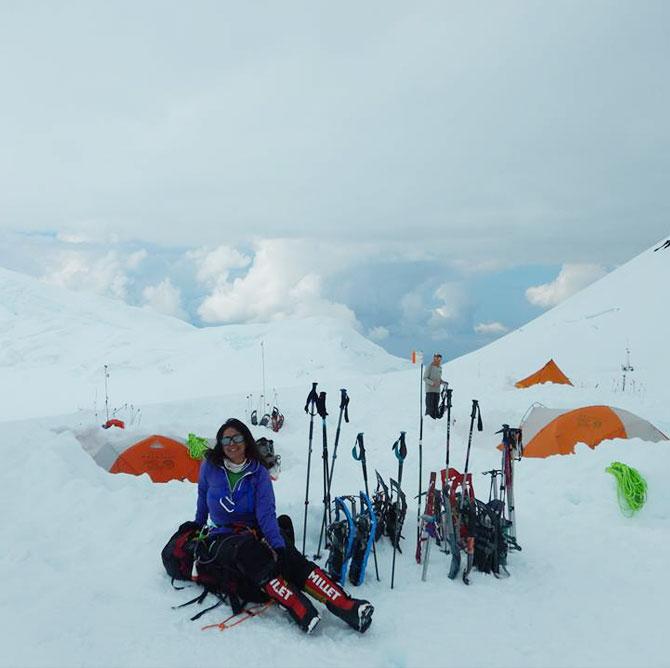 IMAGE: Sangeeta takes a break at Mount McKinley.
"At the end of the day, it's all about the mind," she says. "When you are exhausted and want to give up, your mind should push you to keep going. I keep telling myself I will do it. I will not give up. I can do it."
Before she decided to give Ankur company, Sangeeta had never considered climbing a mountain. No one in her family was a mountaineer. Post the first climb, her passion for climbing unfolded thanks to the encouragement she received from friends.
"My mother knows of the dangers involved and often tells me to be careful. My father is oblivious. He doesn't really understand the risk."
After their first success, Sangeeta and Ankur wanted to technically train for mountains like Mount McKinley that are difficult to climb. They visited the institute of mountaineering in Darjeeling, which has been training mountaineers for years. But the institute did not train anyone over 40, leaving the Bahls bitterly disappointed.
The urge to be trained was so strong that they finally sought training in the US.
They then set out to conquer her fourth peak, Mount McKinley in Alaska, which is the highest in North America. But destiny had other plans.
Sangeeta suffered a bad knee injury at 15,000 feet and had to be evacuated. "While climbing Mount McKinley, there are no porters to help you with your bags. You need to carry them yourself -- you have to carry 30 kg in your bag and pull 30, 40 kg on a sledge. When you are climbing Mount Everest, the Sherpas help you carry your bags. As far as that aspect is concerned, it makes the Everest climb easier. When I was climbing Mount McKinley, there was a lot of snow and the weather was terrible."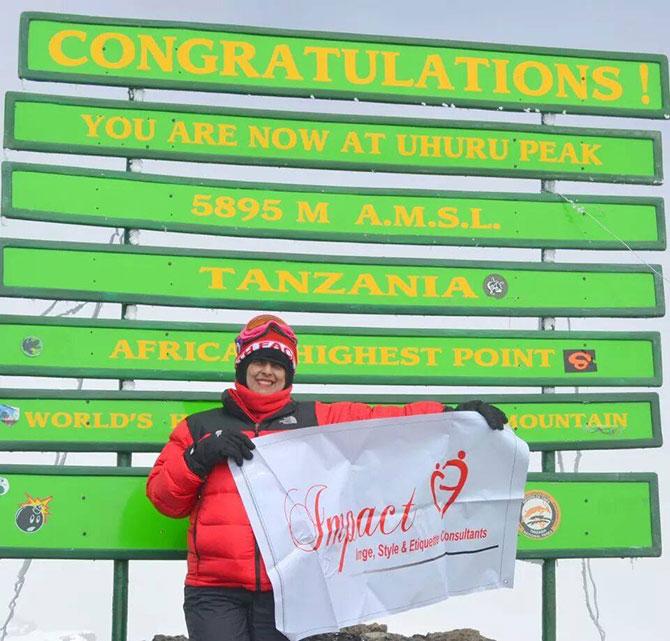 IMAGE: Sangeeta at Uhuru Peak, Mount Kilimanjaro.
When a mountain guide told her she was never going to climb again, she was thrown off guard. "I had dreamt of climbing the Seven Summits. I said to myself, 'My God! My life is finished'."
Sangeeta had to undergo knee surgery when she returned to India. "Post surgery, I was given a walking stick. Using it was brutal for my self-esteem. I looked at it and said, 'This is not going to be a hindrance in my life because I won't let this happen to me'. Within a week of the surgery, I threw the stick away. I continued walking with a limp and would religiously go for all my physiotherapy sessions."
Within six months of the operation, Sangeeta did the impossible. She climbed Mount Aconcagua (22,347 feet) in 2015 and sent a photograph of her on the peak to the mountain guide. "I proved that I could climb mountains despite having injured my knee."
The climb, she admits, was a challenge given her injury. "I don't feel any pain in the knee, but I don't push myself beyond a point," she says. "I have set my limits and I don't cross them."
Sangeeta now hopes to return to the mountain she was injured on. This time, she plans on conquering it.
"I have been training for it every single day. I plan to climb Mount McKinley in June." Ask her if she is scared and she says, "No! I am excited. I want to take a selfie at the exact spot where I got injured."
Next on her list is the Carstensz Pyramid and finally Mount Everest in 2017. "I have kept the toughest one for the last. Mount Everest is a tough climb purely because of its height."
Sangeeta trains for two hours for six days a week. Four days are dedicated to gym training and she does weights for two days. "I do weights outdoors by climbing stairs and walking with a backpack. I keep increasing the backpack's weight every day."
"Every day is a fresh start. You must have it in you to try harder. I don't want to give up and never want to live in fear!"