An ambitious exhibition tells the story of India as also the history of the world.
Ritika Kochar reports.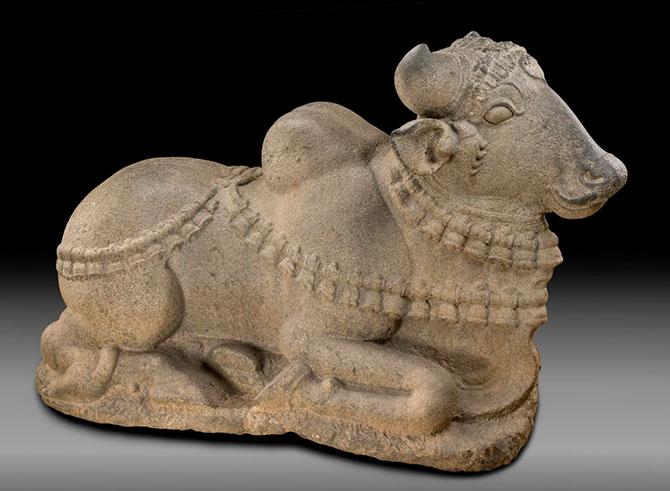 IMAGE: Nandi, Western Ganga dynasty, AD 800-900, exhibited at the CSMVS Museum in Mumbai. Photograph: Kind courtesy CSMVS
The India and the World exhibition at the Chhatrapati Shivaji Maharaj Vastu Sangrahalaya, Mumbai (CSMVS, formerly the Prince of Wales Museum) opens immediately as you enter.
In the main hall of the museum are five large statues -- the bull Nandi, a winged Garuda, Hanuman and a Bharvahaka.
Also, one of Europe's most famous sculptures -- the Townley Discobolus, a Roman copy of the Greek Myron's anatomically perfect discus thrower.
An ambitious exhibition attempts to tell the story of India as also the history of the world.
They appear to represent binary concepts like the sacred and secular, India and the world, but juxtaposed, it is apparent that they all represent the idea of vehicles as well as idealised male bodies, athleticism and superhuman strength.
And in the penultimate room of the exhibition is Chinese contemporary artist Sui Jianguo's interpretation of the Discobolus -- dressed in a Mao suit.
The British appropriated a Roman appropriation of a Greek artwork, just as, today, a Chinese artist has appropriated it to tell his own cultural history.
Describing India's long history, all the while telling the story of the world, in 200-odd exhibits is an ambitious objective, to say the least.
Then again, there's a powerhouse of a team behind the major exhibition: Art historian Robert Neil MacGregor, CSMVS Director-General Sabyasachi Mukherjee, museum consultant Mahrukh Tarapor, as well as sponsors that include the British Museum, CSMVS, Delhi's National Museum, the Getty Collection and the Tata Trust.
It is with that kind of backing that curators Naman P Ahuja and Jeremy David Hill brought together multidimensional works from 26 museums and private collections.
The topics, Early Implements and Earthenware, Cities, Empires, Faith, Trade across the Indian Ocean, Court Cultures, Issues of the Twentieth Century and societies/communities that existed on the margins of other societies, may seem like dry subjects from history books. But a thrilling aspect of the exhibition is its simultaneous accessibility for a schoolchild and the deeper conversations that each exhibit provokes.
"Tarapor and Mukherjee wanted an exhibition that would expose Indians to world history. Indians are becoming too insular," Ahuja tells me as I sit with him to understand his vision as well as some issues that had me puzzled, such as why the exhibits are often not arranged in chronological order.
"We should come out appreciating how much we've learnt from other parts of the world and how much we're still learning by being curious. While connections are easy to see, how were we to show differences so that they became easily comprehensible?" he says.
"The other challenge was the chronology. Though chronology is a fundamental method, it's not the only way in which we study history. Different cultures think of the concept of time differently. In Indian traditions, time can be cyclical as well as linear. The way a jyotish establishes dates is not commensurate with how archaeologists see it."
This approach is immediately obvious in the first gallery, Shared Beginnings, which starts with hand axes found across the world.
The Olduvai hand axe from Tanzania is 800,000 to 400,000 years old while the one found in Attirampakkam, Tamil Nadu is 1,700,000 to 1,070,000 years old.
The Upper Paleolithic hand axe from Chittor, Rajasthan is from about 50,000 BCE. The lesson: Similar technology continued to be used for a million years in many parts of the world.
The exhibition juxtaposes stories from Japan, Mesopotamia, Harappa, Egypt, Balochistan, Iraq, China, Europe and Mexico through tools, seals, jewellery, sculptures, paintings, pottery and textiles.
Each piece comes with its own complex history -- stories that could fill a book. The most complex, however, is in Gallery Eight: 'Quest for Freedom' looks at the last 200 years of human history.
"It was the hardest gallery to put together," Ahuja says. "Every curatorial session ended in more questions. It was essential that we deal with World War II, Partition, the end of colonialism, personal justice and individual liberty, the suffragette movement, the Holocaust and the rise of anti-Semitism. We finally chose objects that could tell many different narratives simultaneously; objects that could be used by history teachers to teach both Indian history and world history."
The result is a non-cohesive gallery, but one where each object tells a story, which, in turn, add up to make a vivid historical narrative -- a page from a slave register, a medal celebrating the end of slavery, a copy of the Indian Constitution, an artwork called 'How To Draw a Line without Dots' by C R Nanaiah (on voter rights), a digital projection by the Raqs Media Collective, 'Untold Intimacy of Digits' (on India's first biometric handprint) and 'Throne of Weapons' by Mozambique artist Cristóvão Canhavato.
Ahuja's own favourite is to be found in the last gallery. A small painting depicts the myth of Rahu who has such an insatiable appetite that he gobbles up the sun, moon, his own body, and finally, his own lower jaw.
"It's a symbol of eternal hunger and chaos. It helps me make sense of the present."
India and the World: A History in Nine Stories can be viewed at CSMVS Mumbai till February 18, 2018 and at the National Museum Delhi from April 2018.