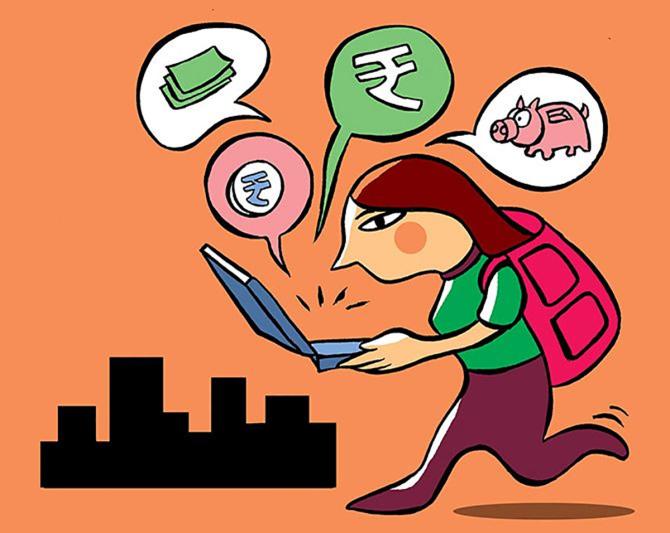 A major impact of the pandemic is the increased cost of higher education.
Indian students planning to study abroad this year have to pay higher fees, fund their quarantine stay and also compete for on campus work opportunities.
In Part 2 of our Study Abroad series, students tell Divya Nair/Rediff.com how they are dealing with the additional costs.
With restricted intake and stricter norms, most students agree that the cost of international education has significantly increased during the pandemic.
Kevin Anto Joseph, for example, will be paying an additional 1,000 Canadian dollars for his postgraduate course this year.
Tanya Mishra, who plans to study global history and international relations at The Vrije Universiteit Amsterdam, will be paying almost double the fee for her master's degree.
"In 2020, the fee was approximately 12,000 euros; this year I am paying 20,000 euros, which is quite a lot," says the 26 year old.
"The international intake is four per cent. Also, this year the university had announced that there will be fewer students compared to last year. If things get better and the city opens up, we are hoping they can move to regular classroom-based teaching," Tanya adds.
According to Kevin, his college didn't provide information on the hike in fees; it "simply stated -- safety reasons," he points out.
In the current situation, getting an education loan is another challenge for students who are already dealing with additional paperwork, delays along with the stress of varying foreign exchange rates and processing charges.
Jaswanth, a 26-year-old student from Hyderabad, who got admission for an MBA course at the IESE Business School in Spain, says "the real problem arises when you start looking for an education loan, especially if you do not have collateral with a value equal to your loan requirement."
Even after having been admitted to a good business school, Jaswanth was denied a loan by every lender.
"I realised that not many lenders cover living expenses and the processing time is usually very high. For MBA programs abroad, there is no proper documentation of loan offerings from each lender online. Private lenders do process the loan quicker than public-sector banks, but the interest rates are considerably high in comparison. Also, there are no offerings that take partial collateral security," says Jaswanth.
According to Ankit Mehra, founder and CEO of GyanDhan, an education financing marketplace, affordability has been significantly impacted due to the decrease in disposable incomes for households.
"While the average loan amount requested has only increased by 5%, the number of students looking for loans has increased by a factor of 2.5x," says Ankit.
With the changes in education loan policies at most lenders, one can typically fund up to 80% (and even 100% in exceptional cases) of the total cost of education including living expenses, he further added.
Sanika Nair, who paid her fees via the State Bank of India, feels the varying conversion charges for foreign exchange can pinch.
"If the course fee for locals is say 6,000 to 7,000 Canadian dollare, international students like us pay almost double. In my case, I went to the bank with my dad and we were expecting to pay Rs 1.1 million (after conversion) for the semester. But the process was delayed by a few minutes, and the rate was increased to Rs 1.4 million including GST."
"Somehow we were able to pay the full amount that day," she adds, "but I could imagine the plight of so many students and parents who may find it challenging to pay up this difference upfront."
Sanika also brings up the cost of quarantine in a foreign land.
Students who enter Canada and have no symptoms must still quarantine for a minimum of 14 days. The quarantine period includes a mandatory three nights pre-paid booking at a government-authorised hotel at your cost.
"You have to pick from the list of hotels provided to you by the (Canadian) government and make provisions before reaching the place. This is something none of us had imagined or planned in our budget," Sanika says.
Ever since the UK added India to its 'red list', fearing a new strain of the virus from India, international travellers including students will have to follow stricter quarantine rules even after they are vaccinated.
The rate for one adult in a single room for 10 days (11 nights), listed on the Web site is £1,750 (about Rs 180,000).
Despite all this, students are trying hard to keep their spirits up and make the most of a bad situation.
Hitesh Shriyan, 25, from Manipal is among those students who were disadvantaged by the lockdown.
Although Hitesh secured admission at Niagara College, Canada, for the May 2020 intake, his visa got delayed due to the lockdown. After deferring his intake to September 2020, he spent almost a year trying to analyse his options before signing up for online classes.
"I got my confirmation in January 2021 and my visa hadn't arrived until May 2021 so I opted for the online course. Until last year, I had planned to travel abroad, study, meet people, explore my skills and use the experience to build my knowledge and grow as a person."
Although Niagara College has no plans to refund the fee for online classes -- the institute refunded approximately $100 meant for library and sports -- Hitesh is now hoping to make the most of the live sessions.
"In May 2021, we had one-hour recorded sessions. But now they have started live classroom sessions. It may not be as effective as I had intended it to be, but at least it will help me interact with faculty and gain some insights," says Hitesh, who is studying hospitality and tourism management at the Canadian institute.
Mumbai's Dhruti Kuvar, 22, who travelled to New York in October 2020 (she was vaccinated in February 2021 on the Columbia University campus), two months late for her August session, is still trying to make up for lost time. She says there are pros and cons of delaying admission.
"Even though I was allowed to take two subjects less in my first semester, I will now have to clear four subjects (as compared to two subjects for other students who came in early) in my last semester," says Dhruti who is pursuing a master's in chemical engineering at Columbia.
International students will pay more for their education. There are fewer on campus jobs, fewer scholarships, fewer opportunities for financial assistance, which makes the competition tougher for students graduating in 2021 and 2022.
"Earlier," Dhruti adds, if you were applying to 10 companies for internships or part-time opportunities, now you will have to send out 20 or maybe 30 applications. Similarly, if there were four research projects/positions available on campus in 2019, now there may be just two."