The six-day Maruti Suzuki Desert Storm Rally through Rajasthan is a test of skill and endurance, says Aakash S Paul.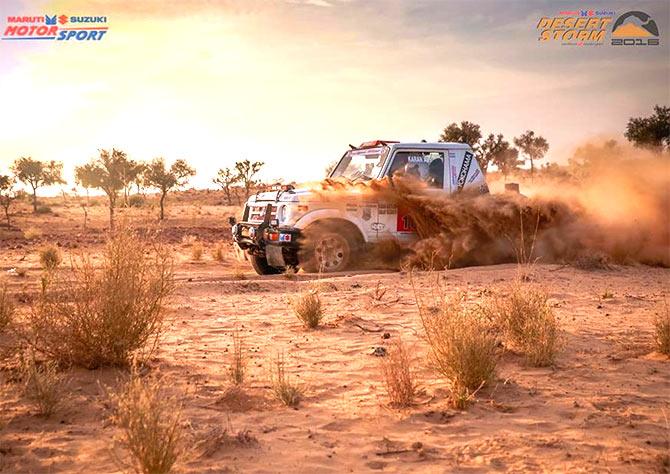 Tracks, both on- and off-road, have always enticed daring men and women drivers across the world to test their skills behind the wheels of their souped up vehicles. Whether it is a Formula One competition on a race track or a tough off-road challenge held on inhospitable terrains, it's the spirit of motorsport racing that keeps the adrenaline flowing.
Motorsport brings its share of glory and fame and, at times, tragically takes a life and destroys vehicles. Back home in India, there's a mini 'Dakar rally' -- the Maruti Suzuki Desert Storm -- that beckons bravehearts in the country and abroad.
It's not just your driving and riding skills that matter; it's also your vehicle's ability to withstand the challenges thrown at it by an inhospitable terrain that really gets you through. At the end, Lady Luck also needs to smile upon you, else you are out of contention.
Such was the case with Jaipur's Abhishek Mishra, who was leading the race on the first four days in his Suzuki Grand Vitara. Unfortunately, on the fifth day Mishra, along with his navigator P V Srinivas Murthi, were eliminated due to a technical snag in their vehicle.
The 14th edition of Maruti Suzuki Desert Storm, a six-day affair, was held on the sandy and rocky terrains of the expansive Thar Desert. Sports utility vehicles, cars, motorcycles and all-terrain vehicles took part in this rally, braving soaring temperatures through some tough terrains.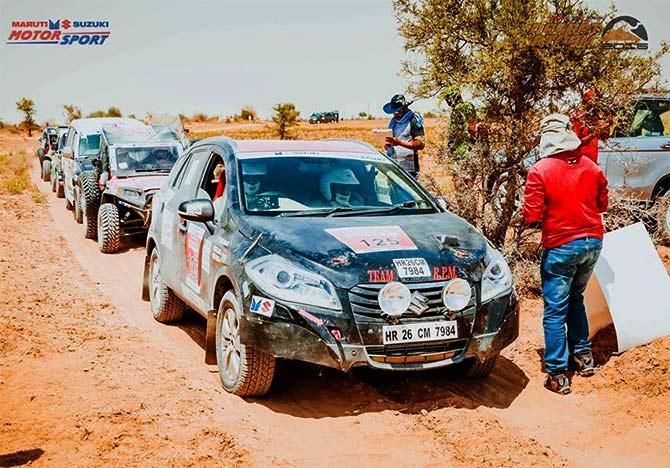 Beginning April 4, around 200 motorsport enthusiasts covered a distance of about 2,000 km, steering their vehicles through the sand dunes and rocky terrains of some of Rajasthan's most beautiful locations like Hanumangarh, Bikaner, Jaisalmer and Jaipur to finally reach Jodhpur.
After a six-day ordeal, tears of frustration and joy mixed freely with the grime and dust of Rajasthan. Winners held their trophies high for all to see, while the ones who lost paused to ponder what went wrong, perhaps mulling over a new strategy for next year's race.
The race was divided into different categories. These included XTreme cars, NDure cars, Xplore cars, Moto Quad (motorcycles and quads) and XTreme T3 (for the all-terrain vehicles).
In the Xtreme category, the vehicles have no restrictions on time, while in the other categories the race is based on time, speed and distance.
Each day brought out a different challenge for the teams. On the first day, leg 1 and 2 of the Xtreme category had two competitive stages of 57 km and 24 km around Hanumangarh, nestled on the banks of the Ghaggar river.
Day 2 saw the scene shift to Bikaner. Located in the heart of the Thar desert, it has its share of sand dunes, majestic forts, palaces and temples. This leg of the Desert Storm was one of the longest, starting from Badrasar and covering a distance of about 160 km.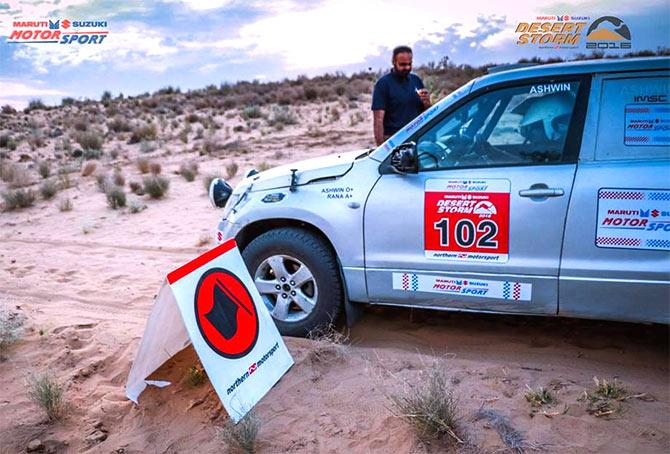 For the rallyists, it was a drive through Rajasthan's cultural corridors as they passed through various small towns and hamlets, including Karnisar, Badrasar, Bhandarwala and Dholera. Locals in their traditional attire stood as though mesmerised as the vehicles zipped past them.
On the third day, having covered around 350 km, the rally started from Bikaner and travelled to the 'GoldenCity' of India, Jaisalmer. Leg 3 had three competitive stages of 41 km, 64.74 km and 50.71 km length between Noorsar, Bandarwala and Nal.
On Day 4, after travelling for about 100 km around the hamlets of Kuchri and Bandha, the motorists began the fourth leg of the rally that included one competitive stage of 100 km.
It was on Day 5 that Suresh Rana, famously known as 'Manali Man', clinched the lead. This leg had three competitive stages: of over 217 km between Turkon ki Basti, Majid ki Basti and Mangaliwas. Located some 53 km from Jaisalmer, Turkon ki Basti is known for its sand dunes, sparse population and extremely helpful locals who cheered the speeding cars.
Day 5 also saw the first night stage in Turkon ki Basti when the area was illuminated and bore a festive resemblance.
The rally ended in the Blue City of Jodhpur with Team Maruti -- Suresh Rana, a veteran when it comes to winning races of this nature, and his navigator Ashwin Naik (driving the Suzuki Grand Vitara) -- at first position, followed by Amanpreet Ahluwalia and Virendra Kashyap. At the third position stood Niju Padia and his navigator Nirav Mehta.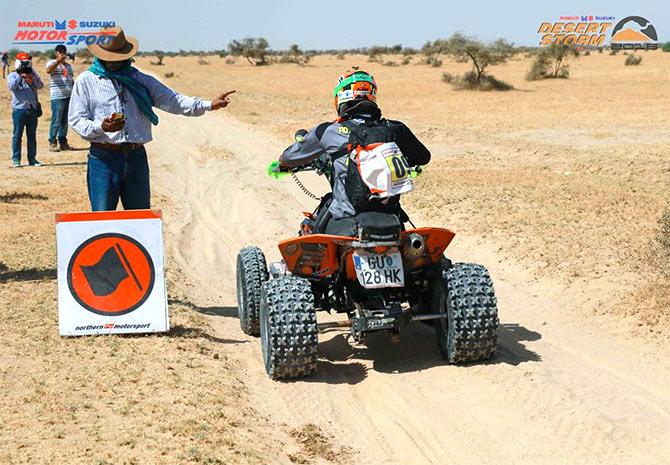 In the Xtreme bike category, motorcycle rallyist C S Santosh won the Desert Storm. Santosh, who has participated in some of the toughest races around the globe, like the gruelling Dakar rally in South America, fought hard to win this race.
"I couldn't be happier," said an ecstatic Santosh. "I feel at home when I am rallying and the difficult terrains of the desert are an added joy to conquer. This has been an extremely challenging and satisfying year so far."
Santosh, in fact, defended the champion's tag in the Maruti Suzuki Desert Storm in style as he powered his Suzuki RMX450Z Rally to a comfortable win in the Moto class by a great margin of over nine minutes ahead of many worthy competitors after close to 800 km of racing.
Rana later told journalists, "This was one of my toughest motorsport rallies. The scorching heat of the desert and new rally routes added to the difficulties. However, this only encourages me to participate the next year. Can't wait to be back again."
Polaris India, a world leader in off-road and all-terrain vehicles, bagged the top three positions in the XTreme T3 category of over 500 cc vehicles. Ace rallyist Guhaan Shetty and D Ganesha Moorthy secured the pole position in the rally, while the female duo of N Smitha and Ashika Menezes came second. The pair of Arindam Saikia and Jeevarathinam J stood third in the keenly contested Xtreme T3 category.
IMAGES: Glimpses from the MarutiSuzukiDesert Storm Rally.
Photographs: Kind courtesy MarutiSuzukimotorsports/Facebook
Aakash S Paul is a correspondent with Motown India.