The UN Champion for Change is walking from Kashmir to Kanyakumari to empower women one village at a time.
'We wait for too long for change to happen and we always hope someone else will do it.'
'Change has to come from you, it has to start with you,' she tells Rediff.com's Divya Nair.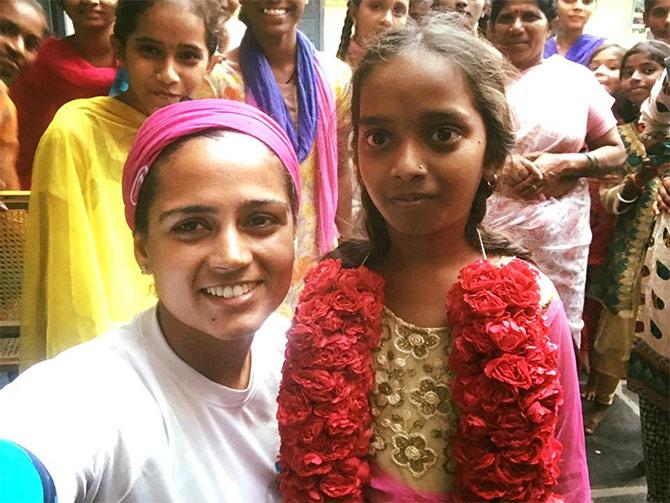 IMAGE: This schoolgirl, right, wants to be a collector.
Srishti Bakshi, a United Nations Women Champion for Change, is on a mission to empower India's young girls and women to be financially independent through digital literacy.
All photographs: Kind courtesy Srishti Bakshi
How do you react when you read the story of a man stabbing a woman 40 times in broad daylight?
Or the story of a mother and daughter gangraped on a national highway?
Srishti Bakshi, the daughter of a retired army officer from Delhi, was tired of listening to excuses like "Hum kya kar sakte hai? (What can we do?)", "Yeh India hai, yaha yeh sab hota hai (This is India, such things happen)".
One such newspaper report about a gang rape in Bulandshahar district, Uttar Pradesh, forced Srishti to move from the comfort of her cushy job in Hong Kong and come back to India.
"I was tired of debating, asking for answers. I wanted to offer solutions," says Bakshi, a finance graduate from ISB Hyderabad who worked at Otterbox for 5 years before giving it all up to launch the Billion Steps for Women, which she calls 'the modern day Dandi march.'
On September 15, 2017, she set out on a journey by foot to map the country in a bid to increase gender sensitisation and empower women through workshops, talk shows and more.
The aim is to walk 3,800 km between Kashmir and Kanyakumari across 12 states of the country within 260 days in which people will walk along with her and help fund her cause of digital literacy (through an online app) for women.
She has already covered 3,000 km and 72 villages in 177 days.
"I wondered if I could shift gears and employ my time, education and energy towards a movement that would change people's lives. I was willing to sacrifice my life and my savings if it would take me somewhere close to that," says Bakshi, 30, who bootstrapped the app CrossBow Miles, which tracks her journey and engages people to contribute to her cause.
Of the ₹1 crore she aimed to raise through the campaign, Srishti has already collected ₹5,400,000.
So how successful has her movement been so far? And how does she plan to bring change?
In a telephonic interaction with Rediff.com, Srishti shared snippets of her journey and explained what inspires her to keep going.
Why did you quit your job and start the movement?
I was working in Hong Kong and would travel across South Asia to meet people for work.
During our conversations, when I mentioned that I was from India, people would start by saying India is such a beautiful country.
Then they'd ask me 'Why is there so much violence in your country?'
Initially, I'd defend the argument and state facts comparing India with other countries, but the next day, I'd open up the newspaper and feel defeated. Every day you'll find at least one report about a gangrape or molestation in some part of the country.
If I discussed this with my aunts or relatives, they'd say 'Ab hum kya kar sakte hain? (What can we do?)' Some would say, 'Don't tell me about this; it's too painful to hear'.
I realised that these stories did not matter much to the aam junta.
Then one day, I read this story of a mother and daughter who were raped on a national highway. It was brutal and gruesome. I was shocked. I started thinking if I could do something about it.
When I told my husband, he dismissed it initially. He said, 'Jitni jaldi khayal aaya, utni jaldi chala bhi jayega (the idea will die as quickly as it occurred to you).'
But I had made up my mind. I called up my father and shared the idea with him.
Everyone gradually agreed.

IMAGE: Srishti, second from right, with acid attack survivors at the Sheroes Cafe.
How did you plan this?
I started planning this two years ago, in 2016. I signed up for the United Nations Women Champions for Change 2016-2017 and trained under them.
There were many causes listed. I picked up digital literacy.
I have a 12-member team -- both on and off ground. The on-ground team is led by my father Lieutenant General Ashwini Kumar Bakshi. My mother Professor Shradha Bakshi helps us with research and data.
The on-ground team seeks necessary permission and does the recee for my workshops. They find out if there is a school or a public meeting place where we can conduct this workshop.
You were worried about women's safety. Why then did you pick digital literacy?
While working with the UN, I realised that people like us -- who live in the cities -- have so little information about ground realities.
The average age at which women deliver a child in India is 15.
A vast majority of people, especially women, do not know how to read or write a single alphabet.
There are 12 and 15 year olds who are victims of alcohol and substance abuse. They make alcohol at home and beat up their women.
But most of all, because they are dependent on the men financially.
Seven out of 10 women in the villages are in abusive relationships, are victims of domestic abuse and violence, but choose not to report or do anything about it because they are weak, have no family or social support.
I visited this village where two boys raped a 13 year old and burnt her alive. The family still live there in the burned house.
I realised that no matter how much I counsel these women they are not going to leave their husbands or sign up for education.
The families have mostly given up hope in the system or justice. Girls are married off early with fake birth certificates. You cannot change all of this.
If you visit any school in a village and ask a 5-year-old girl what she wants to become, she'll say: I want to be a doctor, lawyer, pilot, teacher, collector. But you ask the same to the girl when she is 11, you'll see how her priorities have changed.
Some may have dropped out of school, others may be waiting to get married, but making a career or following their passion would be the last thing on their mind.
That's why I chose digital literacy. You may not make it to a college or complete your education, but the Internet and digital literacy will open up your avenues. You can learn and build skills from wherever you are.
In my workshops, I involve the men as well. I tell them about how a smartphone or Internet can change their lives.
I'm not their role model, so I try and find local inspiration. I flash their stories on a screen or invite them speak at my workshops. It really helps when they see how a woman like them changed her life.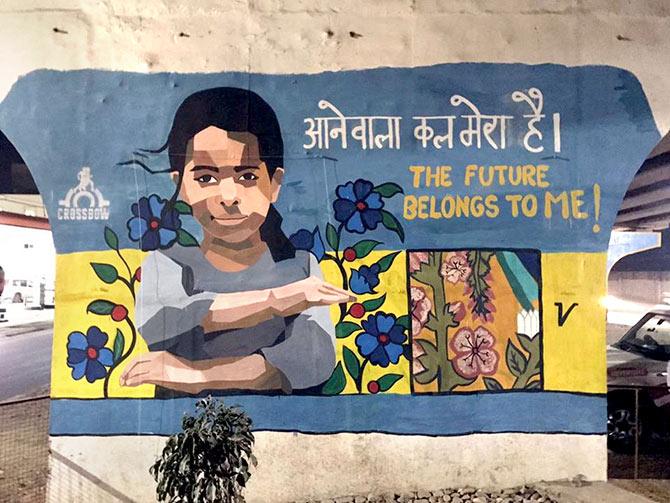 IMAGE: Srishti's team organises workshops and paints walls with inspiring messages to support and empower women.
How can digital literacy help people who don't have a formal education?
Let me tell you this real life incident of a Bengali woman.
She moved out of her abusive relationship, but she had a daughter to take care of and badly needed a job.
This woman -- her name is Suchitra -- doesn't know how to read or write. But she was confident and did not lose faith.
She got in touch with an agent who put her on a plane to Hong Kong where she was assigned as a caretaker in a double income household.
The family she was working with in Hong Kong, taught her how to use technology to update them about their children. She had to just press two buttons -- red and green, which she quickly learned.
Then she was taught to use the microwave and was given a smartphone.
Suchitra watched about 40,000 videos about cooking and now she's a successful chef in Hong Kong earning about ₹3 lakhs to ₹4 lakhs per month.
It doesn't change the fact she still can't read or write. But she now helps girls from her village find work in Hong Kong.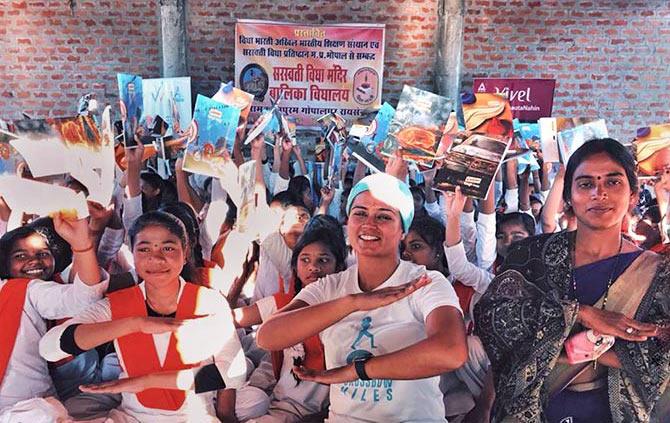 IMAGE: In her workshops in rural schools, the team distributes textbooks and study material free of cost.
What have been some of the best moments from your journey?
This happened in Tamil Nadu.
There was a placard in our vehicle which read: Keep women safe. This young girl came running towards me and offered me a custard apple. She said, this is all I have, but I hope you do something about keeping women safe.
Once a woman from South Africa, who'd heard about our journey, called me up. She said, 'You know what, I'm going to walk out of my marriage just now. Thank you for making me believe that I was worth so much more.'
These are moments that reinstill my faith and give me hope. Then I tell myself I am going to walk no matter what.
How can people contribute to your movement?
India has a huge amount of armchair activists. What is missing is action. And action starts at home.
If the men understand that women can contribute financially and help them, some of them agree to sign up for our training programmes.
I work with 19 organisations, including Google, the National Commission for Women and state government organisations, that take it on from there.
You can visit my page and see how you can support this movement physically or financially.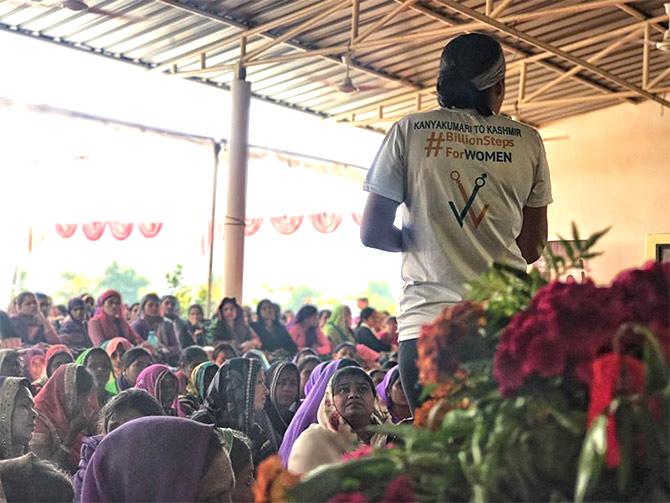 IMAGE: Srishti has partnered with 19 organisations that help provide training and offer redressal to interested women.
How do you stay fit?
Walking 30 kilometres is physically draining. So, I started training a year before, doing weight lifting and specialising in muscle repair therapy.
I wake up at 4 am and start walking at 5 am.
I walk 30 km a day and usually prefer national highways. I end at 12.30 and break for lunch. We make a marking on the road, so we can continue from where we left the following day.
Post lunch, we do workshops and training in the nearest village.
My energy comes from my workshops and the responses I get from people whose lives I am able to impact.
How do people in the villages receive you?
The response has been very positive, but let me tell you about the prejudice.
During a workshop where I was being introduced the head of the village said: "Humein shukriya ada karna chahiye inke pati aur pitah ka jinhone inhe ye karne ka permission diya (We should thank her husband and father for giving her the permission to do this)."
When it was my turn to speak, I corrected him.
I said the use of the word 'permission' was wrong. It should be support.
If the same journey was taken by a man, the introduction would have been different.
Why is that women are made to believe they need to take permission to do something.
For a man it is support, for a woman, permission.
The change has to come from the men.
I tell men that you could be that husband, brother or father who is encouraging of their daughters, wives and sisters. Only then we can truly empower our women.
Ek mahila ghar ki paristhiti badal sakti hai (Women can change the condition of the household).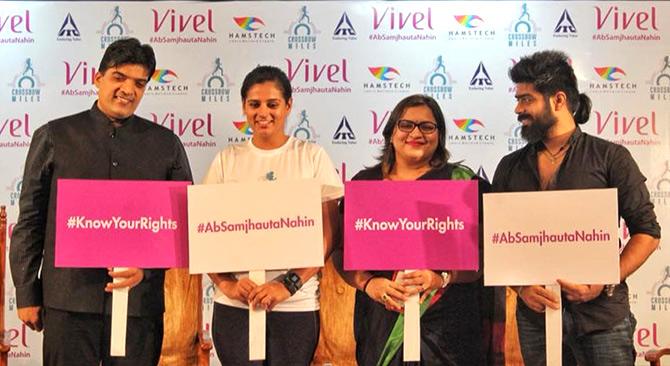 IMAGE: Gender sensitisation and equality, Srishti says, should come from home.
Is India safe?
No, India is far from safe. I am saying this because I know how many precautions we take.
The highway is deserted and I always carry a stick in my hand while walking.
Without the co-operation of police personnel this journey wouldn't have been so smooth.
I also want to use the opportunity to tell you how we mistreat our police.
The body of work they do is massive, but we don't give them enough credit. They work round the clock and in the toughest of situations, but we always hold them accountable.
What we fail to understand is that people who are committing these crimes are strong, powerful people.
A man who stabs a woman 40 times in broad daylight is able to do that because he knows people are going to stand and watch. No one is going to touch him. That is audience apathy.
How many of us willingly report or co-operate with police personnel when a crime is committed? Without help from citizens, the police are helpless.
The organisation is highly undervalued, I feel.
Your message to readers?
We wait for too long for change to happen and we always hope someone else will do it.
Change has to come from you, it has to start with you.