'She has a very Oprah Winfrey-sque way of having people open up to her.'
'People tell her their stories because they know they won't be judged.'
Sreemoyee Piu Kundu's writing, much like its creator, defies the idea of labels, discovers Nikita Puri.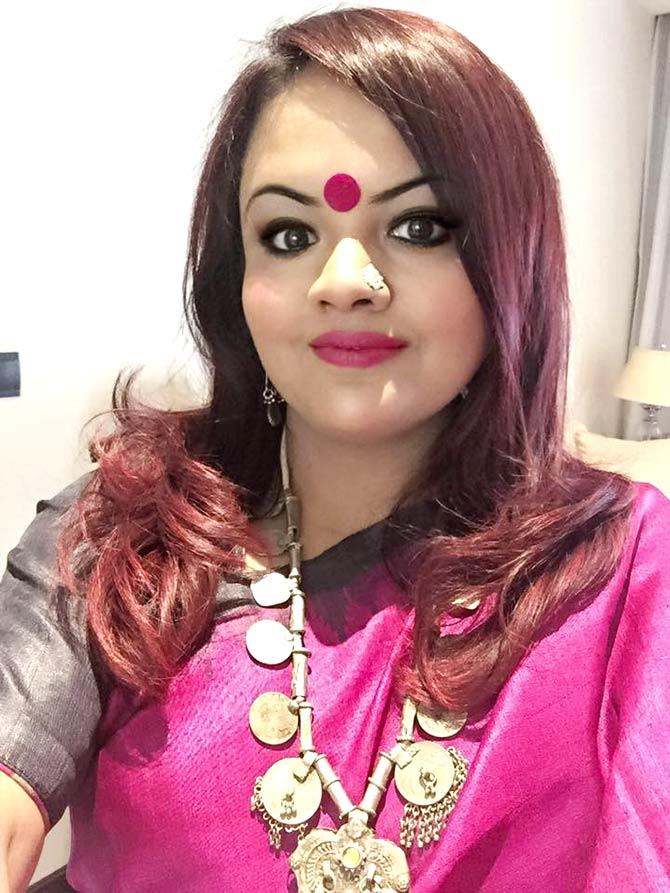 IMAGE: A journalist for several years, Sreemoyee Piu Kundu was a media strategist before she became a full-time author. All photographs: Kind courtesy Sreemoyee Piu Kundu/Facebook
Around June last year, during the time she was putting together her first non-fiction novel, Sreemoyee Piu Kundu shared on social media that some of the people she had interviewed wanted to back out.
They were worried about the backlash they thought might follow if their stories were made public, even if their names were kept in the shadows.
Soon after Kundu's post, new messages began to flood her inbox.
One of the many who came forward to fill in the gaps was a 33-year-old single mother who had left her alcoholic husband to start life anew with her daughter.
Another was a 43-year-old lawyer who had battled endometriosis -- a condition in which the layer of tissue that normally covers the inside of the uterus grows outside of it -- for most of her adult life.
This was only the second wave of outpouring of personal stories.
The first was when Kundu announced on social media that she'd be putting together Status Single (Amaryllis), a book on the lives of single women in India.
The book was to feature about 1,500 stories, but the 40 notebooks Kundu used are a record of the 3,000 women who opened up to her.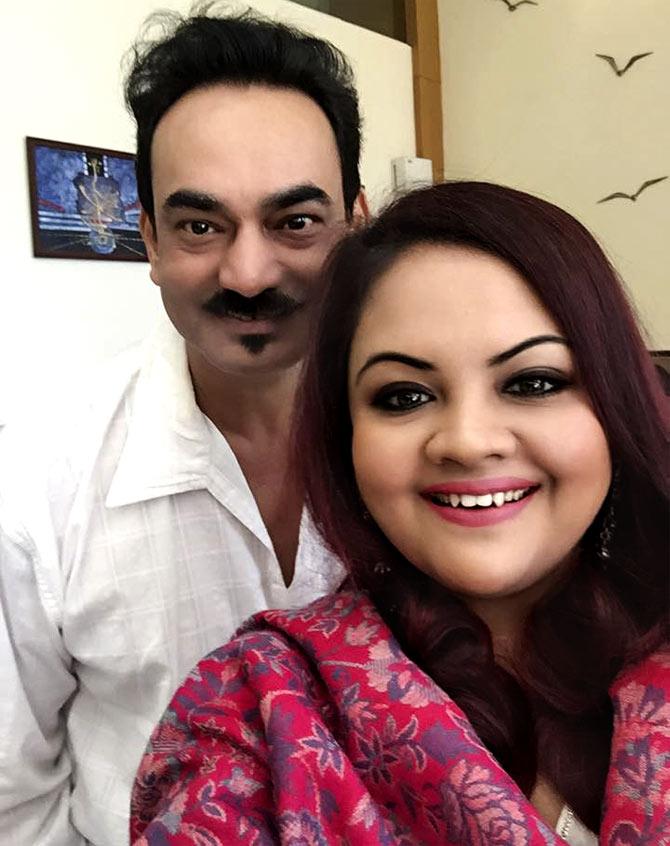 IMAGE: Sreemoyee with designer Wendell Rodricks.
A journalist for several years, Kundu was a media strategist before she became a full-time author with her debut book, Faraway Music (Hachette India), published in 2013.
Single by choice, she celebrated her 40th birthday in Kolkata, the city of her birth, last December.
The event was a personal landmark, a celebration of her singlehood, a sign of survival in the face of all the comments and aspersions that follow single Indian women.
"Relatives tell my mother, 'She is so talented and successful, why can't she find a man?' Even well-meaning friends do that," says Kundu. "There are lots of statements like 'Let me find you a boy', all of which just patronise my marital status."
Then there are times when one's relationship status becomes the subject of misplaced curiosity and snide remarks.
For instance, on a trip to Sri Lanka with her parents, an immigration officer quizzed her about her single status and slyly remarked, 'So, you like all this, travelling all alone and having fun.'
Similarly, in 2015, when Kundu was diagnosed with an autoimmune condition, fibromyalgia, the disorder pushed her towards severe depression.
A doctor then remarked, 'You must be very lonely because you are unmarried.'
True to her unflinching self, Kundu shot back: 'Don't married people suffer from depression?', adding how the rate of suicide in India was highest among students and those who were married.
When she browses through the dating app Tinder and finds it frequented by married men, she wonders if monogamy is becoming obsolete, and why some of her single friends believe it is a bad idea to publicly acknowledge the fact that they frequent dating sites.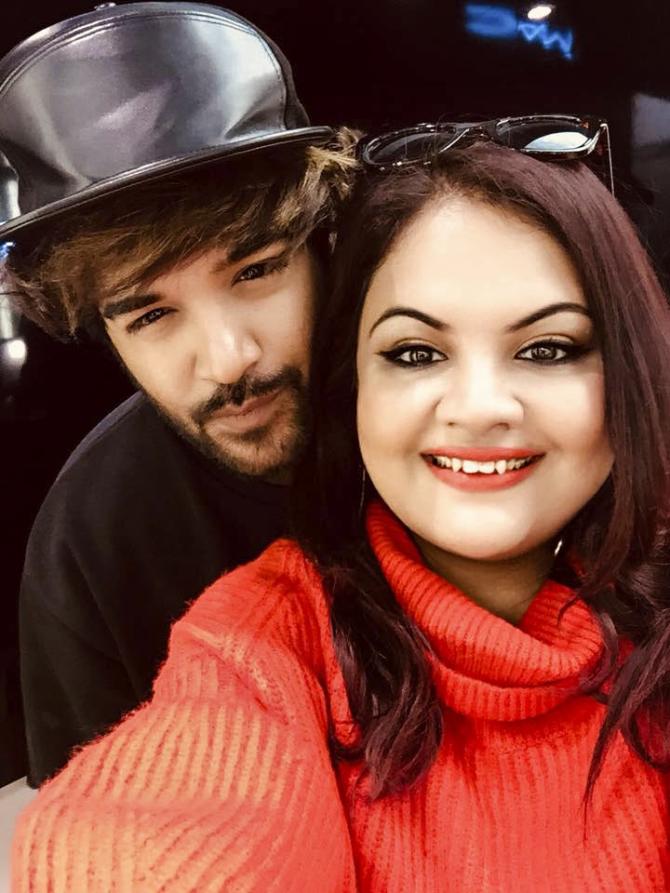 IMAGE: Sreemoyee posted this picture on Facebook with the following comment: 'Often I get asked what kind of man will be good for me? By sisters. Friends. Readers. As always I say like your make up artist. Here I am at my favourite MAC store in the city of my birth. Someone with a sense of style. Sensitive to my body. Understands my myriad moods and innumerable quirks. And my need for drama. The same way I need soft and sober. Who makes me laugh and tells me I am beautiful when I least feel it. Let's get this straight. A modern Indian single girl is not exactly looking for a Prince Charming on a white stallion. Coz we aren't the damsel in distress. We've done away with the notion of fairy tales and mythical castles and evil spells. We are strong. Sexy. Sufficient.'
Kundu's readers know all of this through her public posts, just as they know about how she broke up with the man she thought she'd marry at 24, about her struggles with fibromyalgia and about her dating experiences as well as the horrors of the 'arranged marriage market'.
"She's loyal and uninhibited. She is not afraid to speak her mind about the so-called taboo issues," says Kanishka Gupta, her literary agent.
These are traits that are carried over in her works of fiction too.
Sita's Curse (Hachette India), for instance, is sometimes called India's first feminist erotica.
It featured the sexual awakening of Meera Patel, a lower-middle-class housewife in Mumbai. The muse for Meera was a woman Kundu would often see on her way to work, a woman with long, dark hair who wore her sari Gujarati style.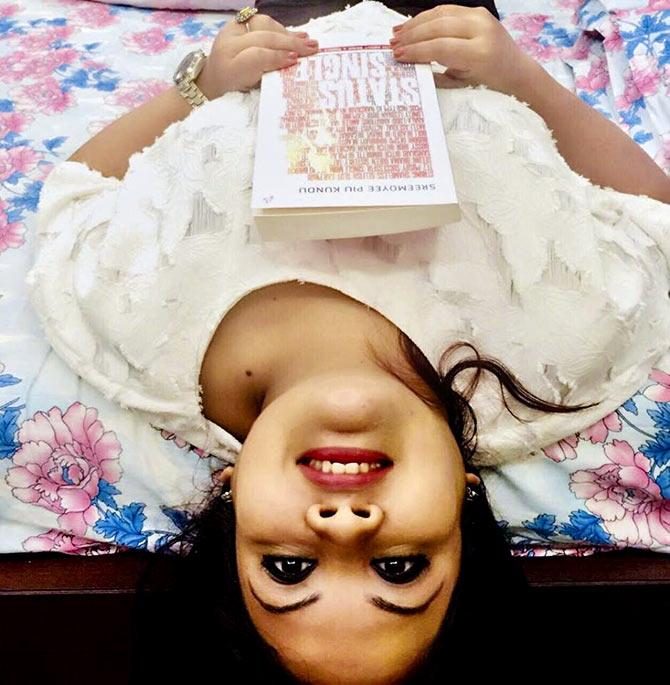 IMAGE: With her latest book, Status Single.
Kundu's writing, much like its creator, defies the very idea of labels.
The book that followed next, Yo'vve Got the Wrong Girl (Hachette India), was 'lad lit', and described a man's journey in love.
"This was written at a time when all these young and handsome male authors were coming out of the woodwork to write romances. My inspiration for Dushyant (the protagonist) was these authors," says Kundu.
The writer has never had to stray very far for her stories, or the distinct colours they come with. This, she feels, is because of how she was brought up.
As a single child living with her then single mother and grandparents, Kundu grew up surrounded by books and Jamini Roys in an old haveli.
Some of Kundu's fondest memories are of this house, with corridors filled with "sepia-stained portraits of ancestors".
Like the time she first heard about cheese.
One of her mother's uncles had come by and recommended she read Heidi, Johanna Spyri's novel about a young girl growing up with her grandfather high up in the Swiss Alps.
As in the story, where Heidi's grandfather gives her her first cheese, Kundu would travel with her grandfather on a tram to New Market for her first slice of cheese in the 1980s.
Some of Kundu's first pieces of writing include letters to her deceased father. Putting together her imagination and love for writing, she says, were often the recourse of a lonely child.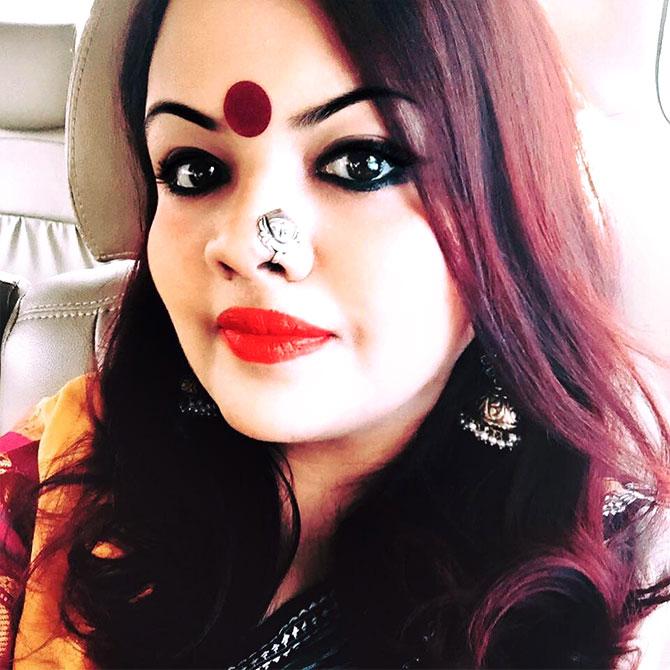 IMAGE: Kundu's stories are as colourful as her big, bold, bindis.
Many, including Nandita Aggarwal, Kundu's former editor at Hachette, feel people find it easy to connect with her because she is candid about her own life; to follow her on social media is almost as good as knowing her in person.
"She has a very Oprah Winfrey-sque way of having people open up to her," says Aggarwal. "People tell her their stories because they know they won't be judged."
"It's very difficult to be so frank and real on social media when a world of unknown people can read your posts," says Ruam Mukherjee, a friend of the Kundu family. "She engages with people; she handles trolls well too."
In 2015, when the Bombay high court granted bail to Salman Khan in the 2002 hit-and-run case and suspended the five-year sentence awarded to him by the sessions court, Kundu took on the actor on Facebook -- and got badly trolled for it.
As she became a target for threats of unnerving degrees, she initially blocked these trolls. Later on, it was Kundu who was locked out of her Facebook account because others had 'reported' her.
To her surprise, a majority of her friends asked her why she continued to be so vocal online. Why not use the medium to just post movie reviews, participate in contests, play Candy Crush, flaunt selfies, quote great thinkers or post holiday albums, they said.
Today, as Kundu continues to speak her mind, she finds herself in the middle of a movement where women are coming forward to speak their minds -- even if it is through her words.
When Gupta, her agent, proposed the idea of putting together her experiences as a single woman, Kundu had asked him, 'Who's going to want to read my story?' He had replied, 'You'd be surprised.'
"I felt the story of single women in India told by an unabashedly feminist single woman would strike a chord with her readers," says Gupta.
As more and more women continue to write to Kundu about their experiences, despite the project being over, the book has clearly done that and more.
Now, as Status Single hits the shelves, Kundu has already started work on her memoir.
Meanwhile, she continues to share her stories online. And, all of these are as colourful as her big, bold, bindis.
Some days, these bindis match the colour of her saris; on other days they match the pictures her words paint.