We'd asked you, dear readers, to tell us about the woman you admire the most.
Here, Dr Ravi P Bhatia shares some interesting insights about his daughter, who is around 40 years old and is a principal of a senior secondary school in Agra.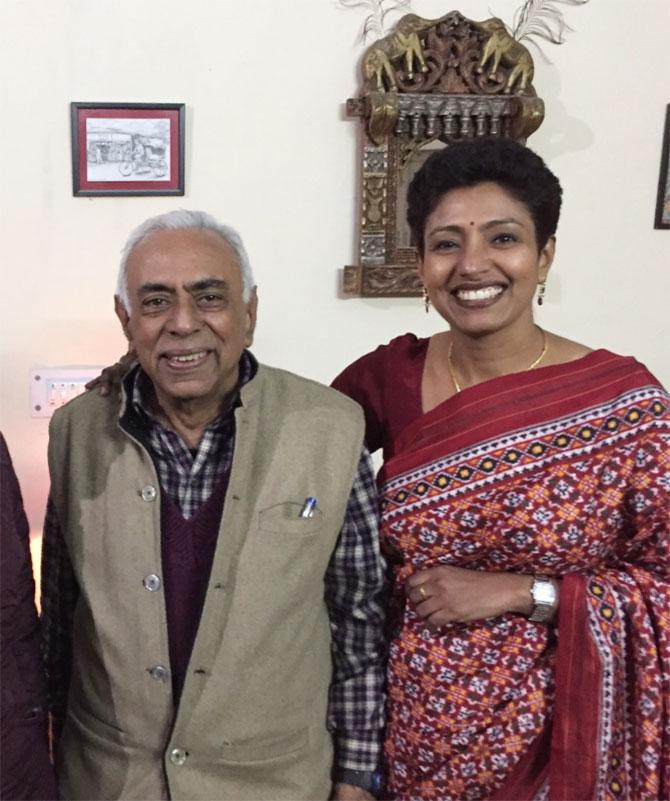 Dr Ravi P Bhatia with his daughter Ambika
The woman I admire most is my daughter Ambika.
I admire her not because she is my daughter, but because she has had a very unusual and turbulent time since she was born.
Her complexion was dark and she had short hair like that of a person from Africa.
When she was in her primary school, her classmates would tease her about her looks. She braved these taunts stoically till one day she found an answer to her predicament.
Whenever any child would taunt her, she would confidently say, "I am from Nigeria."
Whether or not children understood where Nigeria was, hearing her bold response they eventually stopped making fun of her.
After completing schooling, she joined a diploma course in hotel management and successfully completed it in three years.
Ambika also worked in some reputed hotels that gave her poise and confidence.
However, she felt that post marriage, it would be difficult for her to excel in the hotel industry.
She decided to join BEd course from Delhi University and passed with flying colours.
She went on to pursue MEd and MPhil in Education besides completing MA in English as a part-time student.
After marriage to one of her schoolmates, she moved from one station to another along with her husband who was transferred innumerable times.
All these years, she taught and took care of their only child too.
Today, she has found a niche for herself as the principal of Air Force school in Agra. As usual, she is doing excellent and her superiors are happy with her performance and honesty.
We are all proud to have Ambika Roshan as our daughter.
ALSO READ
Do you know of a woman who has had a profound influence on you?
Write in to us with your stories at getahead@rediff.co.in (subject line: 'Woman I Admire') along with a photograph of the two of you, if possible and we'll publish the best entries right here.
Don't forget to mention your NAME, AGE and the place where you LIVE.