We'd asked you, dear readers to tell us about the woman you admire the most.
In the first of a series, Anita Aikara/Rediff.com profiles Preethu -- effervescent, determined and happy-go-lucky, she's a go-getter in life!
Photograph: Kind courtesy Deer Park Institute/Facebook
I first met Preethu, way back in 2014.
I was visiting the Deer Park Institute at Bir, Himachal Pradesh and I walked into their office to make an enquiry.
As I looked around, I spotted just one woman in the office.
Dressed in denims and a T-shirt, with her hair tied in a plait, she was in her early 20s.
I walked up and spoke to her in Hindi. But she spoke in broken English, struggling to form sentences. I told her it was okay if she replied in Hindi and she said, "How will I ever speak in English if I give up so easily."
That's Preethu.
And she is the only woman employee at the Deer Park. It is a matter of immense pride for this 25-year-old who loves to read and has learnt English talking to strangers.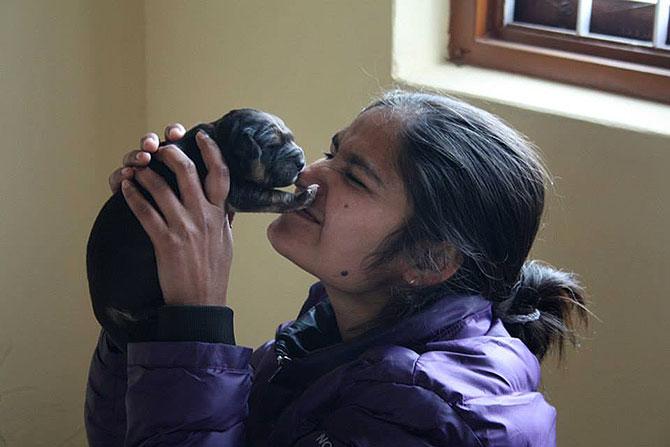 Photograph: Kind courtesy Deer Park Institute/Facebook
Someone had once told her that the best way one can learn English is by speaking the language.
Preethu took the advice seriously and since then has made it a point to speak to visitors in English. She has also been heard telling people, "Correct me if I say something wrong. Otherwise I will never learn. Don't ever think that I will feel bad."
Preethu prefers to use her first name only. Ask her why and she will happily give you the explanation. "I am actually Preethu Chauhan. But I don't use my surname often. I like it this way without being judged about my religion or caste."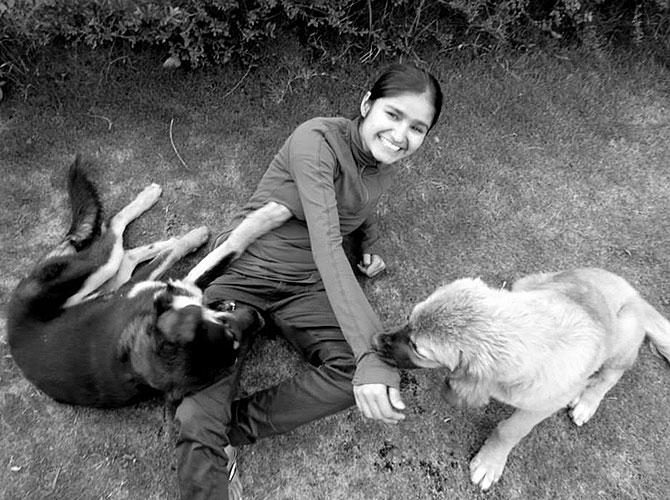 Photograph: Kind courtesy Deer Park Institute/Facebook
Preethu joined the Deer Park Institute in 2011. Ask her what was her age back then, and she says, "I am '91 born. So could you tell me how old I was then?"
She took up the job purely because it let her study and work at the same time. The institute conducts plenty of workshops on varied topics and it was here that Preethu learnt video-making, film-making and also how to read Tibetan alphabets. While her day is spent at the office, she usually dedicates the evening to attending workshops where she learns something new.
She belongs to a family of five -- mother, father, and two younger brothers, who live in Agra.
"I did my schooling in Uttar Pradesh and graduation from Delhi," she says.
Preethu reads a lot to improve her English. But it can be quite a struggle. She confesses, "At times it takes forever to read a book due to the words used."
So she notes down the words, and then heads to the library to check its meaning. Sometimes she needs to read the lines 3 to 4 times just to get a gist of it.
She loves reading books and the library at the institute is a blessing in disguise for this enthusiastic reader.
"I like to read about the roots of a religion. I have read about the Tibetans and the history of their religion."
Ask her how soon she can finish reading a book, and she admits, "That depends on the level of English rather than the number of pages."
Preethu has her share of struggles, but you'll always spot a smile on her face -- and that's how I would like to remember her.
ALSO READ
Do you know of a woman who has had a profound influence on you?
Write in to us with your stories at getahead@rediff.co.in (subject line: 'The Woman I Admire') along with a photograph of the two of you, if possible and we'll publish the best entries right here.
Don't forget to mention your NAME, AGE and the place where you LIVE.