We asked you to tell us your reason for choosing not to vote.
This is what our readers shared. If you have not voted, you can share your reasons behind your decision as well.
We will publish the best responses right here on Rediff.com.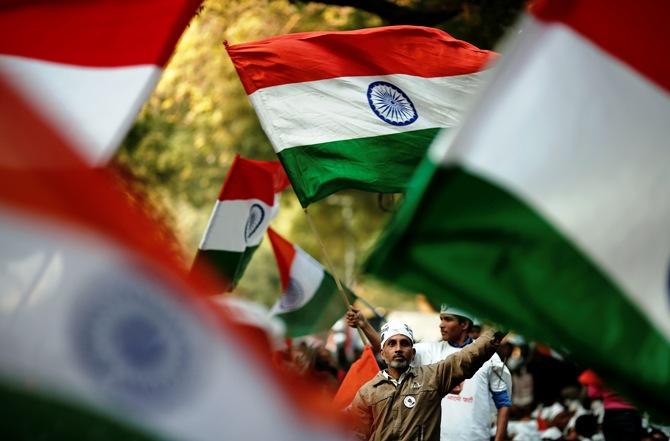 Balasubramani V from Delhi writes, "I'm 50 and most of the time, I do not cast my vote.
"It is not due to logistic issues, but purely because I don't feel like doing so.
"Frankly, my life has not changed even without voting.
"My protest is against the system. Every leader comes and makes promises (small, big, good and ugly).
"Unfortunately none of these promises are backed by timelines. There is no penalty if these promises are not delivered.
"I feel in India democracy is not taken seriously. Anyone can contest the elections and during their campaigns, the (politicians) promise us the moon.
"After five years, they either blame the legacy for a non-deliverable or silently gloat about the last time they made a fool of us.
"Unless we get timelines for the delivery of the promises... unless there is a punishment if the promises are not delivered, this democratic system will be a joke and I don't want to be a part of it.
"When we purchase a ₹5 packet of Parle-G biscuits, we check its expiry date and MRP.
"However, the same consumer-conscious masses blindly empower some stranger to rule them for five years without any accountability."
---
Santosh Kumar from Faridabad adds, "I'm 48 and am self-employed.
"I have not voted this time because I have lost faith in the electoral process of the country.
"I have seen the Election Commission's helplessness and (how they have) surrendered to the ruling party."
---
"My reason may sound absurd, but I have lost trust in all political parties," shares Yashendra Kumar.
"People may advice me to vote NOTA, but it doesn't serve any purpose. It is just absurd.
"My issues with the government are:
1. There are no efforts to improve the quality of education in India. In order to get good education, one has to pay up to ₹1,00,000 minimum in pre-schools. (Arvind) Kejriwal, who claims that he has improved the condition of schools in Delhi, sends his children to private schools.
2. For my own safety, security, cleanliness and society road maintenance, I pay up to ₹3000, on top of which I have to pay 18 per cent GST. Ideally, this is the responsibility of the government.
3. The condition of government hospitals are just like the government schools -- they are in bad shape. To confirm the same, national leaders like Arun Jaitley, Sonia Gandhi go to the US for their treatment. This is the biggest mockery. India, which gives so many doctors to the world, doesn't have doctors to cure its politicians.
4. There is no social security for direct tax payers. There is no reward for honestly paying taxes. As in the case of mass layoffs or shutdowns (like Jet Airways), there is no social support system whatsoever. Why would anyone be motivated to pay taxes?
5. There is a tax on anything and everything. If roads are built, there is toll tax. Buy health insurance or term insurance and you will have to pay 18 per cent GST. We end up paying almost 100 per cent tax on fuel, parking charges (even at places where there is no requirement of parking charges). There are even high taxes on alcohol, which helps you to forget these tax worries.
6. Instead of reducing reservations, it is now being increased further by 10 per cent. I don't see reservations being reduced in the near future.
7. The corruption level is the same. There are no efforts to reduce it. There are limited government offices where one will not face any corruption. No one involved in the Commonwealth Games scam, 2G scam or coal scam have been sentenced.
9. No one has ever discussed pollution in their poll manifestos.
"India has it's own pace and it will continue to grow. But that's not because of any political party.
"To cut a long story short, I really don't believe that anyone is currently doing any justice us.
"I saw some hope with the Anna Hazare's andolan, but even that failed miserably.
"I feel that the outcome of bringing any political party will yield the same results. Hence, I don't vote."
---
You can mail your reasons to getahead@rediff.co.in, with 'Why I Didn't Vote' in the subject line. Don't forget to mention your NAME, AGE and WHERE YOU LIVE and send a photograph if possible. We will publish the best responses right here on Rediff.com.