Taylor Swift's new revenge song shattered YouTube records and beat the Despacito remix, which was about sex.
Also read: Despacito, the song that's taking over the world!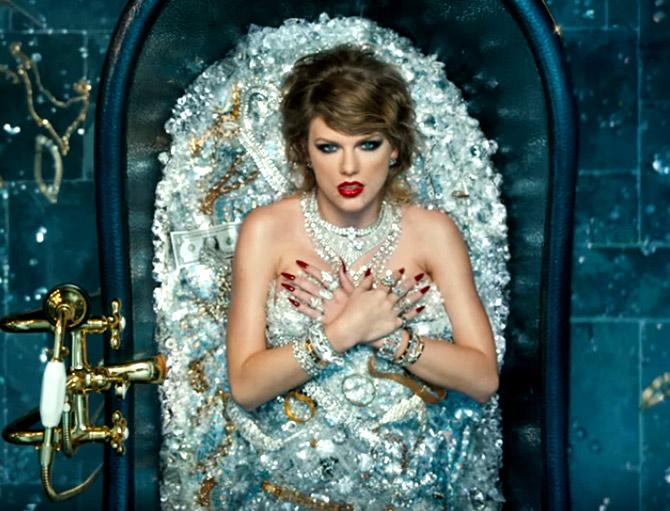 Image: Courtesy, Taylor Swift performing Look What You Made Me Do/TaylorSwiftVevo
Taylor Swift's new single Look What You Made Me Do (external link) has created quite a stir across the globe.
According to The Independent, the video for the new single has destroyed YouTube records and is currently sitting at nearly 73 million in the span of three days.
The song has acquired the biggest debut of any video in YouTube history, clocking 43.2 million views in 24 hours.
It easily superseded the previous record-holder, Psy's Gentleman, which reached 36 million views in its 24 hours. That broke down to an average of over 30,000 views per minute and 3 million views per hour in the first 24 hours.
The music video, a retaliation against her critics, also beat the Despacito remix, featuring Justin Bieber, which reached 22 million views in that time span, and Adele's Hello, which earned 27 million views.
The lyric video of the song also shattered the most views in 24 hours for a lyric video record, now sitting on nearly 50 million views.
Spotify has reported that the track has been streamed 23 million times, while download sales reached 245,900 in the first three days.
The song is currently sitting at the top of the Apple Music,Spotify US and Global Top 50, and Amazon Music charts.
The sassy singer looks amazing adorned in platinum jewelry by Neil Lane in the new symbol-drenched music video, directed by Joseph Kahn.
The video, which premiered during the MTV Video Music Awards in Los Angeles on August 27 features the gorgeous diva wearing diamond drop earrings, along with layering necklaces, bracelets, and rings, all set in platinum.
Dear reader, we ask you, have you heard the song? Did you love it?
Take the poll below and let us know what you think of it.
You can also share your opinions in the messageboard below.