We'd asked you, dear readers to tell us what is the one life lesson you would want to share.
Swadesh Kumar Kesarwani, 67, from Hyderabad, shares his life lesson. You can share yours too!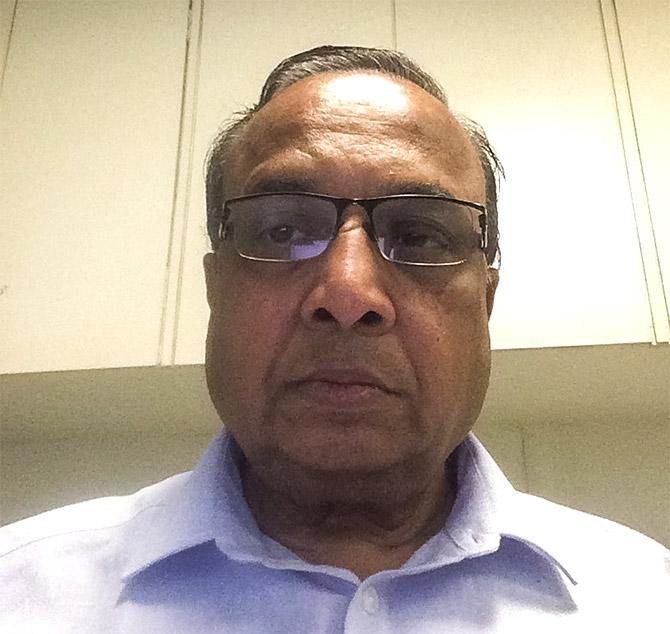 It was an evening in the winter of 1968.
I along with two other childhood friends were roaming in our locality -- carefree, with our hands placed on each other's shoulders and gossiping as youngsters of our age would.
My college teacher Mr Jaiswal happened to pass by.
I greeted him with a namaste.
He acknowledged my gesture and asked me to meet him in school the next day.
There was something weird about his demeanor, which left me feeling uneasy.
Mr Jaiswal, who was in his late twenties, used to teach organic chemistry besides doing his PhD.
He was younger compared to other teachers in their fifties.
I had taken admission in this Hindi medium college after my schooling in a convent, where I secured a rank within the top five.
In college, I lost interest in studies owing to several reasons and passed high school with a second class.
For the lack of preparations, I had to skip my intermediate exams.
Organic chemistry, of all the subjects, instilled fear in most of the students who somehow cleared by scoring better in inorganic chemistry.
I was no exception and might have passed the exams, which were due just a few months away, with a second class.
Next day I met Mr Jaiswal in his room.
He thoroughly reprimanded me.
I was warned that I'd fail in organic chemistry if I continued wasting time like the earlier night.
Mr Jaiswal added that he believed I was from a good family, but had fallen in an undesirable company.
He exhorted me to study hard and pass the intermediate exams with a first class to get admission in an engineering college and make my career and life.
The stinging remarks of Mr Jaiswal pierced my ears. I screamed from within and was furious.
That minute I swore to teach him a lesson.
Back home, I was restless and resolved to secure high marks in organic chemistry. I thought hard of a plan.
I realised that if I can reduce the entire textbook on a single sheet of paper and memorise it well to reconstruct it, I will make it for sure.
From then on, I confined myself to home and concentrated on studies and studies alone.
I bought foolscap sheets and started noting points of the entire organic chemistry as per the syllabus.
I scanned questions and answers from the last 10 years to understand the pattern.
Every day I devoted 14 to 16 hours to my studies.
It took me a month, to bring the entire syllabus on a single sheet. With that, I could solve any problem.
Without knowing I had prepared a mind map of organic chemistry.
It was a guide which told me the starting point, the destination, and the path.
Once I gained confidence, I kept the books aside and attempted to answer different questions, and just have a look at the sheet to confirm.
The sheet was always in my pocket and its contents consumed me. It became my first love. I had cracked organic chemistry.
Side by side, I devoted time to studying other subjects that I was more comfortable with, including mathematics in which I always excelled.
I appeared for the exams with a high level of confidence.
I scored 81 marks in chemistry and overall 267 marks (first class).
The UP Board exams had a different standard and scoring 81 per cent in chemistry was no mean feat.
My PCM (physics, chemistry and mathematics) score was 74 per cent which was credible.
It ensured me a seat in the prestigious local engineering college Motilal Nehru Regional Engineering College now Motilal Nehru National Institute of Technology (MNNIT, in the year 1969.
It was the last year of merit-based admissions and the system of entrance exams started from the following year.
I was one of the three students who had scored first class in the college.
The principal, who had facilitated my admission when I switched over from the convent, was elated and full of praise.
The confidence he had reposed in me was not betrayed.
I accomplished my mission to teach Mr Jaiswal a lesson. He was the happiest person seeing my results.
Later I could not get an opportunity to meet him, but I pray to God Almighty to bless the noble soul in him.
Had he not met me that evening or just ignored spotting me instead of pulling me up, I can't dread to think which path my life would have taken.
Whatever little I have achieved in life is largely due to him. He had laid the foundation of my career.
There are two simple lessons in this story.
The first one is that perhaps our parents cannot contribute to or influence our lives as much as our teachers and others in society can.
There is a saying in Hindi that 'if both God and a teacher are standing before you, one should touch the feet of the teacher first'.
As education is getting more and more commercialised in India, our old traditions are unfortunately getting lost.
It is our duty to give back to society when we have achieved fame, money and success.
The second lesson is about the success of our endeavor. How do we succeed in life?
One has to fix his or her goal and put in the best with full sincerity and devotion.
One should get fully absorbed, lose oneself's and fall in love with the task in hand.
If you want something as much as you want air to breathe to keep alive, success cannot elude you for long.
Let me end my story with a quote: 'Success isn't a result of spontaneous combustion. You must set yourself on fire.' -- Arnold H. Glasow
---
Write in to getahead@rediff.co.in with 'A life lesson I'd like to share' in the subject line and share your responses along with your NAME, AGE and the place where you LIVE.

Don't forget to attach your picture. We will publish the best entries right here on Rediff.com!