'Each one of us have to save our planet, our environment,' she said in an Instagram post.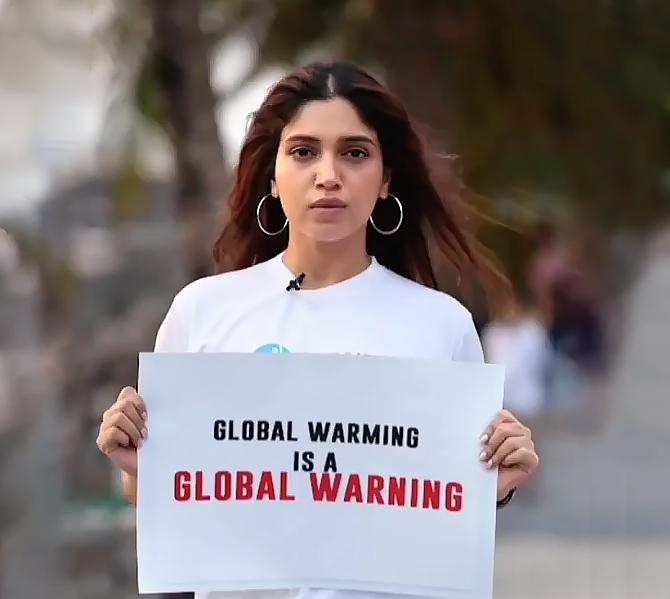 Bhumi Pednekar took to Instagram to share a message urging people to protect the environment.
The actor shared a video in which she is seen holding placards which read 'Global warming is a global warning', 'Rise up for climate justice' and 'Solution is not pollution'.
Bhumi, who recently started her pan-India campaign 'Climate Warrior', joined hands with Mumbaikars to raise her voice for climate conservation as part of an initiative of Fridays For Future.
Fridays For Future is a people's movement following the call from Swedish teenage environmental activist Greta Thunberg to school strike.
Their Mumbai chapter, which was held on November 1, saw school children, climate activists, elderly people and youngsters holding placards with slogans against climate change.
'Each one of us have to save our planet, our environment,' Bhumi wrote in an Instagram post.
'We are all #ClimateWarriors and I salute the commendable work that Fridays For Future has been doing to propagate the message of climate conservation.
'I recently participated in the peaceful strike that was hosted by them to stand up for climate justice and it was an eye-opening experience for me to hear how socially conscious our next generation is and how fiercely protective they are about their future and environment.
'It is our responsibility to leave a better planet to our future generations and we have to make this happen. Let's STAND UP and take action NOW!!' she added.
(With inputs from ANI)