Men have a small attention span and find it really difficult to listen to women, a new study has revealed.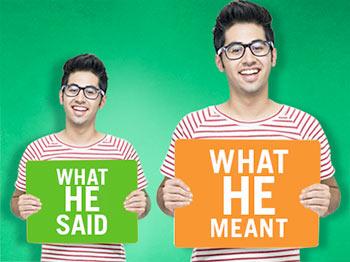 A new study has found that most men don't really mean what they say.
DecodingMen, a social media study by Matchify, a mobile-only relationship app, witnessed 7000 responses with a mix of male and female respondents.
The objective of the study was to find out what men really meant when they said something and also get an insight into how women read these situations.
The campaign trended for hours on Twitter with many young people sharing their perspective.
Questions ranged from what do guys actually mean when they say "Let's talk about this later", "No, you don't look fat", "I've been quite busy this week" to "Ok, I'll do it" and "It's upto you".
When asked "Do guys avoid an argument by temporarily agreeing to do something?", 90 per cent of the people said "Yes", while the remaining audience said "No".
When asked to share their opinion on "Do guys say girls look fabulous in a dress to avoid them from trying another?" 66 per cent of them said "Yes", and 34 per cent said men give it as a genuine compliment.
A research of the campaign revealed four interesting opinions by users for Decoding Men:
Men who try to avoid an argument temporarily by agreeing to discuss it later, actually don't want to discuss it again.
Man's attention span is small and they find it really difficult to listen to women.
Men try to make women responsible for decisions on issues they don't agree with.
Men who say they have been thinking a lot about their partners have actually not been doing so.
The study also found that 64 per cent of the men find it extremely difficult to listen to what a woman says for longer spans of time and that, only 20 per cent of men would reopen a topic later in time to which they had said "Can we talk about this later" sometime in the past.
Lead image: Kind courtesy Matchify.com/Facebook