We had asked you, dear readers to share your good and bad ATM experiences.
Bengaluru resident Krishnan H tells us about a State Bank of India ATM counter where most of the machines are dysfunctional.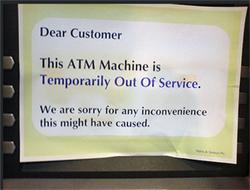 Photograph*: Martin Deutsch/Flickr/Creative Commons
This is about a State Bank of India (SBI) ATM counter located in Horamavu Main Road, Banaswadi, Bengaluru.
It has four machines -- one for cash transactions like deposits or withdrawals, two of them for withdrawals and the fourth one for passbook printing.
For the past 18 months, I have never seen more than one machine working.
It seems like if one ATM machine is working throughout the day, the rest are taking their weekly off. The machines are always out of order.
I have complained to the branch manager about this issue more than a dozen times, but his reply has been "I am helpless. You can directly complain to regional manager."
My requests for a new machine is long overdue. It's 24 months now.
The branch manager's solution is to use the POS (Point of Sale) machine in the bank. For this, I will have to swipe my card, take a receipt and wait to collect cash from the teller counter.
An ATM was installed to have teller free transactions and this is the solution offered.
*Image used for representational purposes.
ALSO SEE
ATM woes: How I got my money back
ATM woes: 'I didn't receive any cash'
ATM woes: Rs 26,000 was debited from my account
ATM woes: 'ATMs need thrashing to work properly'
ATM Woes: 'I'd left my card in the machine'
ATM woes: 'The money was credited in 24 hours'
ATM woes: HDFC paid Rs 2,700 as penalty
ATM woes: 'I got my card back after 30 minutes'
Dear readers do you have an ATM story to share?
What problems did you face and how did you deal with it?
Mail us your stories and advice at getahead@rediff.co.in (Subject: ATM woes) along with your NAME, AGE and LOCATION. We'll share the best ones right on Rediff.com.
DISCLAIMER: The views and responses published are, to the best of our knowledge, original entries submitted by readers. Rediff.com does not assume any responsibility for the views expressed by its readers.