We'd asked you, dear readers to share your love stories with us.
Reshma Krishnamurthy tells us how she met Vikas.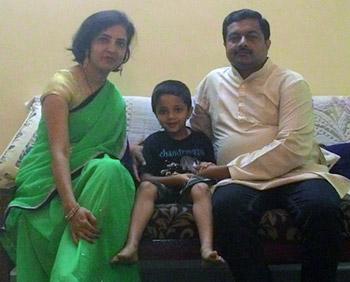 My husband Vikas and I met 19 years ago.
It's been 12 years since we got married and the usual melodrama of getting parents to approve, waiting for seven years and adjusting to each other post marriage and each others' families happened.
I am from South India, brought up in Delhi and Mumbai while he is from Rajasthan, brought up in Bangalore.
We were 99 percent opposite of each other and even of the spouses we wanted in life.
Yet I was most happy when I was with him and that made me think about proceeding from friendship to marriage.
It's been over 19 years of knowing each other and it seems like I have grown up with him.
We have accepted a lot of things about each other's behaviour and a lot more we have learned to ignore or cope.
Many people have asked me if I'd recommend mixed marriages, love marriages or living in a joint family.
All I can say is that marriage can work if both of you want to make it work. Regardless of background, culture and attitude.
One thing I have learnt is that marriage is not just about two people. A lot more lives are connected; so it's better to be sensitive when handling relations.
It's been a fun journey of ups and downs until now and our young child has been a strong bond in connecting us.
We are hoping for a good life together ahead.
Click here to read more Jab We Met stories