How Ernestine Shepherd, a former school secretary ditched her sedentary lifestyle and adopted fitness is a story you can't miss reading.
At an age when men and women make monthly visits to the hospital and pharmacy, Ernestine Shepherd, aged 80, is either organising a walkathon in her neighbourhood, running a marathon with people one-third her age or participating in a bodybuilding contest.
The American lady who has a grandson aged 20 is fit as a fiddle.
In 2010 and 2011, the Guinness Book of World Records acknowledged her as the 'oldest competitive female bodybuilder in the world'.
In April 2016, she released her book, Determined, Dedicated, Disciplined to Be Fit: The Ageless Journey of Ernestine Shepherd chronicling her journey to the world. It has since been picked up by people of all ages.
Now, would you be surprised or shocked if we told you that Ernestine wasn't interested in sports or athletics till she was 56?
Yes! That's true.
So what inspired her to take up bodybuilding at 56? And how does she stay so fit?
Let's find out through these living pictures.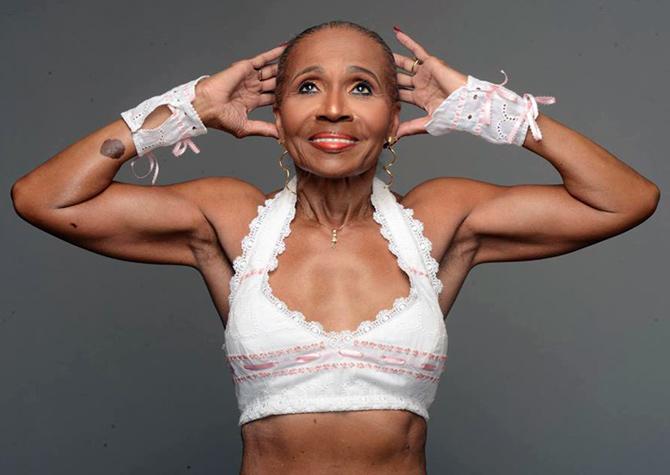 IMAGE: It isn't a miracle that Ernestine sculpted a magic body at 80. She worked really hard for it.
At 56, Ernestine, who worked as a school secretary, led a sedentary lifestyle like most of us reading this. It was only when she went shopping for bathing suits along with her sister Velvet that realisation struck her that she was neither fit, nor in shape.
That's how she first hit the gym with her sister.
Ernestine, however, gave up on her routine when she lost her sister to a brain disease. Months later, she realised the promise she made to her sister and regained her determination to work on her body. The rest, we all know, is history.

All photographs: Kind courtesy Ernestine Shepherd/Facebook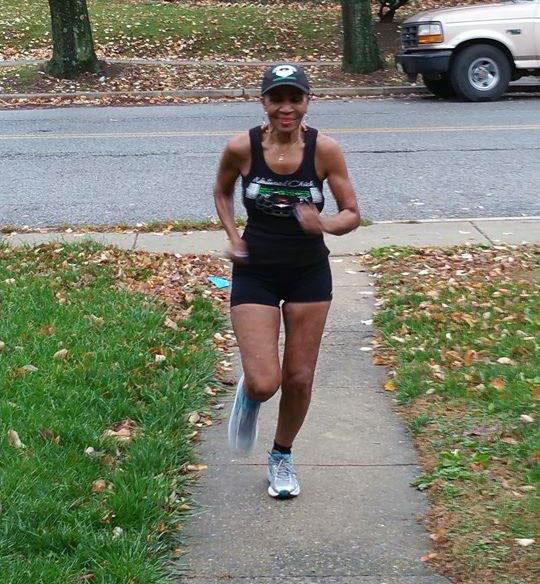 IMAGE: How does she do it? What's her routine like?
'My diet is 1,700 calories a day, mostly comprised of boiled egg whites, chicken, vegetables and a liquid egg white drink,' she mentions on her Facebook page.
'I also run about 10 miles per day and bench presses 150 pounds. Bicep curls are done with 15- and 20-pound dumbbells.'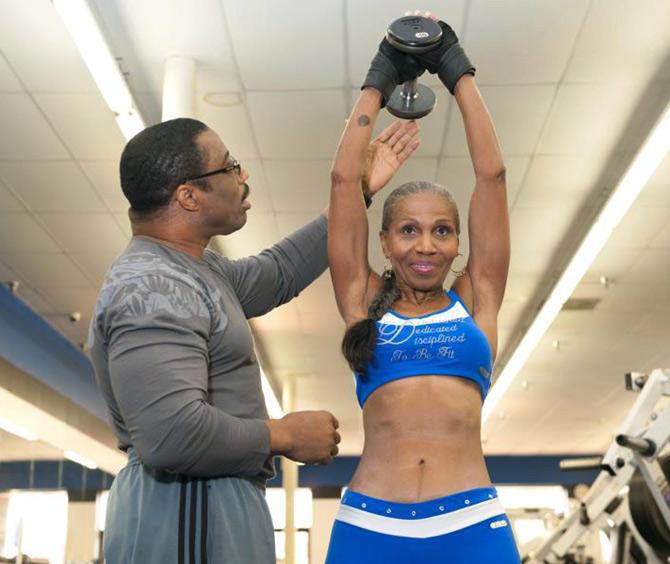 IMAGE: That's Ernestine with her trainer and former Mr Universe Yohnnie Shambourger. She has been training with Shambourger since 2007. Together, they organise and participate in talk shows on fitness and share tips on the importance of exercise and how to lead a healthy life.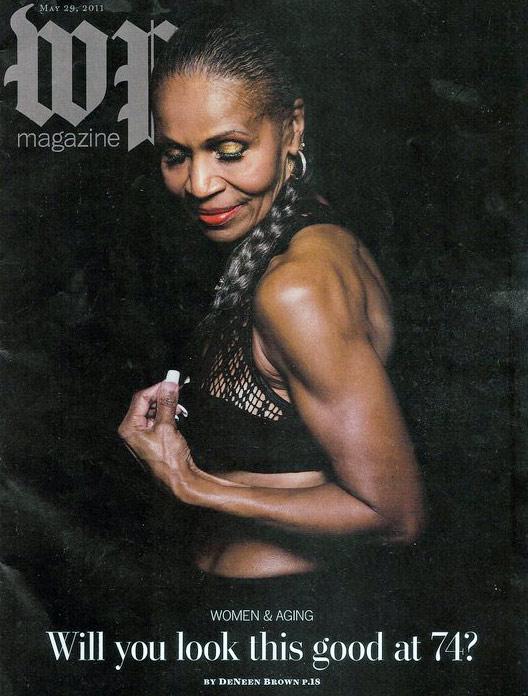 IMAGE: This page from a magazine feature on her dated May 2011 asks a relevant question: Will you look this good at 74?
Ernestine explained that, for her, age is just a number, not a mandate.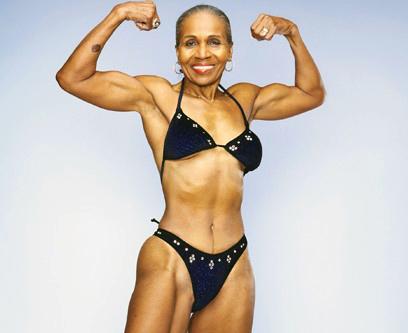 IMAGE: She is 5 ft 5 inches tall and weighs approx 130 pounds (60 kg). In 2008, a 72-yr-old Ernestine participated in her first bodybuilding competition (

Natural East Coast Tournament of Champions

) and took competitors, who were decades younger to her, by surprise.
Today, she is a personal trainer, professional model and competitive bodybuilder who inspires people every day.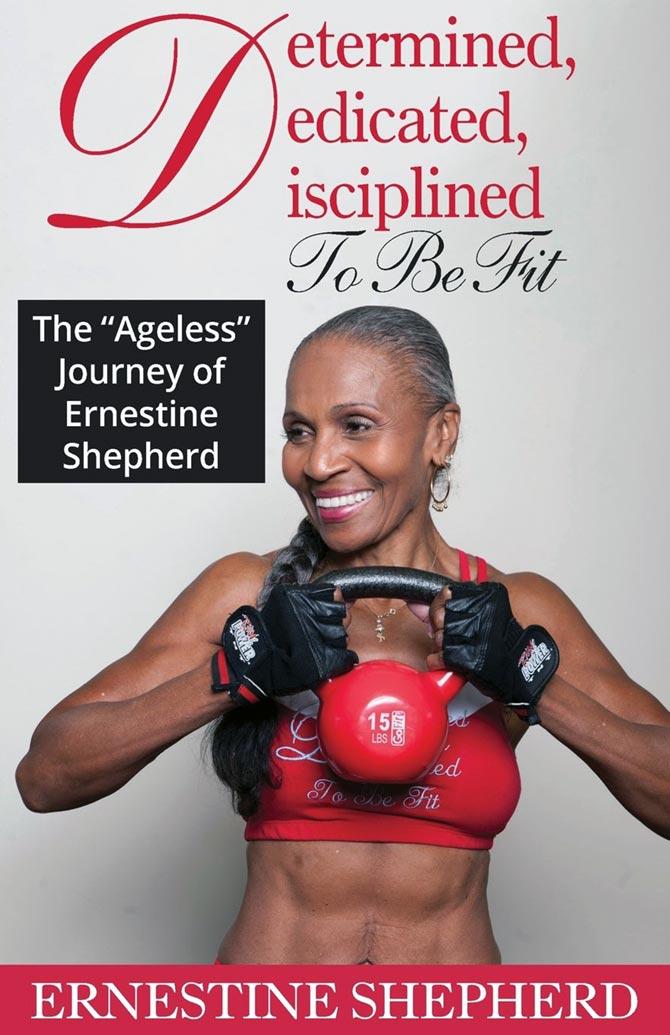 IMAGE: In April 2016, she published her book Determined, Dedicated, Disciplined to Be Fit: The Ageless Journey of Ernestine Shepherd. She has promised to sign each copy of the book that will be delivered to her readers and fans. Those who have read the book have only good things to say about it.
Her message is simple: Be determined, dedicated and disciplined to be fit.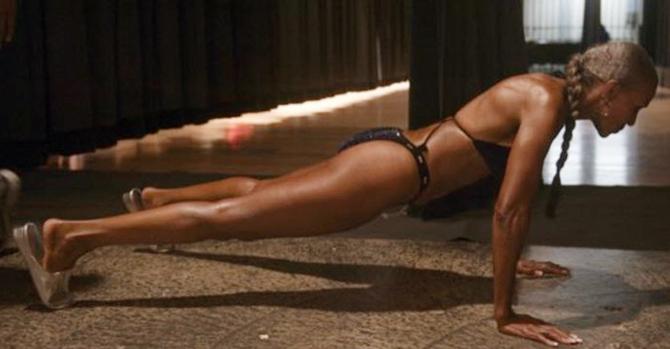 IMAGE: Ernestine wakes up at 3 am and does 100 push-ups a day and has not reported a single injury since she took up bodybuilding as a profession!
One of her many inspiring posts sums up the purpose of her journey.

'The easy path is to sit on the couch and watch a movie, but getting your body moving has so many benefits. When physical activity is part of your daily life, it will change the way you feel over all and improve your self image.'
'Walk : You will control your weight, reduce your risk of heart disease, reduce your risk of type 2 diabetes, reduce your risk of some cancers, strengthen your bones and muscles, improve your balance and coordination, improve your mental health and mood, improve your ability to do daily activities, increase your chances of living longer.'
Still looking for inspiration to hit the gym?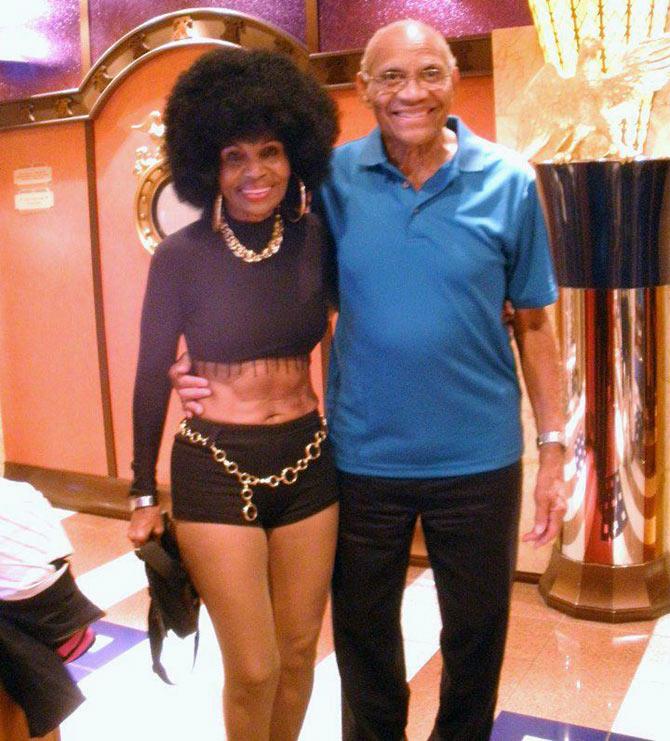 IMAGE: Ernestine admits that all this wouldn't have been possible without the help and support of her husband Colin (right), to whom she's married to for more than five decades. On her website, she mentions that Colin '

prepares meals and makes sure the fridge is always stocked with her seven convenient small balanced daily meals.' Isn't that cute and inspiring?