From nitrogen frozen bhel puri and pav bhaji fondue to duck chilli samosas and paapri pizzas, fine-dining restaurants are now adding a bit of zing to the humble street food.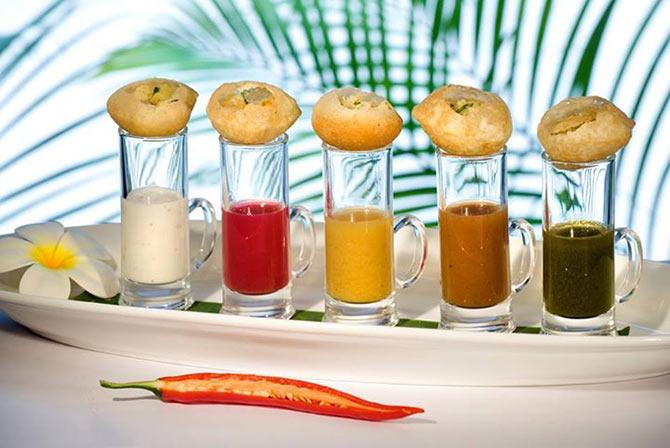 Image: Atta and semolina puchkas at Indian Accent. Courtesy: Indian Accent's Facebook Page
Taking gourmet to the street
Chefs across the country are taking inspiration from your local tikki waala and puchka corner and serving up their take on Indian street food.
"Street food has often been relegated purely to the streets, so there's a certain shock value when one sees a vada pao or dabeli on an upscale restaurant's menu," explains Manu Chandra, executive chef at Olive Beach, Bangalore, and partner and executive chef, Monkey Bar and The Fatty Bao.
But beyond the shock value, there is a certain sense of nostalgia associated with street food that finds many takers at quality restaurants.
"People often remember the chaat they had at their local market with their parents. Finding that on a fine-dining menu is then quite exciting," explains Manish Mehrotra, corporate chef, Indian Accent in New Delhi.
Indian Accent offers atta and semolina puchkas with coriander-chickpea tabbouleh, khandvi ravioli with cheese, arbi mash and sweet chutney and, for dessert, a raw and ripe mango daulat ki chaat with mango candy brittle, all inspired by street food from across India.
Restaurateurs also believe that street food offers the perfect opportunity to experiment with molecular gastronomy and, at the same time, keep younger audiences cued in with low prices.
"One can't always eat at a street-side kiosk because of hygiene issues, and young people don't find it hip to hang out at these joints. That is why we take the flavours of the street and add a bit of quirk and panache to make them cool and trendy," says Zorawar Kalra, founder and managing director, Massive Restaurants.
This is the reason that Kalra, after the fine-dine restaurant Masala Library in Mumbai, decided to open Farzi Cafe in Delhi.
Image: Parle G cheesecake at Farzi Cafe. Courtesy: Instagram/farzicafe
Inside the chef's laboratory
"Finding the local chaat on a fine-dining menu is exciting," says Manish Mehrotra, corporate chef, Indian Accent
For Mehrotra, bringing together the two opposites of street food and fine-dine cuisine is a challenge that any chef will enjoy.
He will soon add a paapri pizza to his menu at Indian Accent, blending authentic Italian with Indian flavours.
SpiceKlub, a casual dining restaurant in Mumbai's Lower Parel, has discovered a way for diners to eat pav bhaji without getting their hands dirty.
The pav arrives in the form of bite-size buns to be dipped in the zesty mousse that simmers in a fondue pot.
"Adding cheese and serving it in a pot didn't work. We changed the molecules to make them more liquid and introduced aeration so that the bhaji remained fluffy throughout," says proprietor Aditya Gupta.
While Chandra believes in experimenting with flavours to match every region's own unique palate, Kalra feels that gourmet street food needs to keep authentic flavours intact.
"If you try our Bombay Bhel 2.0 at Farzi Cafe, you'll find the true Mumbai flavours, even if it is at a temperature you've never experienced," says Kalra.
Farzi Cafe's bhel puri is frozen with liquid nitrogen and crispies.
Kalra has also innovated with the vada pao and the menu includes a duck chilli version of samosa.
Within street food too, restaurants are finding takers for global flavours.
The Fatty Bao, an Asian gastro-bar in Bangalore, has a number of gourmet adaptations of street food one would find in South East Asian countries.
"Most of our customers are well-travelled and we thought it would be interesting to serve global flavours with a twist," says Prashanth, executive chef at the eatery.
Sujoy Gupta, executive sous chef at Taj Bengal in Kolkata too has been adding a contemporary touch to street food. Gupta has played around with the idea of paapri chaat, using the crispy paapri as a filling for sandwiches. In a twist to the traditional Kolkata kathi roll, Sharad Dewan, chef and area director (food production) at The Park, Kolkata, uses a pesto dressing for the paneer filling.
Old wine in a new bottle?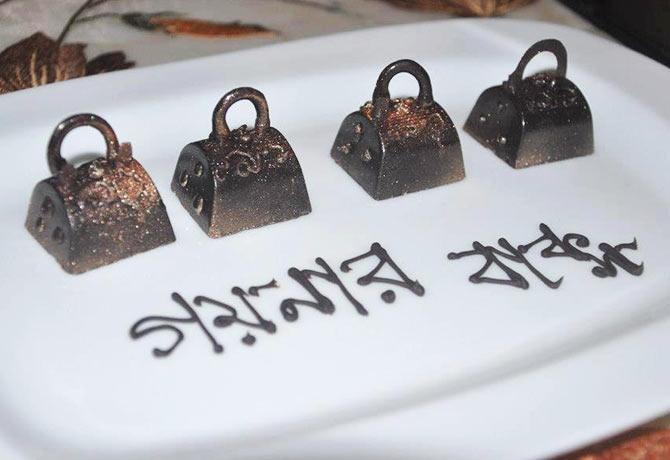 Image: Chocolate Goynar Bakshos at Taj Bengal. Courtesy: Taj Bengal's Facebook Page
"We take flavours of the street and add a bit of quirk and panache to make them cool and trendy," says Zorawar KalraOwner, Farzi Cafe
While some gourmet innovations are stellar, others are gimmicky rather than inventive.
At The Fatty Bao, the baos are soft and make the perfect casing for the delicious pork, which is slightly sweet.
The dumplings taste good and come with various dips and fillings like beef and jalapeno, and duck with hoisin sauce and scallions.
Bangalore's Church Street Social has a take on the Mumbai street snack, baida roti, which is quite good. It is served on a large dry palm leaf plate with onion rings, half a lemon and a green apple chutney.
SpiceKlub's version of pani puri takes the term "experimental food" rather seriously.
Diners are expected to fill potent water and tamarind chutney into hollow puris with the help of test tubes and syringes.
The trick here stops at inventive presentation, however, and there are no surprises in taste.
The dahi papri includes a baked cracker, coriander foam and spherified curd that packs in the flavours of chutneys and masalas well.
The vada pav comes with condiments in edible packets that is quite quirky, as is the deconstructed kulfi that can be paired with five flavours, including blueberry and salted caramel.
Taj Bengal's puchka is served with scrambled tofu, alfalfa, gondhoraj dijon mustard, scallion water.
The water, instead of the regular tamarind variant, has a delicious zing.
The avocado mousse dhakaai chaat, drizzled with pomegranate molasses instead of tamarind water, is another winner on the menu.
In Delhi, while Farzi Cafe outshines both in flavour and innovation, the portions are a bit of a letdown.
The Bombay Bhel and the cafe's take on vada pao, with the stuffing encasing the bread, are both flavourful and zingy, even in the chilly weather.
Monkey Bar in Delhi's Connaught Place has an exciting menu with quirky names like Mr Paneer Sharma (a spicy cottage cheese roll) and Shazia Imli (a sweet-sour alcoholic beverage), most of the innovations are in name only.
Mumbai's favourite dabeli is served with an unsavoury hint of asafoedita and minus the crunch of the peanuts.
While the cottage cheese roll tastes good and goes well with the hot winter cocktail, it does little in the name of innovation.
The accompanying chutney, though, is fresh and zesty.