Have you had a transaction at an ATM fail?
Did you file a complaint and receive the money on time?
Share your experiences, good and bad, with us.
Text: A Ganesh Nadar/Rediff.com. Illustration: Uttam Ghosh/Rediff.com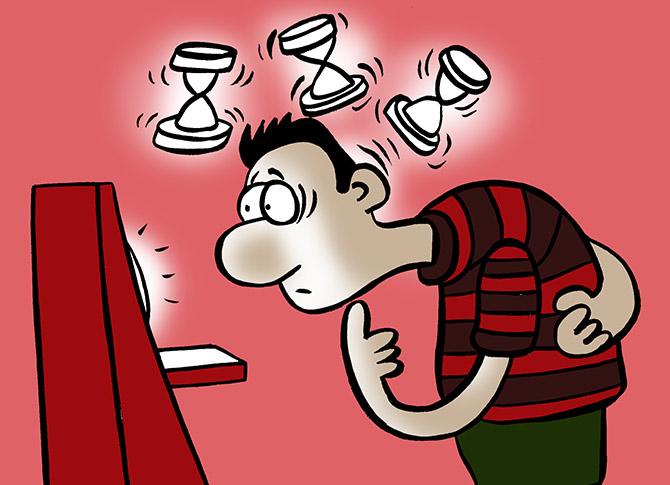 A few years ago when ATMs were first installed, I was very happy.
No more tokens at the bank, no more sitting for hours while the clerks talked among themselves, had tea, went to the toilet numerous times and sometimes fell asleep, I thought.
One day, I used my HDFC debit card to withdraw Rs 10,000 at the South Indian Bank ATM in Tuticorin. The transaction failed, but the amount was debited from my account.
When I called HDFC, I was asked to submit a written complaint at their nearest branch. At that time their nearest branch was in Madurai, 200 km away. I went and complained.
After numerous calls, 60 days later, I got my money back.
During my enquiry, the authority at the South Indian Bank, Tuticorin branch, told me they had returned the money to HDFC in seven days.
Last year, my friend and colleague Divya Nair tried to withdraw Rs 10,000 with her HDFC debit card from an ICICI ATM in Mumbai. Her account was debited, but she did not receive the money.
The authorities at the HDFC bank told her that she would have to file a police complaint before they could proceed. She filed a police complaint.
After countless phones to clerks, officers, even the bank's MD, two months later, she got her money back.
On May 11, 2016 none of the State Bank of Travancore ATMs worked in Thiruvanathapuram.
I tried to withdraw Rs 5,000 from an ATM near the airport. Same story. I immediately received an SMS that my account had been debited. Only I had received no money.
So I punched in a request for Rs 500 to check if the ATM worked. It obliged. Again, I tried withdrawing Rs 5,000, but no luck.
I was bombarded with SMSes at a pace that would make the Luftwaffe proud. There was a continuous stream of messages that told me that my account had been debited followed by another that said the 'amount was credited', 'sorry for the inconvenience' or 'inconvenience regretted'.
On May 18, 2016 I tried to withdraw Rs 10,000 from an SBI ATM.
The transaction failed because there was no money in the machine, but I received an SMS stating the money was debited from my account.
Half an hour later I received another SMS saying 'regret'. Then an hour later another SMS acknowledged that I had failed to withdraw money. The next morning I got the final SMS saying my account had been credited for the amount.
A Rajamuruga, an account holder at the Tamilnad Mercantile Bank in Chennai, tried to withdraw Rs 10,000 from the same bank's ATM. He only received Rs 8,000, so he complained to the bank (through the call centre).
They told him not to worry and that he would get his money back in 48 hours. It did not happen.
After complaining to the bank in person, Rs 2,000 was credited to his account.
I have decided that henceforth I'd say my prayers before entering any ATM.
Yesterday, I withdrew money from an HDFC ATM at Tirunelveli after saying a long prayer. It worked.
Dear readers do you have an ATM story to share?
What problems did you face and how did you deal with it?
Mail us your stories and advice at getahead@rediff.co.in (Subject: ATM woes) along with your NAME, AGE and LOCATION. We'll share the best ones right on Rediff.com.