We'd asked you, dear readers to tell us how you met your best friend.
Swapnil Bajpai, 32, from Jalandhar, Punjab tells us about his 17 years of friendship with his best buddy Nikhil Bande who currently resides in Dubai.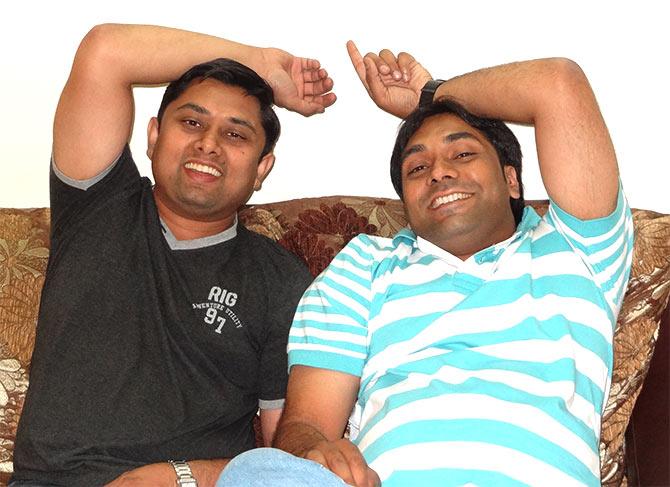 IMAGE: Swapnil (right) and his best friend Nikhil goof around.

Who can forget the lyrics of famous song Summer of 69 (a song by Canadian singer Bryan Adams)?
It goes like this:
Oh! When I look back now

That summer seemed to last forever
And if I had the choice
Yeah I'd always want to be there
Those were the best days of my life.
Just like the lyrics of this song, my friendship with Nikhil began in the hot summer days of 1999 in Bhopal.
I had recently moved to the city because of my father's transferable job and met Nikhil through a common friend in the complex where my family was put up.
We were in our early teens.
Cricket was the first common interest which cemented our bond. One of our common friends introduced us to each other as 'cricket maniacs'.
Little did I know that it was just the beginning of a series of common things between us.
Food, music, movies, everything seemed to match when we revealed our hobbies.
For me, he was like a brother from another mother. In fact, I did not even have so much in common with my real brother.
Both of us had loads of friends in our respective lives, but our liking towards each other only grew with time.
We'd both lost our fathers early in life. And he knew exactly how it felt growing up without a father figure.
My love for non-vegetarian food was matched equally with his choice of lip smacking delicacies.
The way we slammed poems and analysed movies was alike.
Surprisingly, we even share the unique talent of getting amused on the old joke/situation, a million times, in the same way.
Everyone has a friend who laughs funnier than his jokes. Nikhil fills that category too.
Seeing my younger brother's agile fielding, Nikhil gave him a pet name 'Jonty' (after Jonty Rhodes).
And lovingly, he started calling me Monty, which ultimately became my other name.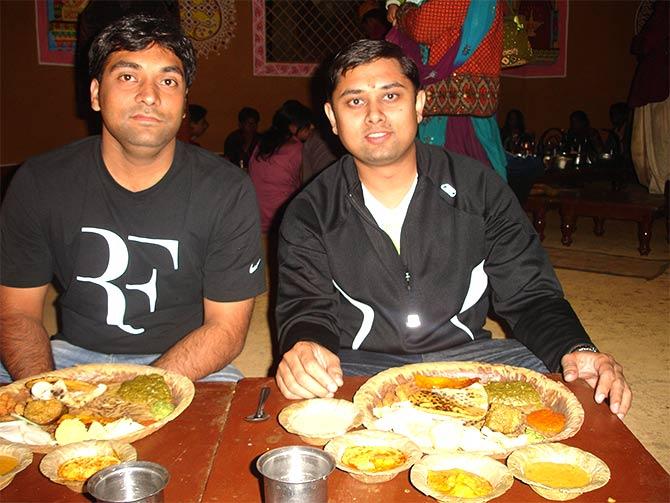 IMAGE: Food lovers Swapnil (left) and Nikhil all set to dig in!
He was my partner in crime too. We were expert wedding crashers of our times.
I believe, we hardly left any wedding in town. The pure motivation behind this notorious idea and its execution was food.
I learnt Nikhil's mantra by heart, for tough times. "Just remember, if we get caught, you are deaf and I don't speak Hindi or English," he'd say.
Few years ago, he moved away from my city to kickstart his career and eventually we witnessed a change of six cities between us.
Currently, he resides in Dubai, but neither of us was ready to sacrifice our amity due to movement.
And change of six cities and two countries could not deter our affection for each other.
A perfect mix of pragmatism with positivity is hard to find. But Nikhil always had a penchant for worthy yet decent choices.
He never shied from displaying his love for life which was quite contagious too.
It pushed me hard to leave my comfort zone behind and strive for my career.
He always provided me great advice on the job front, and even saved me once from committing career suicide.
And when love came knocking at my door of heart, only my dear friend knew my secrets.
With Friendship Day round the corner, I declare that Cancerians (zodiac sign) are the greatest friends. Nikhil is the biggest proof.
He is still my best buddy and I wish him a long life to carry on with my madness.
Happy Friendship Day chum!
Photographs: Kind Courtesy Swapnil Bajpai
Do you also have a best friend you cannot live without? Where did you meet him/her? Tell us.
Write in to us at getahead@rediff.co.in (subject line: 'My best friend') along with your NAME, AGE and LOCATION.
Kindly, if possible, also include a photograph of your best friend and you, and we'll publish the best entries right here on Rediff.com