We'd asked you, dear readers, to tell us about your father's best advice to you.
Asaithambi Balakrishnan tells us how he discovered the secret to happiness from his father's simple lifestyle.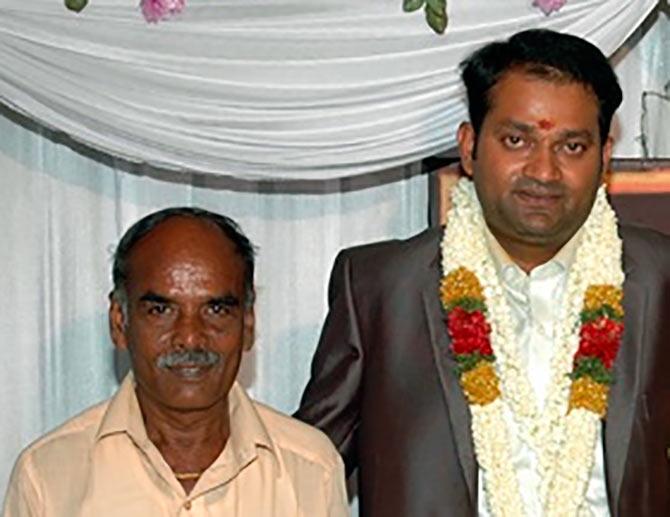 My father M R Balakrishnan worked in a sugar factory at Vellore his entire life, as a turbine operator, on a minimum salary.
Like others, he too faced ups and downs in his life. In-spite of these, he lived a peaceful life and also made our lives peaceful too.
He taught us how to live our life. He'd always say: "Happiness will never come from outside, but from inside our heart."
When he retired in the year 2009, I was earning 10 times his salary, but he was happier than I was. This made me look up to his lifestyle for inspiration.
He was very simple. He never took a car to travel, always used the public transport.
He never needed an LED TV, the 14 inch television made him happy.
He did not require an air conditioned room to sleep; a pillow and bed sheet was enough for enough.
I realised that his happiness lay in simple things. My happiness depended on what I earned (money).
When I was hospitalised in 2012, I was on rest for a year. That's when I thought about the core of happiness.
And it taught me to lead the life my father did for so many years.
My view towards the life and happiness has changed only due to my father.
"Happiness lies within, (you cannot get it) from outside or from others."
I am proud to be his son.
ALSO SEE
Dad's advice: Let go, be happy
Share your father's best advice with us.
Write to getahead@rediff.com (Father's Best Advice) along with your NAME, AGE, LOCATION and a photograph of your father and you.
We'll publish the best responses right here on Rediff.com.
Image: Kind courtesy Asaithambi Balakrishnan