Dabur Vatika's latest advertisement challenges the conventional notions of beauty.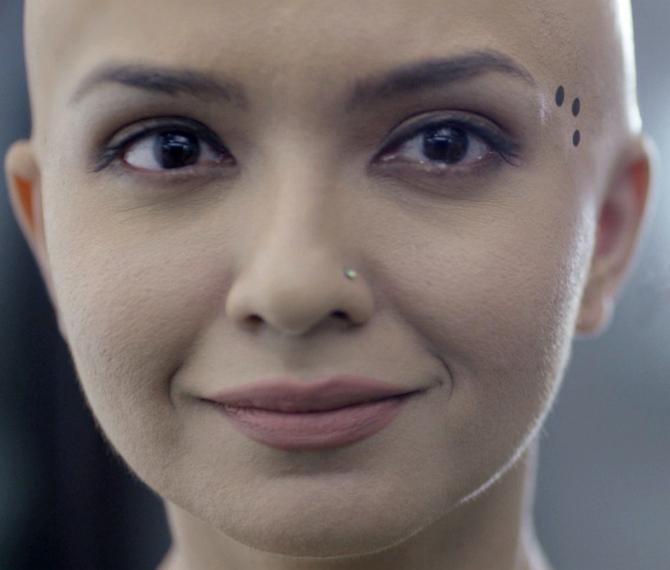 Cancer, one of the biggest causes of death in India, is the focus of Dabur Vatika's latest long format commercial.
Almost three million people suffer from the disease in India today and over a million new cases are being reported every year.
Cancer takes away five lakh lives in the county each year and the World Health Organisation says the number will rise to seven lakh by the end of this year.
Death, however, is not the focus of the latest commercial of Dabur Vatika, the haircare product range.
In its new long format advertisement (watch below) Dabur chooses instead to narrate the story of a survivor.
"Rather than talking about the fight against cancer, we chose to focus on the fight that ensues afterwards," says Jaideep Mahajan, executive creative director at Linen Lintas, the agency that created the advertisement.
"A lot of women, who have undergone chemotherapy, do not just lose hair but end up with an erosion in self esteem," Tiny Sengupta of Dabur adds. "It takes a great deal of confidence and inner strength to face the world all over again."
Pranav Harihar Sharma, Mahajan's partner who wrote the script, screenplay and lyrics continues:
"The idea of a man going bald isn't often seen as drastic by society.
"But when a woman loses her hair, it is a big deal."
And so, at the centre of the narrative, is a young mother who has defeated cancer is now preparing to face the world.
She wakes up, goes to the kitchen and instinctively reaches out to roll her hair up into a bun... That's when it dawns upon her: she doesn't have any hair.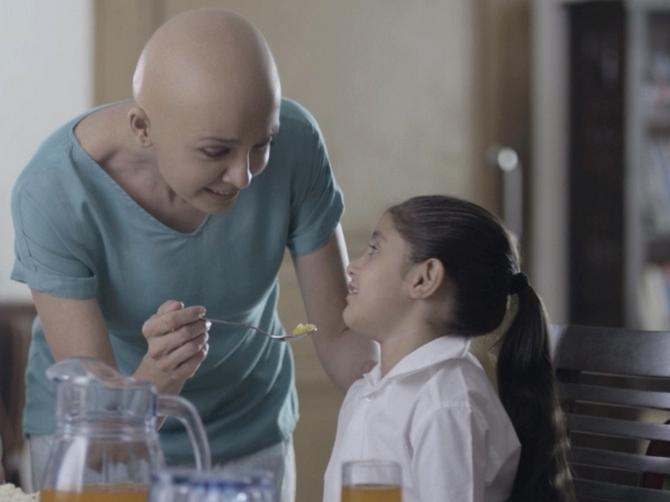 As she goes about her morning chores -- making breakfast, getting her daughter ready for school, the usual mundane activity that fills up our mornings -- she seems to forget about her appearance.
It is only when she stands before a mirror again, to get ready to go to work that she realises the enormity of what she is about to do -- step into the world for the first time after her chemotherapy.
Mahajan says that Dabur wanted to "create something that would start a conversation."
"The conversation couldn't be about the product; it had to be about something that people could relate to.
"We had to talk about something around the product, which would then lead people to talk about Vatika."
2014 has seen a number of long format, 'digital-first' advertisements -- from Fortune cooking oil to Airtel to Pepsi's popular Diwali campaign about returning home.
British Airways' A ticket to visit Mum was yet another, if slightly older example -- it was released in 2013 -- of the format that has been getting more popular than ever in India.
The duration of the shortest commercial is a little over a minute and the longest can go up to seven!
A few years ago, this would have been blasphemy -- imagine watching that in the middle of your favourite television show!
With the rise of the Internet, all of it has changed.
"Brands want to talk to people. They don't want to impose or sell," Mahajan says.
"During a commercial break, people tend to switch channels or go off to take break.
"People don't want interference in the form of commercials.
"Brands have realised that if you want to talk to people, you want to make interesting content.
"(With this kind of advertising) you are not selling anything, not directly at least.
"People watch these films out of choice so they don't see them as intrusion. Instead they would like to watch something they can relate to."
With most of us knowing or knowing of someone who is suffering from or has succumbed to cancer, the folks at Linen Lintas knew they had a topic people could relate to.
"We could have gone horribly wrong.
"So we had to be very careful when selecting the model or the music or just simply the way we shot the film," Mahajan says.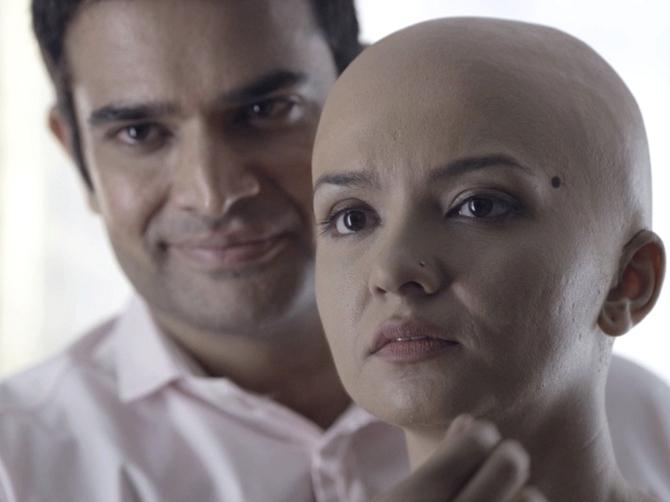 Interestingly, Parul Chaudhry who plays the protagonist in the film, is known for her negative roles in daily soap operas.
"I was keen to get out of the stereotype," she says. "So when I heard the script, I was obviously very excited.
Chaudhry who plays a central character in Tum Saath Ho Jab Apne on the new channel, Sony Pal, did not have to shave off her hair.
"I would have been happy to because it was such a wonderful idea but I was told that the prosthetic make up would take care of it."
Pranav Harihar Sharma adds: "The idea was to suggest that you don't need hair to look 'beautiful'.
"She has been emotionally and physically tortured. And yet, just like a soldier who shows off her/his bullet marks, this (the bald pate) is a trophy of sorts; it is a sign that she has defeated cancer."
And so the young mother, with some hesitation, finally enters her workspace for the first time after her procedure, a changed woman.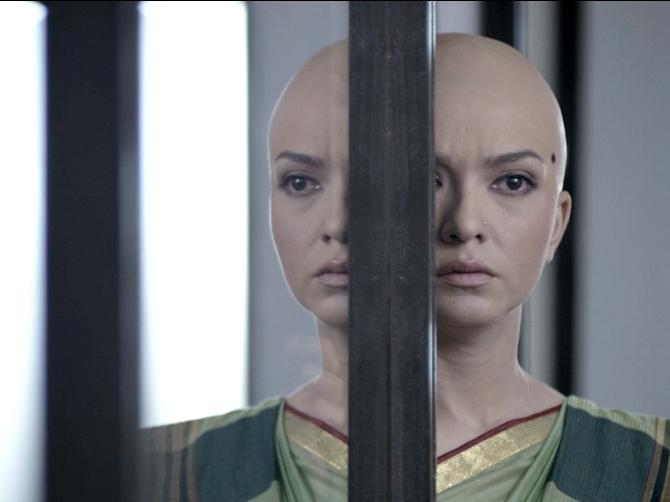 How do her colleagues react?
Watch the film below and find out for yourself!