This TV also comes with an innovation -- it uses the screen as a speaker, says Uttaran Das Gupta.
Photographs: Courtesy sony.com
Back in 2008, Sony had tried its hand in the OLED segment with an 11-inch model.
Now, less than a decade later, it's back with a bang.
The A1 OLED series, with a 65-inch and a 55-inch option, has more than enough space to squeeze in 4,000 pixels.
Add to this Sony's most powerful picture processor, woofer speakers, and a built-in sub-woofer, and a beauty is born, unparalleled.
Of course, something that's so close to a work of art is going to be expensive -- priced between Rs 3.6 lakh and Rs 4.6 lakh -- especially if it is also such a marvellous piece of design and tech.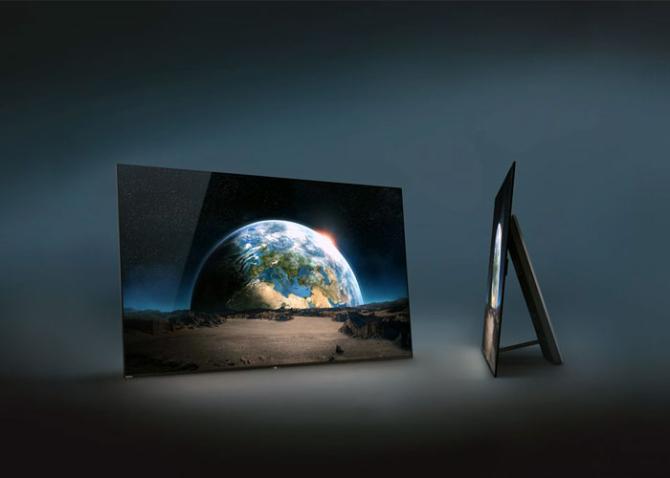 Photographs: Courtesy sony.com
The design in which Sony invested years of efforts is a head-turner.
My living room corner that it graced was an eye magnet even when the TV was off.
The focus is completely on the picture, framed by black borders and there is nothing to distract you from the picture itself -- no sound box, no frame, not even a Sony logo.
It's a single pane of glass, as thin as a smartphone, more suited for an installation in a museum or a gallery than a living room.
In fact, the A1 is brighter than any TV I have seen.
I watched a number of HD and UHD shows on Amazon Prime, Netflix and YouTube, and the picture experience in all cases was fantastic.
If you really want to appreciate the sharpness of quality, switch from a black-and-white video to a colour one.
There is no leakage or pollution of light.
There is also no stuttering and stammering, common in the best of TVs, during slow motion shots.
This TV also comes with an innovation I have not experienced before -- it uses the screen as a speaker.
Crazy? Well, it works, and how! The sound is large and robust, but also accurate.
The detail of the position and the source are matched, often perfectly, immersing you in the watching experience.
There might be some muffling in scenes with too much action, but this is rare.
According to some reports, the woofers built into the stand work even better if they are mounted on a wall.