A nutritious but delicious Barnyard Millet Dosa recipe that is perfect for the month of Shravan.
This vrat or fasting-friendly dosa requires no fermentation and is served warm with coriander and mint chutney.
This recipe has been shared by culinarian and food stylist Vindhya Karwa, who runs the food blog @vinsplate.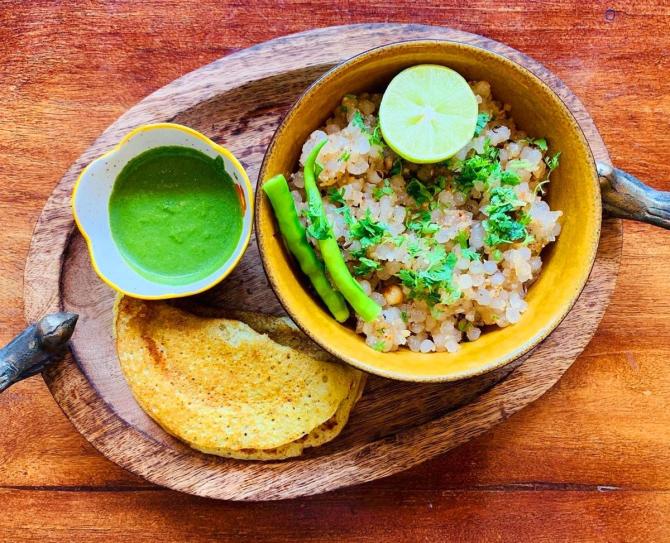 Barnyard Millet Dosa
Serves: 3-4
Ingredients
1½ cup kuthiraivali or barnyard millet
1 big boiled potato, grated
2 green chillies
1-inch ginger, ground
Rock salt or regular salt, to taste
Ghee or oil, for frying
Mint, coriander chutney and sabudana khichdi, to serve
Method
In a channi or colander wash the millets well under running water to remove any impurities.
Transfer in a big pot filled with water and soak for an hour.
Drain off the water and wash once the millets again before transferring into a grinder jar.
Add some water, ginger paste, green chillies, salt, boiled potatoes and pulse until you get a smooth consistency.
Add more water if required. Make sure the batter is not too thick nor too runny.
Transfer into a bowl and keep aside.
Heat a little of the oil or ghee in a griddle or heavy-bottomed frying pan over medium-high heat.
Pour a ladleful of batter onto the centre of the pan and spread it outwards in a circular motion.
Pour a tsp of ghee or oil around the edges of the dosa and let it cook for a few minutes.
Flip and let the dosa cook until light brown.
Fold, take off heat and place on a plate.
Serve warm with freshly ground mint and coriander chutney and sabudana khichdi on the side.
Vindhya Karwa posts vegan and vegetarian recipes under the Instagram handle @vinsplate.