IMAGE: A cool campaign with Virat Kohli shot for brand Wrogn.
Photograph: Kind courtesy Stay Wrogn/Instagram
Anjana Reddy explores the market for home-grown Indian celebrity fashion brands at affordable prices.
Nikita Puri spoke to the 28 year old.
""My sense of fashion has evolved; for me, simple is more stylish. I can go to the airport in tracks and chappals. I don't need to dress up for that," says cricketer Virat Kohli at a promotion for his menswear clothing label, Wrogn.
Standing by him at the event is Anjana Reddy, the founder and chief executive officer of Universal Sportsbiz, the company that backs Wrogn. She is happy to let Kohli do the talking.
The same scenario plays out when Reddy is on the stage with actor Shraddha Kapoor for Imara, or with model-turned actor Kriti Sanon for Ms Taken, the two other celebrity fashion labels launched by her.
Away from the spotlight, in her Bengaluru office, with a bat signed by Sachin Tendulkar in the backdrop, the 28 year old is undoubtedly at home.
Reddy, who was once a doubles partner for Saina Nehwal, says she stopped playing badminton professionally when she was in Class 10.
"In those days we'd quietly go up to the stage and receive our awards. That has changed so much now with a whole show around it," says Reddy, who constantly finds herself asking Universal Sportsbiz-endorsed celebrities Kapoor and Sanon how they smile for the camera all day long.
Her voice is deep. She clearly speaks from the diaphragm and not the throat. She says she'd choose business over being on stage any day.
But then business has always been a part of Reddy's family legacy -- her uncle is T Venkatram Reddy, the chairman of the Hyderabad-based Deccan Chronicle newspaper group. But she has always been persistent about forging an entrepreneurial legacy of her own.
"I've always kept away from my family legacy. This is the only country where people keep dragging in your family business," she says. "I've strived to do so much and I've never taken a buck from my dad."
Around the time Reddy stopped playing professional badminton to focus on academics, she tried her hand at what would be her first venture.
Just before schools in Hyderabad, where Reddy was born and brought up in, closed for summer vacation, Reddy tied up with Odyssey bookstores to set up stalls across 20-odd schools in the city.
"Children wanted something to do during vacations, and parents wanted their children to be kept busy. So that made for really good pocket money," says Reddy, chuckling.
She was 16 then and carried out the business for the next two years when she left for the US to pursue higher studies.
IMAGE: Shraddha Kapoor poses in Imara Fashion clothing for the brand's new campaign.
Photograph: Kind courtesy Imara Fashion/Instagram
Tapping into new territories is Reddy's forte.
"When I was studying abroad, the nearest film theatre was over two hours away and students didn't have vehicles. There wasn't any good public transport either," says Reddy, who went on to arrange a trip to-and-fro from theatres and threw in popcorn for good measure.
"It wasn't a bad deal for $20," she says. The first of these "Hindi film packages" included screenings of Shah Rukh Khan's Om Shanti Om and the Ranbir Kapoor-starrer Saawariya.
While Reddy studied accounting from Purdue University, she also has a degree in finance from the University of Illinois at Urbana Champaign.
It was while she was living in a dorm for two years that she realised the craze for sports merchandise in the American Midwest.
"Everyone had jerseys. During a football match, people would even get their dogs to wear these jerseys," she says.
That's when she realised that in India, the space for branded merchandise was waiting to be taken. "Back then, when you went into a cricket stadium here, you wouldn't really see an ocean of blue in the audience."
For one-and-a-half years after returning to India in 2011, she tried to rope in Tendulkar for her venture of going head-first into the business of sports memorabilia, an online business, which by 2012, would be called Collectabillia.com
"I still don't know how Sachin took the risk of investing in a 23 year old," says Reddy, who later went on to secure funding from Accel Partners.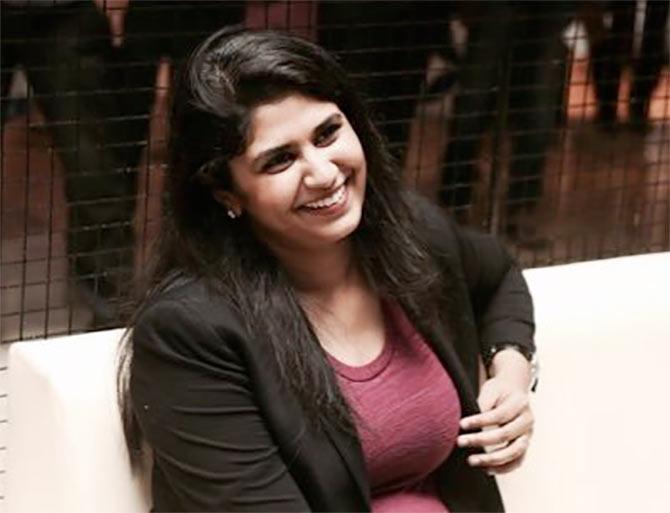 Collectabillia has gone on to stock celebrity merchandise with icons that include Nehwal, Sania Mirza, Kohli, Yuvraj Singh, Viswanathan Anand, Viv Richards and Adam Gilchrist.
The celebrity list steadily grew, and merchandise featuring Tom Cruise, Al Pacino, Elizabeth Taylor and Victoria Beckham made its way to Collectabillia.
It also got on board Argentine superstar Lionel Messi. Reddy chased him for six months before the footballer gave her the rights to sell mobile, tablet and laptop covers under his brand name across the globe.
When Reddy was headed to meet Messi to talk about the deal, she was told her visa request had been denied. "The authorities thought someone was playing a prank by saying they were going to meet Messi," she says, laughing.
"She is fearlessly ambitious and extremely motivated," says Dave Banerjee of Fisheye Creative Solutions, one of the people Reddy counts among her friends. "She is a great example of a young entrepreneur who knows she can take on big, foreign brands."
Reddy is also highly pragmatic. When she realised that there was a significant market for youth-oriented fashion wear, she pivoted her business.
In 2014, after Kohli had had a tough series in England, she convinced him to sign up with her. The same year, she brought in Shraddha Kapoor for women's ethnic wear.
"We no longer make memorabilia," she says. "Yes, the Web site is still there and it'll always be there because these are collectors' items and the value will only grow with time." But her focus is now completely on the celebrity-lead fashion for youth.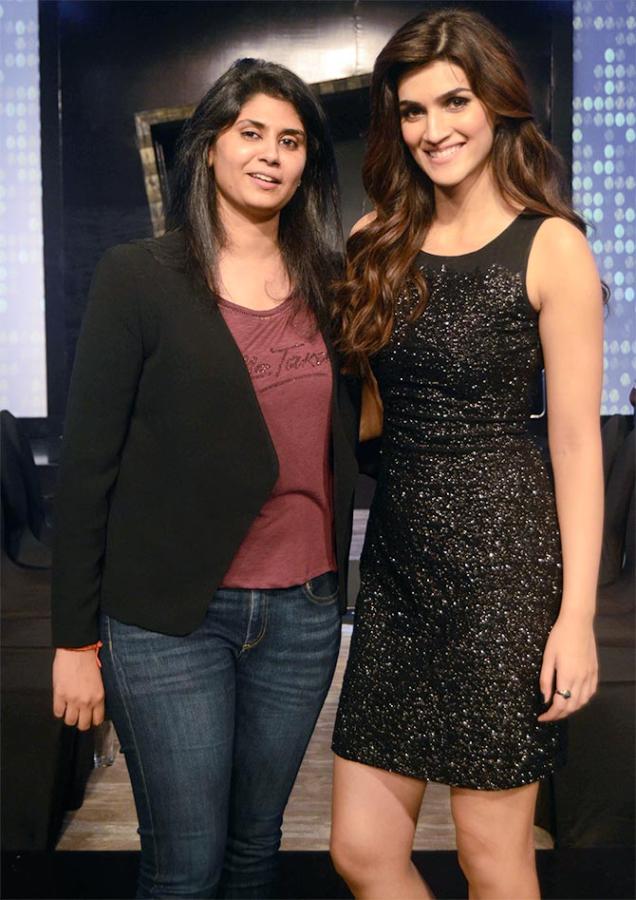 IMAGE: Anjana Reddy, left, and Kriti Sanon at the launch of brand Ms Taken in Mumbai.
Photograph: Pradeep Bandekar
The latest in Universal Sportsbiz's thriving basket is Ms Taken, which Reddy launched with Sanon last month.
Reddy started the business with four people; now she has 350-odd employees. The average age of her growing team is 30, in keeping with the audience she is targeting.
The 15 stores of Wrogn, Imara and Ms Taken largely focus on smaller cities. "That's where our growth is. Despite stores in Bengaluru, Hyderabad and Mumbai, my top store is in Agartala," she says.
When she isn't working endlessly, Reddy is busy attending to the two pugs that live with her in Bengaluru; she's got another six dogs back home in Hyderabad.
Badminton, even recreationally, is off the charts for now -- Reddy has dislocated her shoulder eight times and is still recovering from a surgery last year.
Unless it's the weekend when the athlete in her emerges, you'd spot her around town in a shirt paired with jeans and loafers. She's always casual, but business casual.
These days she's made her peace by dividing her time between following the exploits of Colombian drug lord Pablo Escobar on Netflix and reading non-fiction (history and autobiographies). Currently, she's reading Onward: How Starbucks Fought for its Life Without Losing Its Soul.
"Seeing the vision and the making of a brand through someone else's eyes is pretty interesting," she says.