You need to be detail-oriented and articulate.
Hiring managers are looking for a sharp, neat, concise resume crafted specifically for the job, points out S J Raj, senior vice president, HR operations, Newgen Software.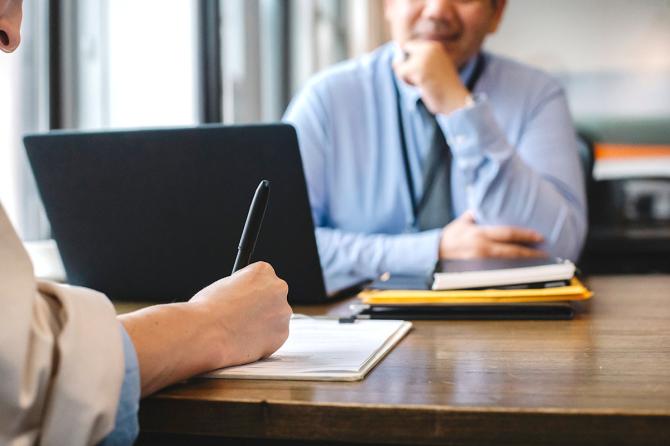 Your resume marks the beginning of your interaction with a prospective employer.
So, you cannot undermine the prowess and purpose of a professional resume.
The efficacy of your resume cannot be left to chance. It is imperative to avoid common mistakes and make sure that your resume is not guilty of faux pas.
Here are some tips for framing a worthy resume that can help you land your dream job.
1. Tailor-fit your resume based on job requirements
A 'one-size-fits-all' approach may not help you land your desired job. The description of your previous work experience should be relevant and attractive.
It is a common mistake to list all your duties at your previous job without taking into account their significance for the organisation you are applying to.
What is crucial to your future employer is your experience and exposure relevant to the job profile you are applying for and how you can add value to their organisation.
Hence, in your resume, stress on roles and responsibilities that are relevant to a given work profile and keep it concise and clear.
2. Highlight key skills and relevant experience at the top
When you list your professional as well as interpersonal skills, make them coherent to the job you are applying for!
In contemporary times where practical skills act as a competitive advantage, exhibiting your individuality and multi-dimensional skills will be a smart move.
However, it is vital that you do not oversell yourself. Keep it subtle and create a correlation between your skills and your work experience.
3. Organise all information with clear and concise formatting
This is an all-encompassing criterion that involves the design, spacing, font size, and content layout for better readability.
Disorganised sections, inconsistent spacing, margins that are squeezed too tight -- you may think these are minor issues, but your resume is a representation of your professional self.
You need to be detail-oriented and articulate. Hiring managers are looking for a sharp, neat, and concise resume crafted specifically for the job.
4. Less is more; Limit your resume to one page for every ten years of experience
No employer would want to read a resume that is in excess of two pages as it will mostly be perceived as superficial.
Unnecessarily long resumes are often viewed as being full of irrelevant information or exaggerated claims.
Your resume should be a maximum of two pages long, with normal margins and legible font size.
Everything you write must have a purpose to demonstrate why you are the perfect candidate for the job. So be concise, every word counts!
5. Mention the tools and technologies you have hands-on experience with
Technical agility is a salient prerequisite.
Expertise and adaptability with the required technology, including remote working and collaboration tools, can be a critical differentiator to ensure that your resume stands out.
The problem is many people write this part in a task-based format, using a lot of buzzwords without much substance. Instead, write what you have accomplished by stating the measurable impact of your work.
Never put something you cannot substantiate in the interview.
6. Quantify your accomplishments
Let numbers showcase the outcomes of your responsibilities.
Employers want to see what you can do for them and how you can add value with your skill set.
An effective resume is as much about the company you are trying to impress as it is about you.
To quote an example, you can say something like, 'In my past role, I was instrumental in increasing the annual revenue from $5 million to $6 million, a gain of 20%, while leading a global team of six employees spread across four time zones.'
Continue this practice even after landing a job.
You can use numbers to make a case for why you deserve a promotion or a raise down the line.
7. Check once, check twice; Proof-read multiple times
Everyone is vulnerable to make errors in the first go.
Proofreading and editing to craft a perfect resume for your desired role will always be essential.
Like writing, it is better to flesh out all your thoughts and ideas in one go, section by section, before rephrasing and cutting it down to what is relevant and important to highlight.
You will manage to trim down the fat and create an ideal resume after a few iterations.
Your resume is a reflection of your personality. Make sure that you are the one writing it!
Ensure that your own personality shines through in your resume.
You can build more on it in face-to-face discussions and create a lasting impression on the hiring manager.
A good resume alone will not be enough to land your dream job, but it is the essential first step that will bring you closer to your goals.