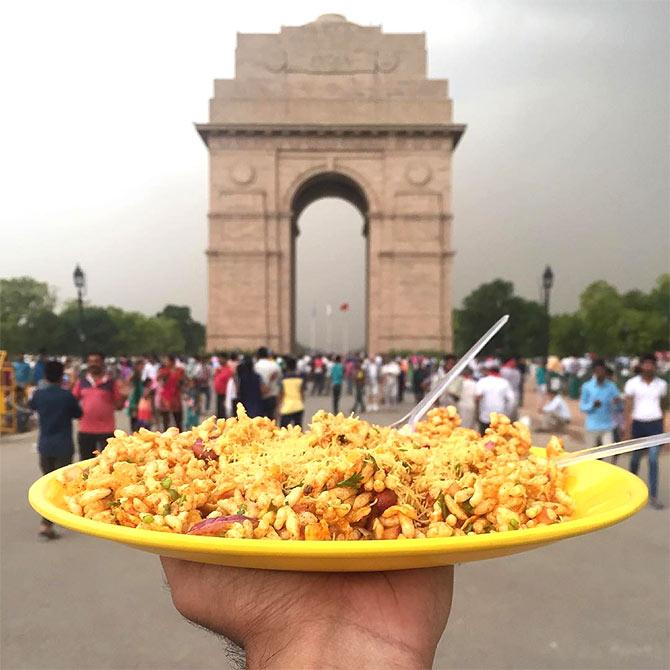 Himanshu Sehgal is traveling across India, armed with a plate and a camera.
IMAGE: A plate of delicious Maggi during a trek up the hills in Cherrapunji, Meghalaya. Photographs: Kind courtesy Himanshu Sehgal/Instagram
Himanshu Sehgal's food journey on Instagram was born thanks to a yellow plate.
"No one knows where it came from... it has been there in my house! I loved the colour and enjoyed eating in it," the digital marketing consultant reveals.
The yellow plate opened doors for Himanshu, who set out on a food journey across India, documenting all the food he eats on the yellow plate, and showcasing the rich culinary treats this country has to offer.
The project, My Yellow Plate, is an ode to that humble plate.
Rediff.com's Anita Aikara spoke to Himanshu about his passion for food and ambition to cover 29 significant dishes from each state of India.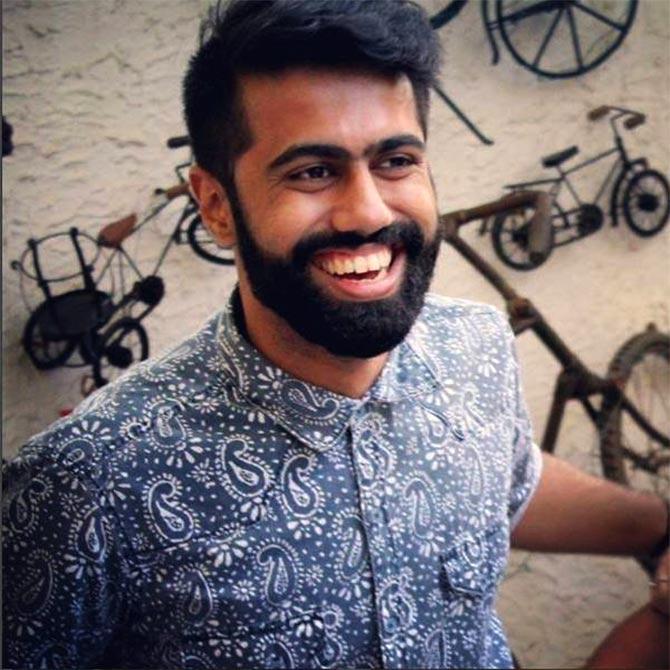 Tell us about yourself...
I'm based in Delhi and work as a digital marketing consultant with various brands.
I completed my engineering in computer science and passed out in 2012.
After that I worked as digital marketer for two years, then quit my job and started freelancing.
In August 2015, while I was still freelancing as a digital marketer, I got the idea of My Yellow Plate.
Delhi has plenty of food bloggers. But I have never found anyone who genuinely focuses on exploring places people had not been to or heard about.
So I decided to pick up my yellow plate and roam the streets of Delhi exploring the food options there.
Himanshu's first post on My Yellow Plate/Instagram.com
IMAGE: Planet Paneer Pataka Pizza from Da'Pizza Planet (GTB Nagar) on the yellow plate.
And...
I also run a YouTube Channel called The Earthicle which is all about my travel experiences.
If you love to travel and explore, you will love it.
What is My Yellow Plate about?
It is not just about the pictures.
It is the common and uncorrupted love for food... the ability to go beyond the conventional and truly explore new places to eat at.
It started as an Instagram account and has now been turned into a website. People can expect a lot of interesting blogs going online very soon.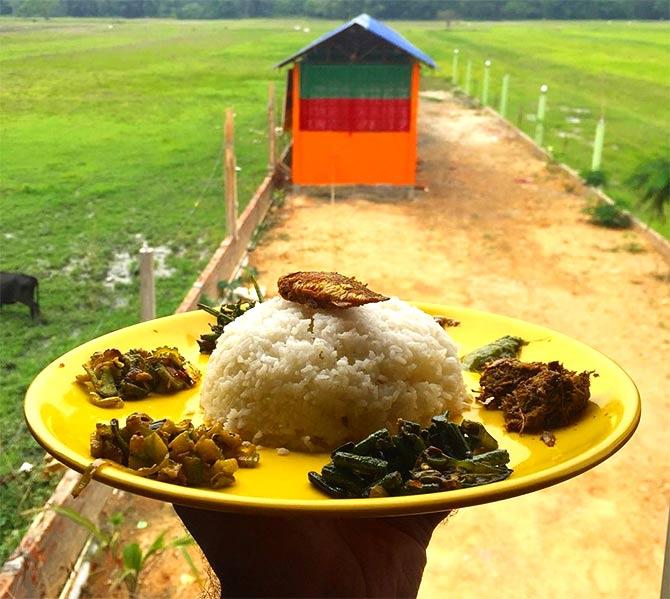 IMAGE: Himanshu's first meal in the North-East. The Assamese thali for lunch at Anuraag Dhaba, Nagaon Bypass had delicacies like Dhekia Xaak, tite karela, bhat karela, yellow dal, lesera mah, pudina chutney and puthi fish served with boiled rice.
How do you fund this project?
It's self funded. It is expensive, but the expenses don't stop me from doing it.
How many cities have you covered?
I have travelled to six cities and hope to cover many more.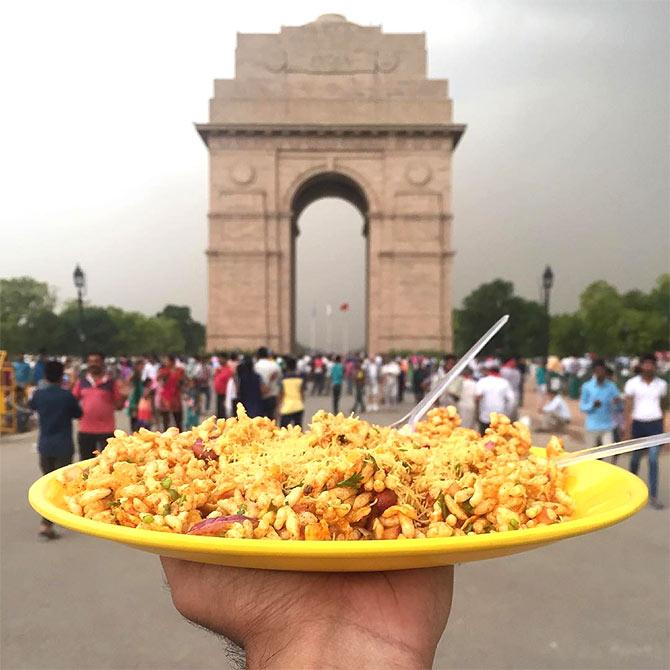 IMAGE: It took 20 to 30 shots just to get this pic right! Phew!!
Is it a task to balance the plate with one hand as you click with the other?
It's very difficult to balance the plate with one hand, click with the other, and at the same time make sure that plate is in focus and the lighting conditions are coming out nicely.
The India Gate picture and a recent picture from a lake took me 20 to 30 shots just to come up with a good picture that can be shared. Still I wasn't very happy with it.
Also, the Jama Masjid shot was taken while some 400 people were staring at me!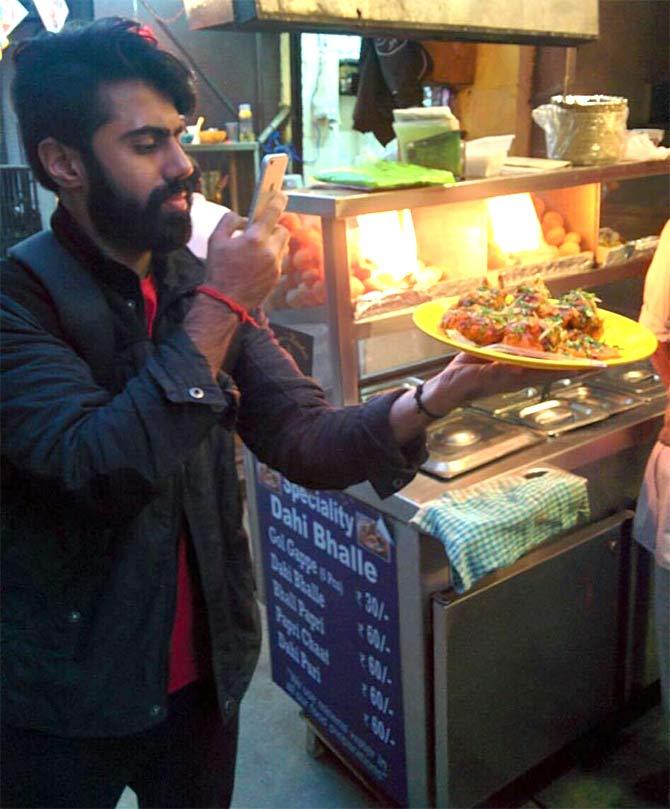 IMAGE: The man behind the lens as he photographs a plate of delicious food.
So what happens if the yellow plate accidentally breaks or cracks? Does that mean it is the end of your series?
No! That's not the end of it. It's made of plastic, so I think the chances or it breaking are less.
Though there was an incident in Pizza Hut where they lost it (the yellow plate) and couldn't find it for an hour.
I freaked out. They eventually found it in the kitchen.
IMAGE: Chole bhature from Pandit Ji, Kanti Nagar, East Delhi.
Is it difficult convincing restaurants that you want to eat in your yellow plate? Do the waiters give you weird looks?
Yes, it did happen when I started. I used to get weird looks and sometimes the restaurant manager would say no because they weren't allowed to let us get our own plates.
But now it's totally different!
A friend open a cafe recently and he decided to serve everything on yellow plates to show support to the MYP project.
What next?
I am looking forward to the My Yellow Plate India tour where I will cover 29 significant dishes from 29 Indian states.
Tempted to take a sneak-peek into his drool-worthy and tempting timeline? Take a look!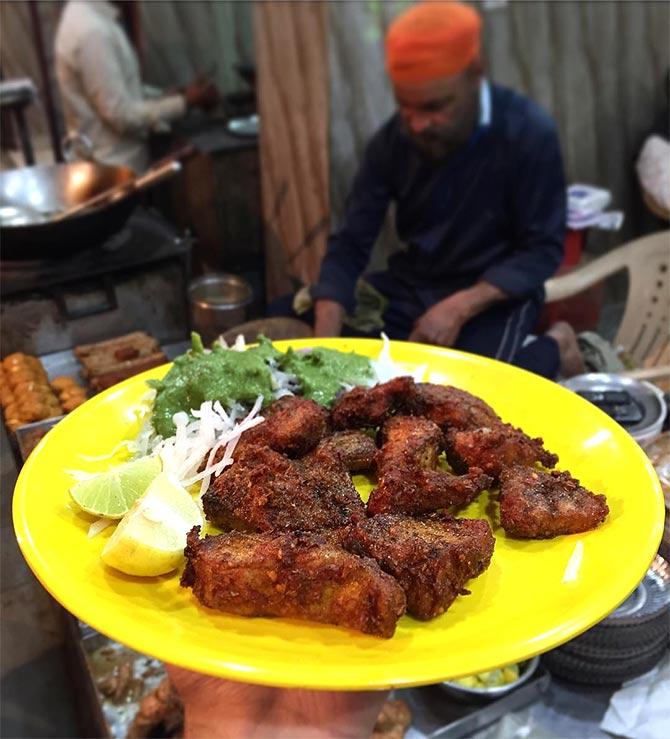 IMAGE: Fried fish from Pappu Fish Wala, Pul Bangash. It's a 60-year-old shop serving tandoori and fried items.
If you like your chicken tandoor'ed' and your fish deep-fried, this is a place to be.
Food that looks too good to resist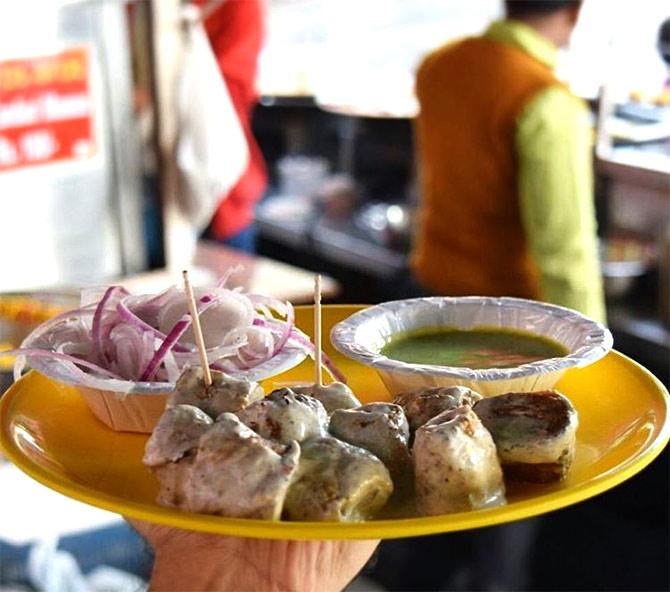 Cream Malai Chaap from Nut Khut Chaat and Snacks Corner, Model Town-2. This small tuck shop is a heaven for vegetarians.
Can someone please pass us the plate of momos...burpppp!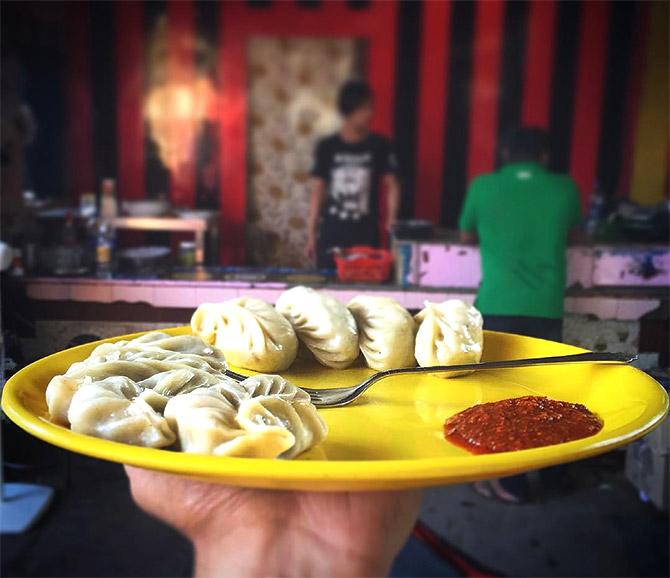 IMAGE: Veg/chicken steam momos from Momo Mia stall in Dilli Haat. What adds even more to the party is their fruit beer. I haven't had such a nice fruit beer in a long time before this.
Himanshu was in Mumbai too!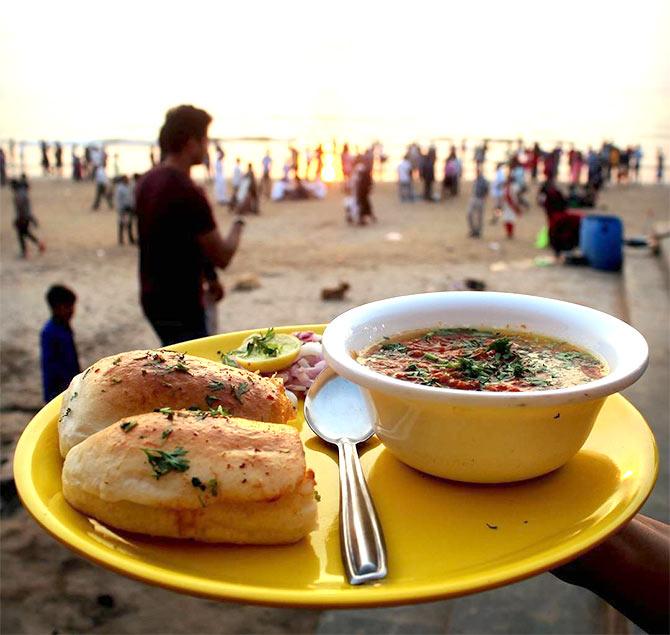 IMAGE: Good friends, good pav bhaji and this view. What else you need in life?
MYP recommends this super delicious pav bhaji from the Siddhivinayak Stall at Juhu Beach. Mumbai, I am in love with you.
When the yellow plate returned home...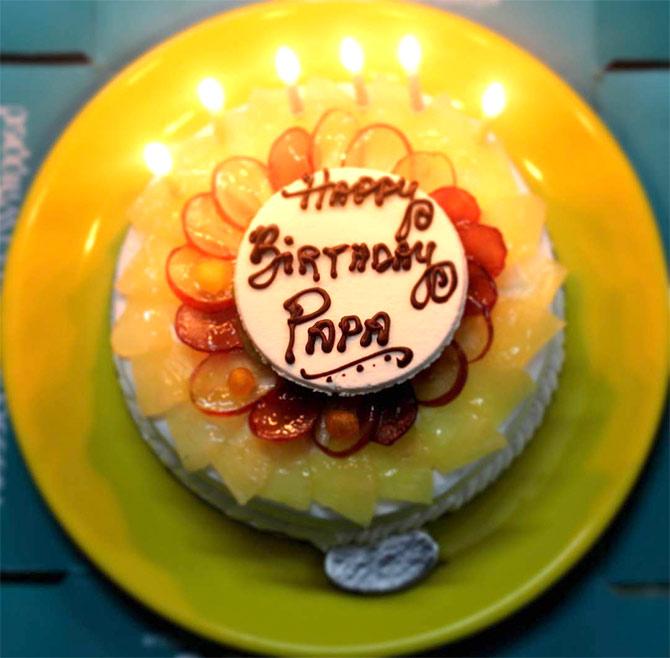 IMAGE: He gave me the greatest gift anyone could give another person...He believed in me. Happy birthday to the greatest inspiration behind MYP. My Yellow Plate at My Dad's Birthday yesterday.
Getting a bird's eye view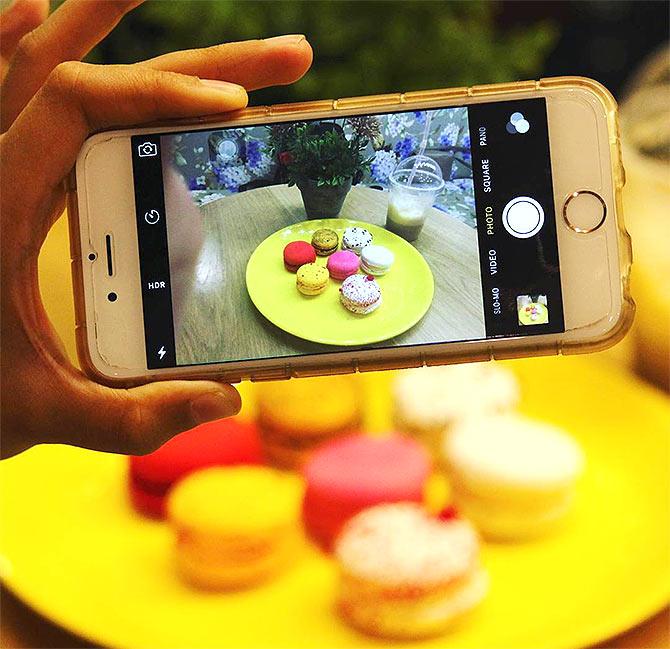 IMAGE: Lovely evenings are made of bread and more. MYP today at bread and more (Punjabi Bagh) for food tasting.
That's him caught in the act!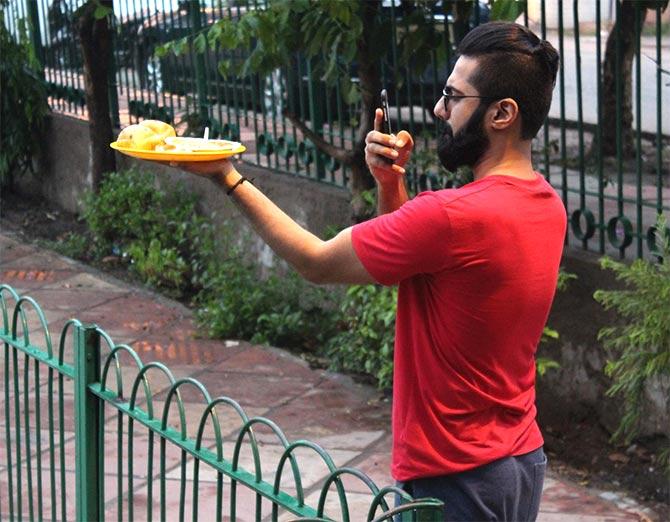 IMAGE: The man with his weapon of mass attraction! For those of you who wanted to know which camera Himanshu uses, here is the answer. :)