The actor is proud of making a guilt-free food choice.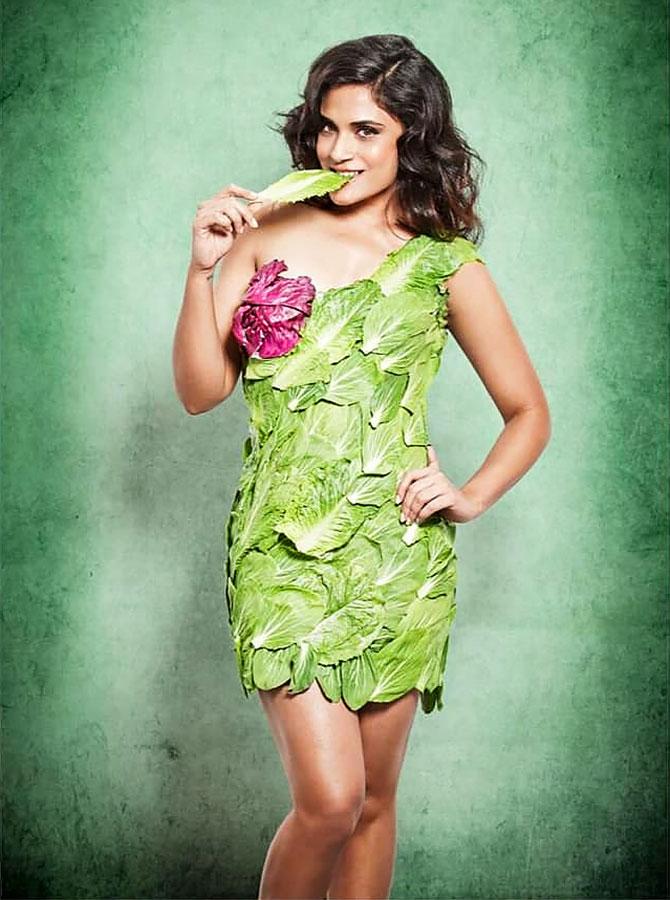 Richa Chadha made a strong case for veganism by posing in a cute one shoulder lettuce dress.
Sharing a picture from her photoshoot for PETA (People for the Ethical Treatment of Animals) in 2015, Richa reproduced a quote from American nutritionist Ellie Krieger:
'In my food world there is no fear or guilt, only joy and balance,' she wrote.
'Go green. Love animals. Be the change,' the actor added.
Earlier, in an interview to the Indian Express, the actor who went vegan in 2015 had revealed her inspiration to make the choice from vegetarian to veganism
'I remember looking at petrified faces of small chickens as they pecked away at each other, being transported in tiny, cramped cages that offered them no respite from the scorching sun or rain or the merciless winter of the north. I was vegetarian for this reason. I couldn't bear to think that an animal would have to die in order for me to fill my stomach when I already had countless plant-based options.
'But it was last year, in the month of November that I became vegan. And I have since realised there's no better food for the homo-sapiens than the vegan diet,' Richa told the Indian Express.
Richa's message to the world is simple: 'Do good, be good and look good.'