We'd asked you, dear readers to tell us about the woman who inspires you the most.
Rediff reader Bhumika Mehta from Ahmedabad talks about self love.
Photograph: Kind courtesy Bhumika Mehta
There are many women -- starting from my mother to teachers, aunties and friends -- who have played major role during different phase of life. To shape it, nurture it and make it more joyful.
But at 40, if I have to select only one woman, whom I admire the most, it would be Bhumika Mehta. And that's me.

Yes, I admire myself for fighting the darkest, loneliest phase of life to come out and see better times.
I admire myself to be able to love selflessly, to become stronger -- mentally and emotionally with every experience life had to offer.
I love myself.
Yes, I failed many times but I am glad, I never stopped trying.
And today, when I stand in front of mirror, I can look straight into those twinkling eyes and smile.
Being honest about your emotions, opinions and suggestions is a tough job in the real world and I am doing it, without any buttering.
I am thankful to the woman in me. Despite all her struggles, she never accepted defeat.
---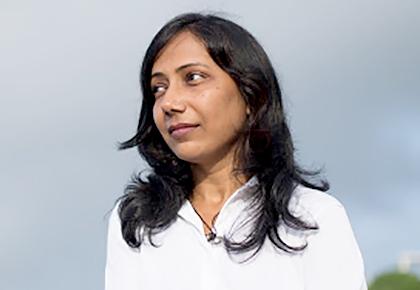 Share a picture of the woman you admire the most.
Tell us what is the best lesson you learned from her and how it helped shape your life.
Write to us at getahead@rediff.co.in (The Woman I Admire) along with your NAME, AGE, LOCATION and a photograph, if possible.
We'll publish the best responses right here on Rediff.com.