We'd asked you, dear readers to tell us about the woman who inspires you the most.
Rediff reader Tauseef Quasim from Abu Dhabi (UAE) writes about her sister.
I am extremely emotional while writing about my inspiration.
My elder sister Nikhat Quasim is the angel in my life.
She is four and half years older than me.
I remember our school days when we lived in Bihar.
Nikhat was very tomboyish and strong. On the contrary I was very shy and frail.
She was always there by my side during my ups and downs.
Whenever she was around me I felt that I was in a safety zone, surrounded with care and much trust.
I shared that leap of faith with her.
As time passed, we went to different schools.
Nikhat went to an all girls' school.
Once, she bunked her class and travelled a long way just so she could see me in school. The following day she got punished severely at her school.
When her friend shared the incident, I started crying loudly in front of everyone.
There are several stories like this.
A few years later, she joined Central University. I took admission in an engineering college in Bangalore.
I'd be lying if I said I was a good student.
But Nikhat was excellent in studies and very much into activism.
She was a recipient of several scholarships so she helped manage my fees at school.
When I was in my last year of engineering, she got married to her friend. They had studied together at the same university.
I was so happy. The same year she got a prestigious fellowship from the IIE New York.
Just when things were looking good, something unbelievable happened.
Her husband met with a terrible accident with several serious injuries.
But hats off to Nikhat, her will power and commitment towards the society.
A few months after the incident, she went to study Gender abroad.
After finishing her studies she returned to India and is currently working in Gender and child protection -- an are she had keen interests in.
Till date her husband has had four surgeries. They have a beautiful daughter.
Despite the challenges she faced, Nikhat has always been positive towards her life and her struggle.
She gives me the same warmth and tranquility about life and its functioning.
She is the one who gave me the courage to dream. She taught me that if you dream, you will succeed in your life.
I can say that today if I am successful and content with my life, Chunchun (that's her nick name) you are the reason for it.
I never told you these things because I always fell short of words. And you certainly know that I am not an extrovert like you.
A sister, I feel is a little bit of childhood that can never be lost.
---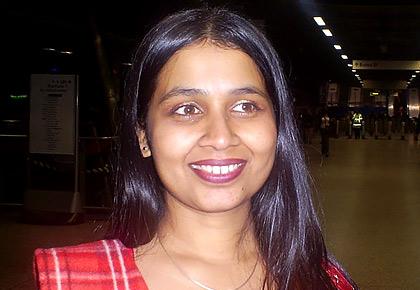 Share a picture of the woman you admire the most.
Tell us what is the best lesson you learned from her and how it helped shape your life.
Write to us at getahead@rediff.co.in (The Woman I Admire) along with your NAME, AGE, LOCATION and a photograph, if possible.
We'll publish the best responses right here on Rediff.com.