Who would have thought of using the boring PowerPoint to bring you more dates?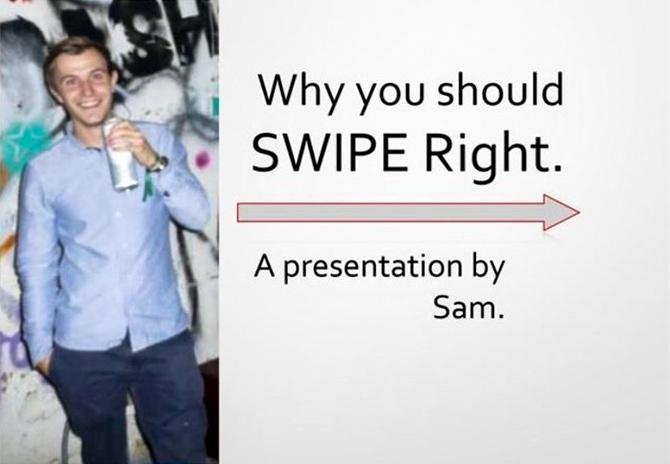 Leeds-based Sam Dixey created a profile on Tinder a year ago. But it wasn't until Gracie Barrow spotted it that Dixey got more than what he hoped for.
On February 18, Gracie who's from England, shared snapshots of Dixey's Tinder profile on Twitter explaining how it made her cry of laughter.
'A genuine 10/10 effort from this lad lmaooo I'm crying,' Barrow wrote on her Twitter.
Since then, the post has been liked by 1,13,000 users and retweeted 26,000 times.
So what did Dixey have that others didn't?
Dixey's PowerPoint presentation 'Why you should swipe right: A presentation by Sam,' listed 'laser tags, dominos, talking about my feelings' under Things I love.
Among his notable qualities, he'd listed 'Knows all the rules to drinking games, Not the worst at sex,' and 'Owns a Netflix account'.
Dixey had also gone ahead and listed pretentious reviews from friends who claimed his skills at making 'unbelievable pancakes.'
Check Sam Dixey's PowerPoint below:
What Barrow liked about Dixey's presentation is his 'funniness.'
"Mostly everyone's Tinder profile is the same, with good pictures of themselves and usually a shit bio, but Sam's was different and really stood out," she told Mashable.
"I think most girls appreciate the funniness of it all!" Barrow added.
As for Dixey, some of his old matches who are aware that his profile went viral have asked to "remember them" when he's famous.
But Dixey isn't the first and only who used PowerPoint to crack Tinder.
In 2017, Nikesh Biswas, a New York-based software engineer also made a PowerPoint presentation that looked like an epic sales pitch.
The effort got him 10 times more matches.
"It's more matches but more importantly, better dates," Biswas told Huffington Post.
"I've gotten like, 10 times more matches overall, and from generally smarter/edgier people than I did before," he added.
Check Nikesh's PowerPoint below:
Some time ago, Krista Isabella had tried something similar too.
Check out snapshots of her Tinder below: