Varanasi is famous for its paan and chaat.
On her visit to the city, Taruna Deepak discovered another favourite, the lemon masala tea.
"It is a concoction specific to the city of Benaras, or should I say its ghats. Assi Ghat to be precise," she says. There is a special spice mix added to the tea along with lemon juice which makes it so unique, and the Mumbai-based food blogger discovered that this concocotion was actually powdered Hajmola, which lends a tangy, spicy flavour to the tea.
Taruna shares this recipe for people who'd like a break from their regular doodh-wali beverage.
Her Hajmola Chai is very light, soothing and can be had post a heavy meal as "it's digestive in nature.".
Hajmola Chai
Serves: 2
Ingredients
250 ml water
¼ tsp tea leaves
Pinch kala namak or black salt
Pinch bhuna jeera or roasted, powdered cumin seeds
2-3 Hajmola tablets, adjust per taste
1/3-½ tsp lemon juice, adjust per taste
1 tsp sweetener or sugar syrup
Method
Heat the water in a saucepan or a kettle and bring it to boil.
Add the tea leaves and let it boil for 30 seconds more.
The amount of time you let the tea boil will depend on how strong you prefer it.
Take off heat.
Add the sweetener/sugar syrup and stir until dissolved.
In a blender, grind the Hajmola until a fine powder.
Keep aside.
Strain the tea and heat it once again.
In two glasses, add the kala namak, bhuna jeera powder, powdered Hajmola, lemon juice.
Pour the tea into the glasses.
Stir, serve and enjoy.
Taruna's Note: You can also add a pinch of ajwain or carrom seeds for better digestion.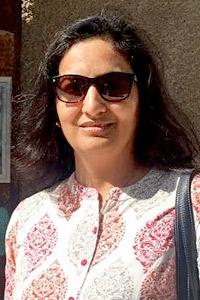 Taruna Deepak lives in Mumbai and is the creator of the food blog Easyfoodsmith.