Paneer is a much-loved Indian food ingredient that invariably finds its way into many a meal, in one form or the other. It's great as a starter or a burji or in sandwiches, parathas and snacks, but lends itself to biryanis and curries equally well.
Paneer Makhani, among Indian dishes, has the brightest orange colour that cheers up any festive spread.
Pair it with rotis, steamed rice or even pulav and you'll have a winning Holi menu packed with bold flavours.
Madhuri Aggarwal's Paneer Makhani may be a tad sweet because of the honey and cream, but the indulgence is pardonable given that it's a Holi special.
Says Madhuri: 'Food moves me. Inspires me. It brings together all the things I love on a single plate.'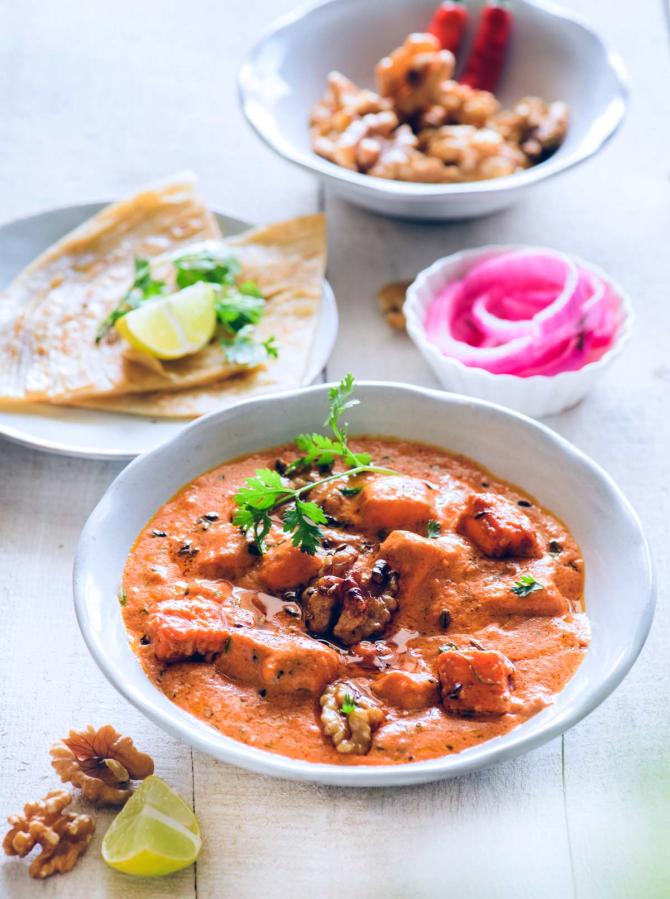 Paneer Makhani
Serves: 3-4
Ingredients
For the paneer makhani
1 tbsp butter + extra to garnish
1 tbsp oil
1 tsp jeera or cumin seeds
1-2 tsp julienned ginger
2 green chillies, slit
1 cup water
250 gm paneer, cut into small 1-inch pieces
1 tsp Kashmiri red chilly powder
1 tsp toasted kasuri methi or fenugreek leaves
1 tsp tomato ketchup
1 tsp honey, optional
Salt to taste, about 1 tsp
¼ cup fresh cream
Tomato paste, please see the recipe below
Green dhania or coriander or cilantro leaves, to garnish

A few walnuts, to garnish
1 small piece coal for a smokey flavour, optional
1 tsp ghee for the coal
For the tomato paste
1 tbsp butter
1 tsp jeera or cumin seeds
3 pods green elaichi or cardamom
1 tsp dhania or coriander powder
Handful walnuts, chopped
2 Kashmiri red chillies, slit
6 pods garlic, chopped
½-inch piece ginger, chopped
1 onion, chopped
5 tomatoes, chopped
½ tsp garam masala powder
Salt to taste, about a pinch
1 tbsp butter
1 cup water
Method
For the paste
Heat the butter in a saucepan over medium heat.
Add the jeera and the seeds of the cardamom pods.
Roast for a few minutes.
Add the chopped tomatoes, onion.
Add the crushed walnuts, red chillies, ginger, garlic.
Add the coriander powder, garam masala, salt.
Add the 1 cup water.
Stir and cook over medium heat.
Keep stirring at intervals to prevent the paste from sticking to the bottom of the pan.
Cover and cook for 15 minutes till the mixture is cooked.
Take off heat and cool completely before grinding into a smooth paste.
Keep aside.
For the paneer makhani
Heat the butter and oil together in a heavy-bottomed pan over medium heat.
Add the jeera and let it fry a minute.
Add the tomato paste along with a cup of water.
Add the green chillies, salt, julienned ginger.
Bring it to a boil.
Add the kasoori methi, red chilly powder, tomato ketchup and simmer further.
Once the gravy reaches a thickish consistency, add the honey, cream, and give it a good mix.
Add the paneer and bring the gravy to a boil again and simmer for a minute.
Garnish with a little butter, walnuts and green coriander.
Take off heat.
Place the piece of coal over a flame directly using tongs and let it turn red hot.
Place the lighted coal on a plate and place the plate inside the saucepan, maybe balanced on a ladle or something, so it doesn't sink into the paneer curry.
Add 1 tsp ghee on top of the lighted coal and cover the saucepan of Paneer Makhani immediately.
Let the smoke flavour the curry for 5 minutes.
Uncover, remove the coal plate, lightly stir the curry.
Serve hot with steamed rice or parathas
Editor's Note: For a vegan version of this use vegan cheese and skip the cream and honey.
For Jain Paneer Makhani, skip the garlic, ginger and onions and use 1 tsp saunth or ginger powder in the paste and the gravy.
Those who like their meat can replace the paneer with an equal amount of chicken chopped into curry pieces.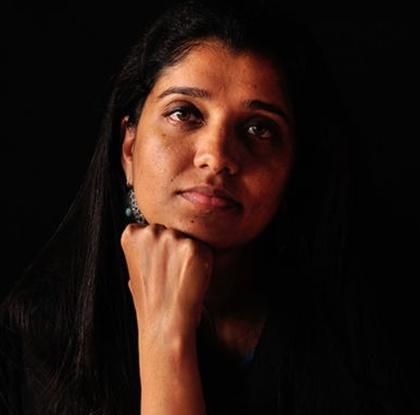 Madhuri Aggarwal is a food stylist, photographer, artist, designer and cooking enthusiast.