Jazz up your breakfast with Raw Banana Idlis.
This recipe from Bethica Das requires no soaking, grinding or fermentation.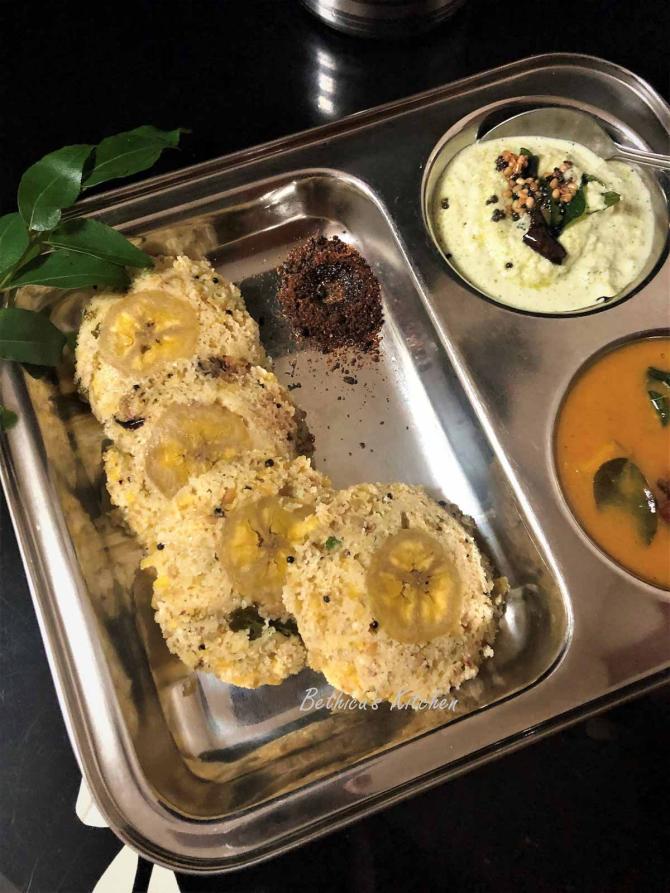 Raw Banana Idli
Serves: 2
Ingredients
1 raw or green banana, boiled, peeled and grated
1/3 cup rava or semolina
2 green chillies, chopped
1 tsp ginger, grated
Salt to taste
1 cup yoghurt
2 tbsp grated fresh coconut
A handful of green dhania or coriander or cilantro leaves, chopped
Water for the batter
1 tsp Eno fruit salt
Few boiled raw banana slices
For the tempering
1 tbsp oil
1-2 dry red chillies, broken
½ tsp rai or mustard seeds
1 sprig curry leaves
1 tsp urad dal
For serving
Method
Heat the tempering oil in a heavy-bottomed saucepan and add the dry red chillies and the mustard seeds.
After it stops spluttering, add the urad dal and the curry leaves.
Saute for a few seconds.
Now add the semolina and stir fry till light brown.
Take off heat and cool.
In a bowl mix together the grated banana, the tempered semolina mix, yoghurt, grated coconut, ginger, green chillies, chopped coriander leaves and salt.
Add some water and prepare a thick batter.
Keep aside for 15-20 minutes.
Adjust the consistency by adding more water if needed.
Just before steaming, add the Eno fruit salt and mix well.
Place a sliced raw banana into each greased mould and then spoon the batter over it.
Steam for 15 minutes in a pressure cooker over low-medium heat without the whistle.
Take off heat and de-mould the idlis when still warm.
Serve with coconut chutney and sambar.
Bethica Das is a Sharjah-based food blogger.