Manasi Sadarangani's easy-to-go-to recipe for deep-fried Rajgira Pakoras made with kuttu ka atta or buckwheat flour, potatoes and roasted peanuts.
A great way to incorporate millets into your diet, these fritters are seasoned with sendha namak or rock salt.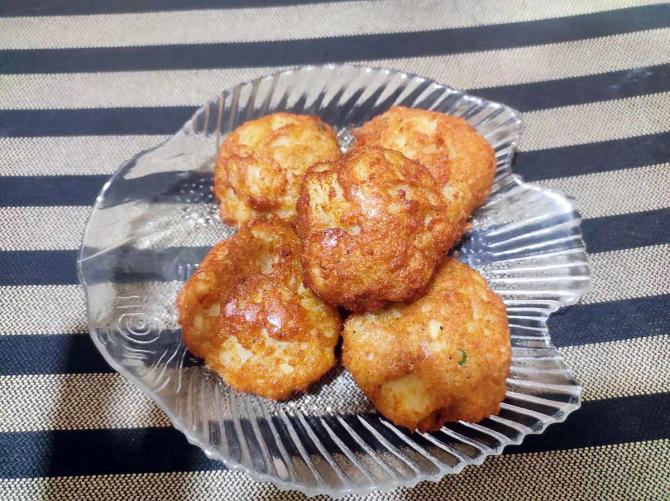 Rajgira Pakora
Servings: 6-8 portions
Ingredients
3-4 potatoes, boiled and peeled
5 tbsp rajgira or kuttu ka aata or buckwheat flour
Handful of peanuts, roasted
2 green chillies, finely chopped
Oil, for deep frying
Sendha namak or rock salt to taste
1 tbsp black pepper
1 cup water, or as required
To serve
Method
Mash the boiled potatoes in a bowl using a fork or your hands.
Add the buckwheat flour, finely chopped chillies and mix well. Keep aside.
Pulse the roasted peanuts in a blender till you get a coarse powder.
Add the ground peanut powder to the buckwheat flour-alu mixture.
Add the rock salt, black pepper and mix well.
Add a little water and keep mixing to get a thick batter.
It should be the consistency of idli batter.
Heat the oil for frying in a heavy-bottomed kadhai or deep frying pan over medium-high heat.
Using a ladle, scoop up the batter and drop a ladle at a time into the hot oil, in batches of 3-4.
Fry until crisp and golden brown and flip.
Drain excess oil and transfer onto a tissue or paper towel-lined plate.
Serve with tea and green chutney.
Manasi Sadarangani runs the blog Cooking Savouring by Manasi.