Rediff reader Surupa Sengupta tells you how to make payesh with a twist.
Here's the recipe:
Coconut Payesh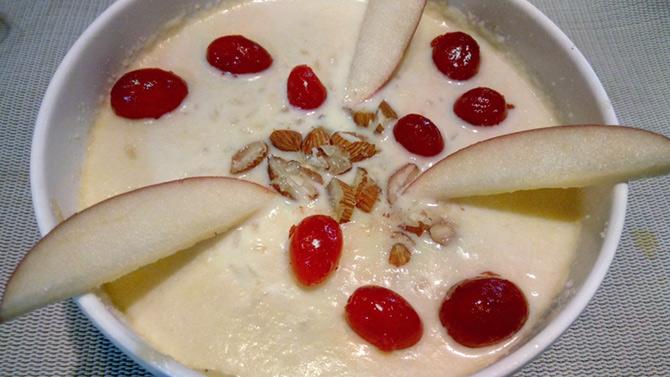 Ingredients
1/2 litre milk (doubled toned)
4 to 5 tbsp of basmati rice
200 gm condensed milk
1/4 cup desiccated coconut
For garnish (optional)
Few slices of cherries and apple
3 to 4 almonds
Method
Bring milk to boil.
Add washed rice and simmer the flame.
Cook for 5 to 6 minutes stirring occasionally so that the rice doesn't crumble or stick to the bottom.
Switch off the gas and let it rest for half an hour.
Switch on the flame and stir for few minutes.
At this stage add condensed milk and cook for 5 minutes stirring continuously.
Remove from gas and add the desiccated coconut. Mix well with the payasam and allow it to cool.
When it comes to room temperature refrigerate it.
Garnish with few chopped almonds, cherries and sliced apple.
Serve cold.