The Bengalis, whose sweets are some of the best in the world, eat their kheer with fresh oranges. And it's a grand way to have kheer.
Segments of oranges are delicately and painstakingly removed from their membrane and added to the thick, boiled-down milk to make Komola Kheer.
This was my first attempt at making this typical Bengali dessert. I had read too much about its flavour and could not resist attempting to make it.
It was pretty simple to put together and came out rather well and didn't require much additional sugar. If you know how to make it better, would love to hear tips on how to refine this preparation.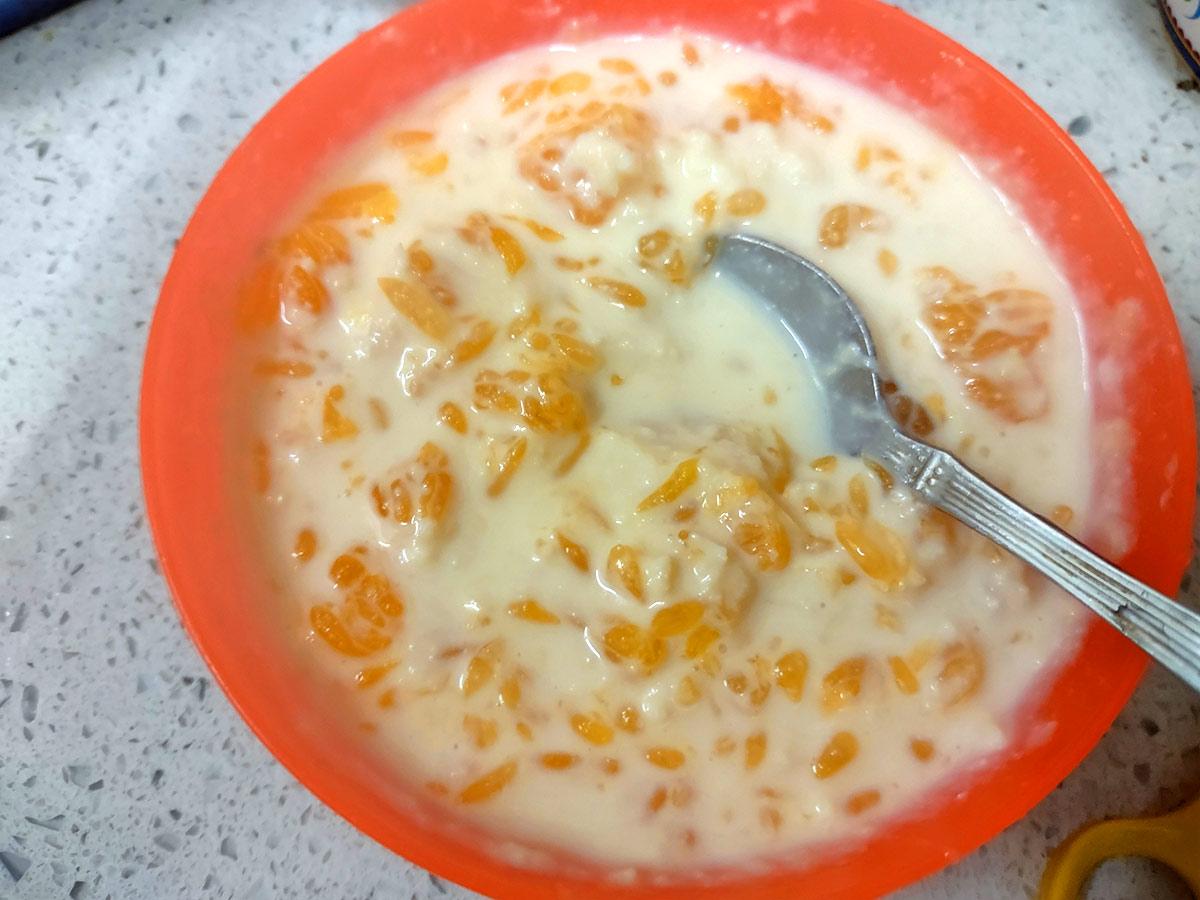 Komola Kheer From Fresh Oranges
Serves: 1
½ l buffalo milk or a full-cream milk
2 oranges
3 tbsp condensed milk
Dash fresh milk
2-3 tsp sugar or to taste
Method
Peel the oranges and remove the skin or membrane and seeds from the segments and keep aside.
Boil the buffalo or full-cream milk down to half.
Add the sugar and mix.
Cool completely before adding the oranges or it will split the milk.
Add the condensed milk and a dash of fresh milk so the kheer has the right consistency, thick, but not as thick as say rabdi or condensed milk, but thicker than payasam.
Add in the orange segments and mix but don't mash the segments.
Chill in the refrigerator for a few hours and serve cold.
Zelda's Note: While adding the orange segments, you might prefer to add a little fresh orange juice, although purist komola kheer makers advise against it.
A tip I received: Sprinkle the sugar over the peeled oranges and let it sit and then add both to the cooled milk.
Some recipes advise adding finely chopped nuts or saffron, but to allow the taste of oranges to come through, it's best not to complicate the recipe.
Instead of sugar, those on a reduced sugar diet might add stevia powder and skip the condensed milk. Each brand of stevia has its own stevia for sugar substitution ratio provided on its packing.