Bethica Das's version of baingan bharta uses dry fenugreek leaves.
Her Kasuri Methi Baingan Bharta, served along with paratha, tandoori roti, naan, even baati or any Indian bread, makes for a healthy, wholesome meal.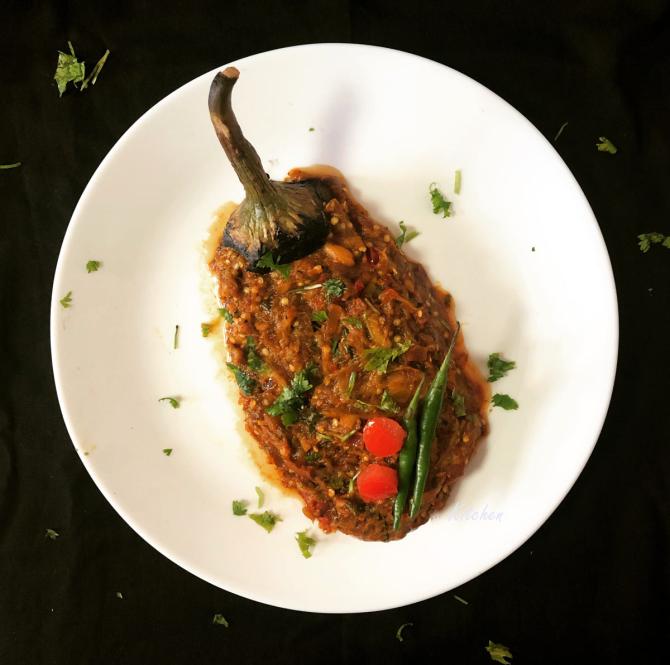 Kasuri Methi Baingan Bharta
Serves: 3-4
Ingredients
1 large eggplant
2 onions, chopped
1-inch piece ginger, finely sliced
2-3 garlic pods, chopped
2 green chillies, chopped
1-2 tomatoes, chopped
2 tbsp mustard oil
¼ tsp hing or asafoetida
1 tsp jeera or cumin seeds
Salt to taste
½ tsp haldi or turmeric powder
1 tsp dhania or coriander powder
1 tsp jeera or cumin powder
2 tbsp kasuri methi or dry fenugreek leaves, crushed
1 tsp fresh green dhania or cilantro or coriander leaves
Little oil for oiling the eggplant before roasting
Method
Make two horizontal slits to the eggplant without disturbing the stem.
Apply little oil all over -- this helps to peel off the skin easier later.
Roast either in the oven or grill or over the flame of a gas stove till the skin is charred.
Cool and peel off the skin.
Mash well and keep aside.
Heat the oil and saute the cumin seeds, asafoetida.
Add the onion, ginger, garlic, green chillies.
Saute till light brown.
Add all the dry spices, except salt, and stir fry for a few seconds.
Add the chopped tomatoes and cook till well mashed.
Add the mashed eggplant, salt, kasuri methi and stir fry for two minutes more or till everything is well blended.
Garnish with coriander leaves.
Serve warm with tandoori roti, paratha, bhakri, baati, Bihari litti or with any Indian bread.
Bethica Das is a Sharjah-based food blogger.