This rice pudding recipe is perfect for your Republic Day celebration.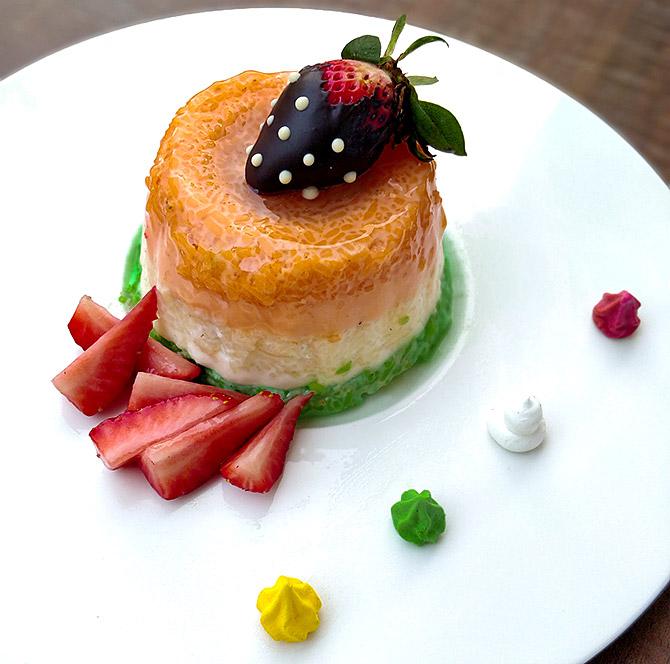 Three Treasures Rice Pudding
200 gm Indrayani rice
300 ml milk
100 gm sugar
5 gm cardamom
60 ml sweetened condensed milk
80 ml ghee
100 gm grated carrot
100 gm chopped kiwi
20 ml kiwi syrup
Method:
Soak the rice in cold water for 45 minutes. In a think bottom pan, boil the milk. Add soaked rice. Keep simmering till the rice get cooked. Add sugar and cardamom powder. Keep it for cooling for some time. Divide the cooked rice into three parts.
Add 20 ml sweetened condensed milk in each part.
In one part, add grated boiled carrot. In the second part, add chopped kiwi and kiwi syrup. Mix well.
In a pudding mould, apply ghee on the sides. Pour kiwi flavoured rice to make a layer. Make the next layer with a regular batch . And lastly make a layer of carrot flavoured rice on the top
Place the mould in an oven for 10 minutes at 180°C. Cool it for 30 minutes and serve cold. You can garnish with dry fruits or seasonal strawberries.
---
Dinesh Mhatre is the executive chef at Hilton Mumbai International Airport. He can be contacted on ga@rediff-inc.com.
---