Foxtail Millet Dosa for breakfast is an offer that's hard to refuse, especially when it's served with Coconut Chutney and sambar.
The batter can be left to ferment or made instantly. "Both ways, the dosas will come out really well," says Bethica Das.
"Enjoy it for breakfast, brunch, evening snack or pack it as a lunch box meal. The choice is yours."
Perfecting 'off-the-beaten-track' recipes is Bethica's area of interest -- she is especially proficient in Bengali and South Indian cooking.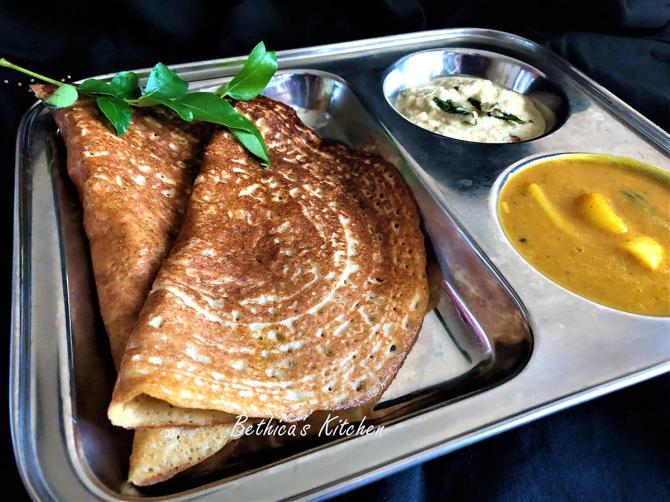 Foxtail Millet Dosa
Serves: 5-6
1 cup kangni or kodu or foxtail millets
½ cup urad dal or split white gram
½ tsp methi or fenugreek seeds
2 green chillies, roughly chopped
1-inch piece ginger, roughly chopped
Vegetable oil and ghee, as required for frying the dosa
Coconut Chutney, to serve
Sambar, to serve
Water
Salt to taste, around ½ tsp
Method
Soak the millets, urad dal and the fenugreek seeds in sufficient water overnight.
The next day, grind the millets, dal, methi seeds along with the green chillies, ginger, salt into a smooth paste.
The batter should be of pouring consistency.
Heat a tawa or griddle or non-stick frying pan over high heat.
Smear with little oil or ghee.
Drizzle ½ tsp oil and spread.
Sprinkle some water.
After the water sizzles and evaporates, wipe the tawa dry with a tissue paper or paper towel.
This ensures that the dosas do not stick.
Pour a full ladle of the batter onto the tawa and spread out in a circular motion.
Drizzle some oil or ghee on top of the dosa and around the edges.
Let it cook over low heat till one side turns light brown.
Flip and cook for a minute or more and take off the tawa.
Repeat with the remaining batter.
Serve hot with sambar and coconut chutney.
Editor's Note: To make sambar, use Divya Nair's recipe: Traditional Sambar Like My Amma's.
Also try her Coconut Chutney recipe.
Or Mayur Sanap's Peanut-Coconut Chutney.
For Jain millet dosas, skip the ginger and use 1 tsp saunth or ginger powder instead.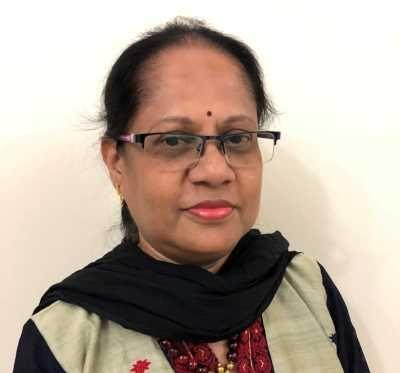 Bethica Das is a Sharjah-based food blogger.