Add this kind of thinner Healthy Pongal made with mixed lentils, oats and foxtail millets, to your repertoire of quick yet nutritious breakfast recipes.
Bethica Das turns to her version of Pongal when she's craving something simple to fill herself up with.
"A good substitute to khichdi, this yummy piping hot porridge can be enjoyed for breakfast, brunch, tiffin or lunch," she says.
"It goes well with pickles, coconut chutney, idli podi, papad or fryums. You can also serve it as an evening snack or after-school snack."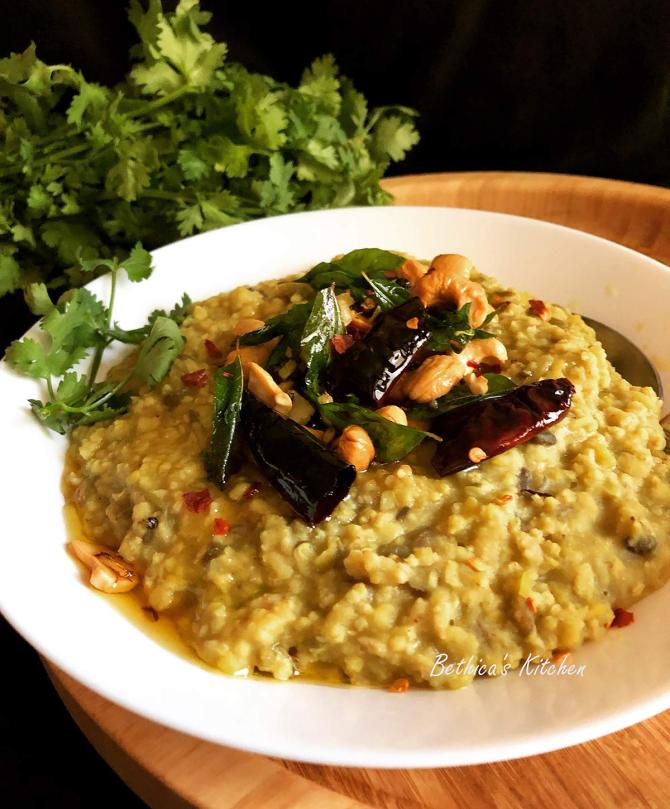 Healthy Pongal
Serves: 2-3
Ingredients
½ cup mixed lentils of your choice, soaked overnight
2 tbsp oats, dry roasted
2 tbsp kodu or foxtail millets, soaked for 15 minutes
1 tsp rai or mustard seeds
1-2 dry red chillies
¼ tsp hing or asafoetida
1 tsp white urad dal
½ tsp peppercorns, crushed
1 tsp grated ginger
1-2 sprigs curry leaves
Handful cashews
2 tbsp ghee or cashew butter
Green dhania or coriander or cilantro leaves, to garnish
2 tbsp oil
2 cups water
Salt to taste, around 1 tsp
Method
In a pressure cooker, boil the soaked lentils, foxtail millets, oats, salt along with the water for 5-6 whistles.
Adjust the consistency by adding more water later, if required.
Heat the oil in a frying pan.
Add in the mustard seeds and the dry red chillies.
After the mustard seeds stop spluttering, add the hing, curry leaves, peppercorns, urad dal, grated ginger, cashews.
Saute for a minute.
Take off heat and pour this tempering over the boiled lentil-millet-oats mixture.
Drizzle the ghee over it and garnish with the coriander leaves.
Serve hot for breakfast/brunch/tiffin with or without coconut chutney, pickle or idli podi.