We'd asked you, dear readers, to send us a picture to show how you dress up while working from home.
Rediff reader S Ramkishore, 52 from Chennai tells us how dressing up in office attire helps him focus better at work.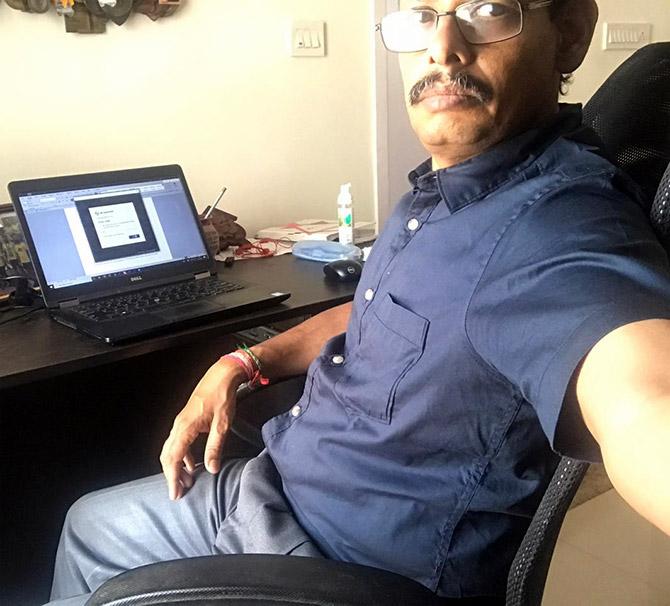 'I work for one of India's premier infrastructure companies and prefer to dress up for work.
'I wear normal office attire by 8:45 am and am at my desk by then.
'I change back to home attire after 5:45 to 6 pm.
'Dressing up to work from home does two things for me:
'1. It gives me a sense of discipline and helps me focus on my work and
'2. It helps me demarcate between office hours and personal time.
'It has worked so far for me, though my family and kids in the neighbourhood are highly amused. The kids next door wanted to know why I do not wear my ID card as well.'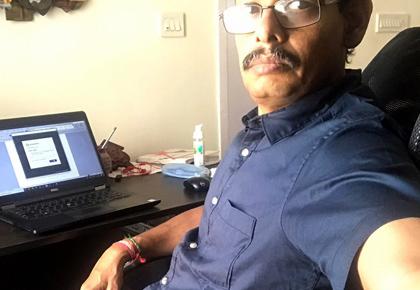 ---
INVITE
Dear readers, how do you dress up while working from home?
Are you all suited up or prefer to work in comfortable clothes?
Share your work from home look with us and we will publish the most interesting ones.
Write in to us at getahead@rediff.co.in (Subject: Work From Home Look) along with a short description of your profession and details of your look. Don't forget to add your name, age and location. We'll publish the best responses right here on Rediff.com.