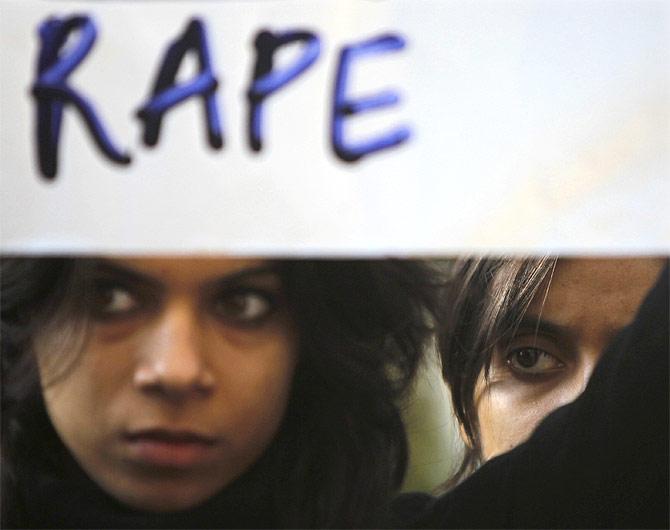 Mumbai, Delhi, now Bengaluru. No city is safe for women in India any more.
What can a woman possibly do when a bunch of men -- or even a couple -- attack and molest her even as eyewitnesses offer no help?
The latest Bengaluru incident, captured on CCTV, reveals that clothes are not the culprit.
The girl, covered from top to toe in jeans, a top and a wrap against the Bengaluru cold, was doing what most of us do almost every day -- getting down from an auto and walking the short distance to her home.
The two men rode in on a scooter and blocked her path -- you can actually see her move to one side, hoping to avoid a confrontation, when they sped in. One man hopped off and grabbed and groped her before dragging her to the scooter so that the rider could do the same.
Then, they brutally shoved her to the ground before driving away.
The horrific Nirbhaya rape in Delhi and the shocking Mumbai rape case both show that a male companion may not be able to keep you safe.
"Always carry pepper spray or chilli powder. Take a self-defence class. If you smell something suspicious, walk away immediately." These were some tips Kavya Bhatt, a gender and sexuality crusader, shared in one of her columns on Rediff.com. You can read the rest of her useful tips here.
"An attacker never expects you to retaliate, he is too confident. We teach our students to use this element of surprise. Everything can be over in just seconds, you just need to be quick and fight hard," said Anoop Madhavan, founder of Survival Instincts, a Chennai based non-government organisation that trains women in self defence.
He provided useful self-defence tips on video; you can watch it here.
"Do not get into an elevator if there is someone it in with whom you are not comfortable," warns Dr Diwan Rahul Nanda, chairman and MD, Topsgrup Security services. Read the rest of his tips here.
Most women have, at some point or the other, been eve-teased, wolf whistled at, groped or faced worse.
How did you defend yourself against these acts of aggression?
Do share your strategy, and your learning, with our readers. Let's try and make India safe for all of us.
Please e-mail your tips, advice and experiences on getahead@rediff.co.in (subject: Safety Tips) along with your NAME, AGE and LOCATION, if possible. Your request for privacy will be considered.
Lead image used for representational purposes only. Image: Mansi Thapliyal/Reuters
DO READ
~ What single women travellers must know
~ Women, take control of your own security