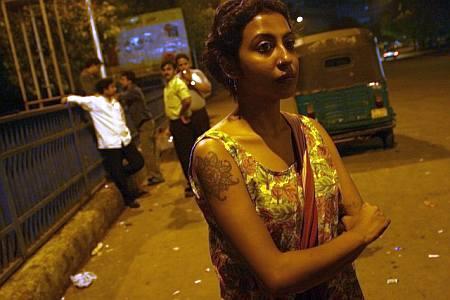 'Once you book a cab a woman needs to get into high alert mode till the time she reaches her destination.' Women, who work night shifts in Delhi, tell Upasna Pandey what precautions to take when travelling alone.
No, it doesn't matter if you have used a particular cab service many times over. Or that you board from a high traffic point or you are carrying two mobile phones with multiple safety apps for women.
At the end of the day, or night, safety for women while using a cab in Delhi comes down to your wits, alertness and, of course, good luck.
"I have worked for over 6 years in the 1 pm to 10 pm shift job and used to commute by cabs between Mayur Vihar and Faridabad. Sometimes, there would be meetings which got extended and I would leave around 10.30 pm or even later. The company did not arrange transport for any employee. I used to book a cab every night for myself. No matter how tired I would be, I used to stay extremely alert while using a cab," says Neha (name changed).
She talks about the routine of thousands of young women who work at companies in Delhi-Faridabad-Gurgaon-Noida. "One thing I do without fail is share the details -- name, contact and taxi number with my family or friends so they would have the coordinates of the vehicle which I was using," adds Neha.
"I would decide on a particular cab in the daytime depending on how cost effective it would be," she says, "but at night, I chose a cab service which was considered safer, even if it cost extra."
Once you book a cab a woman needs to get into 'high alert' mode till the time she reaches her destination. "I would first check if the vehicle number and driver name match. Many times, there would be a mismatch and I would call the cab service and confirm," says Neha. "Only after they confirmed would I use the cab ignoring the driver's argument that this was a minor error."
There were instances when a cab driver who has been booked would call up just before the pick up and excuse himself, saying there was a breakdown. "The driver would not call the cab service, but call the passenger urging her or him to book a fresh cab, which causes more inconvenience and delay for the user, but it has to be done," adds Neha.
Himani (name changed), a resident of Gurgaon who has worked in a BPO on rotational shifts for over 8 years, which also included the 'graveyard' shift, says her organisation provides a pick up and drop facility.
"There is always a guard present in the cab and usually a male colleague is picked up first and dropped last. One has to be extremely cautious and ensure that the drivers don't make you wait unnecessarily or drop you at the wrong place at night."
"I have reported to the company's transport department if I found that the driver has been talking around in my neighbourhood. It is important to remain in touch with the organisation's transport team so they are alert to your commuting pattern," she adds.
On occasions when Himani has used private cab services, she says, "I would make it a habit to speak constantly on the phone with my family or friends and keep checking if the driver was using the correct route and not deviating for any reason."
Being alert, says Himani, is the only line of defence for women who use private cabs or even use company transport services.
"You cannot drop your guard at any time or allow the driver to take a short cut for any reason. You have to be adamant and insist on taking safe, high traffic routes. I would avoid all deserted stretches at night even if it meant reaching late."
"There are times when drivers try to engage in conversation with women passengers who use the cab service regularly from fixed locations," says Neha, "asking where she was from, what work she does or anything else. It is critical that women avoid such conversations or befriend cab drivers."
Rashi, another BPO employee who has been working on rotational shifts for over 8 years, agrees.
"Even if you are using a regular office cab, lot of women talk personal stuff on the phone during their commute which may be overheard by the driver. The drivers know so much about the passenger and then they discuss amongst themselves. This can be dangerous for women. It must be avoided," says Rashi.
Rashi has three women in her team. "One team member sleeps the moment she steps into an office cab as her travel time is almost an hour-and-a-half. I have already advised her to stop this. Post the recent rape in Delhi, I have again advised her against this."
Women who use office cabs or private cab services insist that knowledge of self defence skills like karate would be beneficial, but may not help much in case of a real emergency. "Any woman in a crisis would try to use all her physical energy, but what would truly help is if you can avert such situations by being mindful and fully alert all the time," says Rashi.
"There are times when a cab driver would turn up with a companion for a pick up. That is when a woman passenger needs to turn down the cab, insisting there is no other passenger apart from the driver," says Neha, adding, "You have to simply refuse such cabs."
Travelling alone is a necessity for women in cities like Delhi but not trusting strangers, using your wits and never letting your guard down can be the most crucial tools in your survival kit on the road.
Note: Photograph published only for representational purposes. Photograph: Lakshman Anand/Wikimedia Commons